The Aussie dollar's wild ride
---
The Aussie dollar is about flat over the week, around 71 US cents, but it has been very volatile. Australia's key data releases on wages and employment were quite encouraging, but the Aussie was then hit by Westpac's new forecast for the RBA cash rate and worries over China's coal imports.
Earlier this week, the Australian dollar was fairly quiet but mostly well supported. Hopes for a US-China trade deal have risen, with President Trump confirming that the 1 March deadline was not really a deadline and newswires reporting what the framework of a deal might look like. This included a US demand that China commits to not devaluing its currency. 
China is likely to be happy to sign off on a pledge to keep the yuan stable, given that avoiding a destabilizing fall in the currency has been a policy priority for some time. But the market response was a sharp rise in the yuan, which was helpful support for the Aussie.  
Australia's first key data release this week was Q4 wages on Wednesday. Wages overall grew 2.3% over the year, the same pace as the previous quarter. This is up from 1.9% in 2016-17, which was the slowest pace in more than 50 years, but it is a lot slower than the RBA needs in order to hit its inflation target and slower than the federal government needs to hit its budget targets. 
Australia's second key data release was on Thursday, which was a wild trading session for the Australian dollar. When the January jobs numbers hit the screens, AUD/USD jumped above 0.72 to 2 week highs. The ABS reported Australian employment jumped 39,000, more than double expectations. Importantly, full-time employment is leading the way, up 65,000 in the month. Jobs growth remains strong in historical context. 
The unemployment rate remained at 5.0%, a low since 2012, with the labour force participation rate close to a record high. The RBA should be pleased that the report matches its recent commentary on the labour market. The question though is how long this strength can be sustained as Australia's growth outlook cools. The RBA of course cut its growth forecasts in the February Statement on Monetary Policy but in our view, they are still too optimistic. 
As the housing downturn deepens, the pressure on the highly indebted consumer will grow, while the fall in residential construction is likely to be deeper than previously thought. Westpac Economics has cut its growth forecast to just 2.2% in 2019 and 2020, which is low enough to warrant rate cuts. Westpac now expects the RBA to cut the cash rate in August and November this year. This forecast rattled AUD/USD, knocking it down more than half a cent. 
There was another blow for the Aussie later on Thursday when Reuters reported that China had banned Australian coal imports at certain northern China ports, while allowing Indonesian and Russian coal imports to proceed. This story cited anonymous sources and has no official confirmation. Moreover, the ports only account for about 10% of China's imports of Australian coal. But coal has overtaken iron ore to reclaim its crown as Australia's number one export, so any interruption to shipments is cause for concern.
Looking to the week ahead, Australia's data highlights are Q4 construction work and business investment, ahead of GDP on 6 March. Globally, the focus will be on Fed chairman Powell's semi-annual testimony to Congress. So long as Powell sounds as though interest rates are firmly on hold and US-China trade talks remain encouraging, the Aussie dollar may be able to recover some lost ground. 
---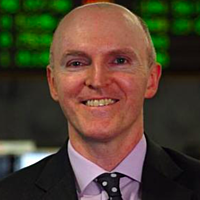 Senior Currency Strategist
Westpac Bank
Sean Callow is Westpac Bank's Senior Currency Strategist, based in Sydney. Sean focuses on the Australian dollar and other G10 and Asian currencies. He has worked in strategy and economics roles in New York, London, Singapore and Melbourne.
Expertise