The Backstory Behind "Team Australia"
---
There is a good feature by Pamela Williams in the AFR today about the emergence of the "Team Australia" consortium in response to the Great Virus Crisis, which you can read here. 
As I have previously written in the AFR (see here and here), I offered our insights to these stakeholders on numerous occasions in late February and early March when it became clear that there was going to be the mother-of-all liquidity/solvency shocks that necessitated a rapid monetary and fiscal policy response to stabilise the financial system and core funding markets.
While some did not initially concur with these assessments, I was immensely impressed with the manner in which all the key actors came together to cauterise the crisis. 
This was in many respects RBA governor Phil Lowe and deputy governor Guy Debelle's finest hour. They were exceptional in delivering precisely the package that was required to address the problems at hand. 
I have been a long-time critic of the RBA's, but I could not have been prouder of Martin Place's role in helping save Australia. (I would have liked to have seen the package in the first or second week of March, but they got there on the 19th.)  
The lower-profile APRA chair Wayne Byres was unsurprisingly brilliant--I regard the former boss of the supranational Bank for International Settlements as the best banking regulator in the world. 
Over many years Byres has forced the banking system to build-up the "unquestionably strong" equity capital buffers that can now be utilised to lubricate credit creation during this downturn. When it comes to financial risk management, we have never had a better game-keeper.
Prime Minister Scott Morrison was likewise on his finest form, and it was clear that he was deeply exercised by the gravity of the situation well-ahead of others. Morrison seemed to immediately intuit that this shock was the real deal economically and financially in late February at a time when there was an alternative case that it might end up being much more benign. 
And his management of the COVID-19 containment process has been characteristic Morrison: relentlessly under-promise, and over-deliver, even when the State governments have (once again) been actively trying to undermine him at various times by sheeting home blame to the Feds for the State's failings. Even Morrison's fiercest critics seem to concede that he has done an excellent job in helping protect Australia.
Treasurer Frydenberg was also in his networked element, and in many ways has been the glue linking these disparate parties together. Anyone who has worked closely with Frydenberg comes away with two key impressions: he is extremely smart and works exceptionally hard. 
I have given Josh a hard time of late over some regulatory misses, but when the proverbial hit the fan he became the fiscal and monetary policy weapon that the nation desperately needed. His 24/7 work tempo and front-foot communications style was purpose-built for this sort of crisis. 
And, finally, for mine the real dark horse in all of this has been CBA's Matt Comyn. He has been outstanding in pro-actively working with government, APRA, the RBA and the other banks as the industry's appointed leader in order to formulate practical policy solutions that work for Australian households and businesses. 
Comyn's composure, intellect and and intensity of effort have been a national asset during this calamity and I now understand why Ian Narev was so insistent that he succeed him as CBA's CEO. 
Go Team Australia!
........
Disclaimer: This information has been prepared by Smarter Money Investments Pty Ltd. It is general information only and is not intended to provide you with financial advice. You should not rely on any information herein in making any investment decisions. To the extent permitted by law, no liability is accepted for any loss or damage as a result of any reliance on this information. Past performance is not an indicator of nor assures any future returns or risks. Smarter Money Investments Pty Limited (ACN 153 555 867) is authorised representative #000414337 of Coolabah Capital Institutional Investments Pty Ltd, which holds Australian Financial Services Licence No. 482238 and authorised representative #001277030 of EQT Responsible Entity Services Ltd that holds Australian Financial Services Licence No. 223271.
---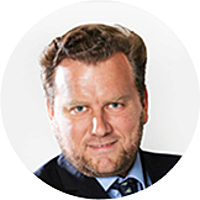 Portfolio Manager & Chief Investment Officer
Coolabah Capital
Chris co-founded Coolabah in 2011, which today runs $7 billion with a team of 33 executives focussed on generating credit alpha from mispricings across fixed-income markets. In 2019, Chris was selected as one of FE fundinfo's Top 10 "Alpha...