The biggest risk is to be holding too much cash
---
The biggest risk for Australian investors is to be holding too much cash in our view. There are several pockets of opportunity in the market as we see it. Bombed out resources companies (including BHP and RIO Tinto) will throw up worthwhile trading opportunities in calendar 2016, and M&A in the small to mid-cap miners is likely to continue. The IPO market will remain vibrant in 2016 off the back of the good returns achieved in 2015. As we see it the likely market direction is skewed in favour of investors. If the economy picks up in 2016 investors will be rewarded with better returns than we have seen for a number of years, and if the economy remains listless it will trigger additional rate cuts, which in turn should at least stabilise the market.
---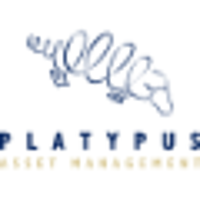 Australian Unity Investments
Platypus Asset Management
Platypus is a boutique fund manager that specialises in Australian equities. Platypus have a long history of outperforming the Australian market. We are a true to label growth manager with an uncompromising focus on quality.
Expertise