The frailty of the world's greatest investor
---
An amazing new book on the world's greatest investor, the 81 year old chain-smoking billionaire mathematician Jim Simons, lifts the lid on the decades of adversity he endured establishing a performance track-record that is vastly superior to the likes of Warren Buffett and Ray Dalio. There are many lessons from Simons' experience setting up Renaissance Technologies, or RenTec, for professional investors. He started very late in life, leaving academia at age 40. It then took him a full 15 years before he was managing any serious amount of capital north of US$100m. Along the way he tried to set up an automated, or systematic, strategy without human bias, but failed consistently during the late 1970s and 1980s. It was only in the 1990s that he cracked the code, so to speak. His first fund was shuttered, and the second had a very bad start over its opening two years. Simons struggled time and time again with his partners. The first three partners all quit in disputes of some sort. When he finally got RenTec going during the 1990s, people problems continued to plague him. There were employees who stole his IP. Others who launched huge financial disputes. And then more recently he was forced to fire one of his co-CEOs, Bob Mercer, because of extreme internal dissent over his crucial roles in the Brexit campaign and the election of Donald Trump. Finally, Simons never full trusted his models, partly because of their inability to deal with regime changes, and coding errors, and overrode them completely during crises when RenTec suffered huge losses. Read the full column here or AFR subs can click here. Excerpt enclosed:
Coding errors propagated a significant losing streak in RenTec's equity strategy in 1995. When the long "tech boom" during the 1990s suddenly shifted into the savage "tech wreck" in 2000, RenTec's momentum-based systems could not cope, torching $US260 million in just three days (or total losses of 16 per cent). Once the quants identified the models were broken, and modified them accordingly, Medallion recovered quickly, ending up 74 per cent after fees in that same year.
During the synchronised "quant quake" in August 2007, Medallion lost more than $1 billion, or 20 per cent of its value, in a single week. Another longer-term fund that RenTec had launched, called RIEF, smoked $3 billion concurrently. It transpired that around one-quarter of all RenTec's trades were being emulated by peers. Steam-rolling the recommendations of his team, Simons overrode the models' desire to keep buying and started unilaterally liquidating. "Our job is to survive", Simons argued. "If we are wrong, we can always positions later."
As this column previously explained, RenTec has found greatest success exploiting short-term, rather than long-term, anomalies. That makes perfect sense given it is much easier to predict what will happen over hours, days and weeks than months or years (volatility grows with the square root of time).
Having said that, its win ratio is only just north of 50 per cent, and its enormous returns are a function of gargantuan leverage combined with massive trading volume on a global scale. And the impressive monthly return series conceals large losses and variability on a trade-by-trade basis.
While one lesson from this tale might be that markets are inefficient, with the corollary that active managers can generate alpha, perhaps the superior insight is that it is bloody hard work identifying and capitalising on those anomalies.
........
Disclaimer: This information has been prepared by Smarter Money Investments Pty Ltd. It is general information only and is not intended to provide you with financial advice. You should not rely on any information herein in making any investment decisions. To the extent permitted by law, no liability is accepted for any loss or damage as a result of any reliance on this information. Past performance is not an indicator of nor assures any future returns or risks. Smarter Money Investments Pty Limited (ACN 153 555 867) is authorised representative #000414337 of Coolabah Capital Institutional Investments Pty Ltd, which holds Australian Financial Services Licence No. 482238 and authorised representative #001277030 of EQT Responsible Entity Services Ltd that holds Australian Financial Services Licence No. 223271.
---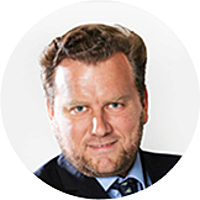 Portfolio Manager & Chief Investment Officer
Coolabah Capital
Chris co-founded Coolabah in 2011, which today runs over $8 billion with a team of 26 executives focussed on generating credit alpha from mispricings across fixed-income markets. In 2019, Chris was selected as one of FE fundinfo's Top 10 "Alpha...