The historical logic behind tariffs
---
Whilst the diagnosis of the driver of the deficit might be wrong, Trump' actions viewed through the lens of the history appear more logical. Indeed if the models of the rise and fall of Great Powers laid out by Paul Kennedy, Charles Kindleberger and more recently, by Professor Graham Allison with his Thucydides Trap theory, are correct, then Trump's actions make considerable sense.
Kennedy's model, for instance, is that relative economic might is essential to retain world hegemony, i.e. the two factors go hand in hand. In the introduction to his 1988 book, he summarises that as follows:
"the triumph of any one Great Power in this period (i.e. from 1500 – 2000), or the collapse of another, has usually been the consequence of lengthy fighting by its armed forces; but it has also been the consequence of the more or less efficient utilization of the state's productive economic resources in wartime, and, further in the background, of the way in which that state's economy had been rising or falling, relative to the other leading nations, in the decades preceding the actual conflict"
In other words, it's the relative economic position that matters (not absolute). That is neatly illustrated by the US's defence spending which is 3 - 4 times more than China's current spending. That spending allows it to maintain control over the shipping lanes and key oceans (and contain China within the First and Second Island chains – see Longview Letter no 106, January 2017: "When a Rising Power Challenges the Incumbent" for further analysis). This position, though, is arguably being increasingly challenged by an innovative China, bringing new approaches to warfare, e.g. cyber warfare, and by consistent double-digit growth in defence spending.
Professor Allison, in his book drawing upon centuries of history, analyses when rising powers have challenged established powers. In the book, he lays out the high likelihood of war between an established power and a fast-rising rival:
"(Allison) identifies 16 historical case studies in which an established power like Sparta (or the United States) was confronted with a fast-rising rival like Athens (or China). Twelve of those cases led to war. Four were resolved peacefully"
Third Kindleberger offers the final piece of the historical roadmap, laying out the 7 conditions which bring about the relative economic decline of the leading economic power of the time (NB these conditions are our interpretation and summation of Kindleberger's thesis from our 2009 research. Those 7 conditions include: overindebtedness, financialisaton (& deterioration of the manufacturing base), loss of technological leadership, currency debasement and so on.
Now while it's clear that Trump's administration has not appreciated all of those 7 Kindleberger conditions, it's clear that they have appreciated and are attempting to address some of them.
Indeed Peter Navarro's thesis about the US-China trade relationship (as laid out in his book: "Death by China") discusses the Chinese theft of America's intellectual property, and the abuse of the agreed global trading rules, (purportedly) policed by the WTO. Interestingly, while Navarro is often dismissed in many circles as not understanding what drives the US trade deficit (a point with which we would concur – see our view on the trade deficit above), there are many backers across party and country lines who would agree with his point on intellectual property theft. Bill Gates and Linda Jacobsen, for example, highly respected Australian academics and China watchers, argue in their recent 2017 book:
"The ability to gather information and deliver a debilitating attack on another country has already become an important element of hard power in the twenty-first century. In pursuing these capabilities, China (not only) gathers useful economic and military secrets.........according to US intelligence sources, Chinese cyber attacks against US government institutions and companies are unprecedented.........Chinese hackers have accessed important technical data on US military systems and defense technologies such as the engines used for the F-35 multirole fighter"
While Jamie Dimon, JP Morgan's CEO, is similarly in agreement, acknowledging, earlier this month, the Administration's point on this issue:
"Had trade been fair with China?" Dimon asked rhetorically at a town hall event in Washington, D.C. with Yahoo Finance's editor-in-chief, Andy Serwer. With the assumption that the answer was "no," Dimon went on to say, "The president pointed this out, and I hate to tell you, he's right. We all know that. The Chinese know it. They steal intellectual property. There's cybersecurity. There are very high tariffs for certain things."
Indeed the loss of US (and western) market share in the global export market (FIG 1) is testament to the rising relative economic strength of China, and relative diminishing strength of the US (& most of the rest of the West).
In part that loss of share relates to the competitive cost disadvantage of the US (i.e. more expensive labour costs). Over the long term, though, those relative cost disadvantages should be evened out by the movement in the currency. Hence Navarro and Trump's contention that China is a currency manipulator (albeit we would argue that, at this present time, the RMB is most probably overvalued, having been previously undervalued for a long period of time).
In other ways, though, Trump, Navarro and other members of the administration, would argue that some of the loss of share relates to intellectual property theft and the absence/slowness of the Chinese to open their domestic markets and create a level playing field.
It's in this context, therefore, that Trump's actions are rooted in the logic of history. By confronting China and attempting to force a level playing field in trade and stop the theft of intellectual property rights, Trump and his team are attempting, on one level, to arrest America's relative economic decline and reverse numbers 4 and 7 of Kindelberger's conditions and with that potentially reverse the financialisation, overindebtedness and ultimately currency debasement in the US economy. If successful, they should delay (or potentially permanently forestall) the dilemma that Allison lays out in his book: That is forestall the 'Thucydides Trap' by which a rising power challenges the incumbent global power – and with that forestall the risk of the next major global war.
---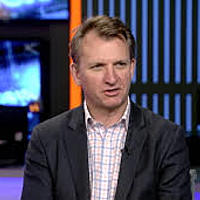 CEO & Chief Market Strategist
Longview Economics
Longview Economics, founded in 2003 by Chris Watling, is an independent research house based in London, providing three distinct yet interrelated groups of research products: Short and medium term market timing; Long term global asset allocation...
Expertise