The Match Out: RBA wrong-foots the bears, ASX rallies most in 2 years, 3-year yields see biggest move since '08
---
A very bullish session for the ASX today – the biggest gain in two years - with the RBA raising rates by a more modest 25bps versus 50bps expected. Bond yields fell sharply, the Aussie 3 years tanked 40bps in a heartbeat, the AUD dropped and equities surged, however, stocks were rallying into the move with the ASX up ~150pts before the 2.30pm surprise decision and then went another +100pts after it.
The ASX 200 finished up +242pts/ +3.75% at 6699. 
The IT sector was best on ground (+4.94%) while Materials (+4.50%) & Energy (+4.47%) also ripped.
Healthcare (+1.84%%) was the weakest relative performer however when 199 stocks in the ASX 200 finish higher, it's clearly a bullish day.
The move was amplified by bearish market positioning and when 'less bad' news comes out, short covering + underweight positioning causes outsized moves - a 3.75% rally today certainly fits the bill.
Huge moves in bonds with the 3 year yield experiencing the biggest intraday drop since October 2008.
Market Matters Research Lead Shawn Hickman was on Ausbiz this morning talking about interest rates with some firm views around what the RBA should do & the likely reaction (ahead of time) of the market – Watch Here – the RBA has taken a similar view raising rates by a non-consensus 25bps.
Our Lead Portfolio Manager James Gerrish was also on Talking Finance last week with Alan Kohler discussing the pitfalls of following the crowd, and highlighting how bearish the market was positioned – Listen Here.
Gold stocks were strong today – Gold still above US$1700/oz – Newcrest (ASX: NCM) +6.3% and St Barbara (ASX: SBM) +9.09% are the two gold stocks we own.
Property also caught the eye which is understandable given the lower than expected move on rates + the world of pain property stocks have been in - Goodman (ASX: GMG) for example is down 36% calendar year to date…
Banks roared with the big four  +4% at least while they added +50 index points to the market. NAB the first to pass on the hike in full.
Pilbara Minerals (ASX: PLS) +12.31% hit a new all-time high closing at $5.11 – Lithium broadly was hot with Sayona Mining (ASX: SYA) +13.33% on plans to fast-track lithium operations in its project in Quebec, Canada.
Iron Ore was flat in Asia today, ditto for Gold.
Asian stocks were mixed, Hong Kong down -0.83%, Japan +2.74% while China fell -0.55%.
US Futures are all up, around +1%.  
ASX200 chart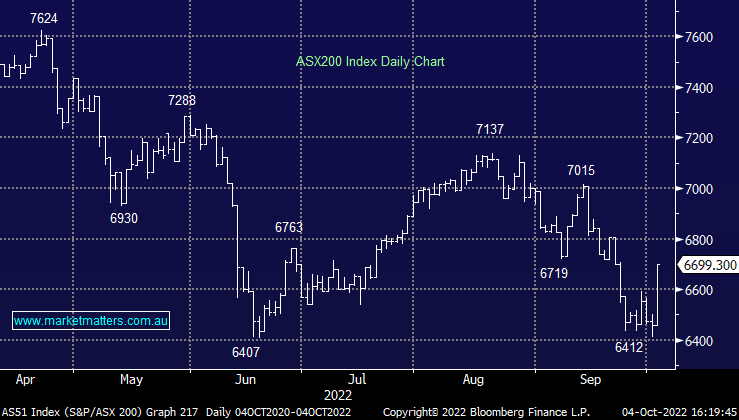 Interest rates decision
Todays move by the RBA triggered the biggest intraday drop in three-year government bond yields since October 2008, the change that day was a consequence of the RBA cutting 1% as the we cratered towards the GFC! Expectations have now changed with market pricing moving from a cash rate to peak above 4% to more like 3.5%. 

3 year bond yields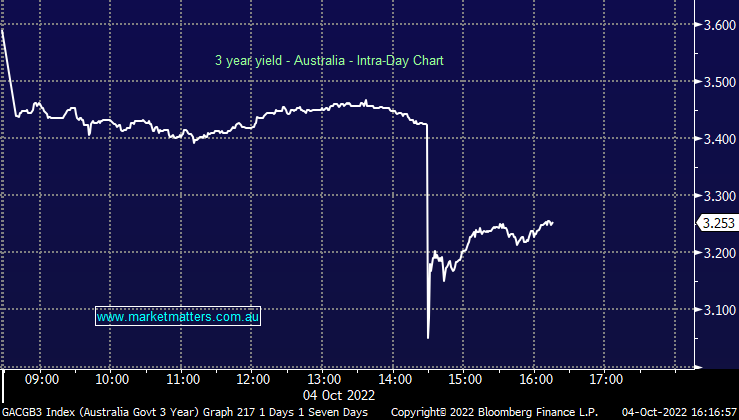 Broad based buying - MM Growth Portfolio
A quick look at portfolio positioning for the Market Matters Flagship Growth Portfolio tells a very bullish one day story – which is highly irrelevant from a performance perspective, however, we're more interested to get a handle on upside capture, whether or not the portfolio that we have set is best positioned if this move has legs , as we believe it does. You may note from below, TPG (ASX: TPG) which has been a drag since a weak result lagged the bounce today – it's our least preferred position and we'll likely cut it….more on this tomorrow in the Market Matters Weekly Portfolio Positioning Report – out each Wednesday morning, while we'll also have some thoughts on the stocks we'll likely add to.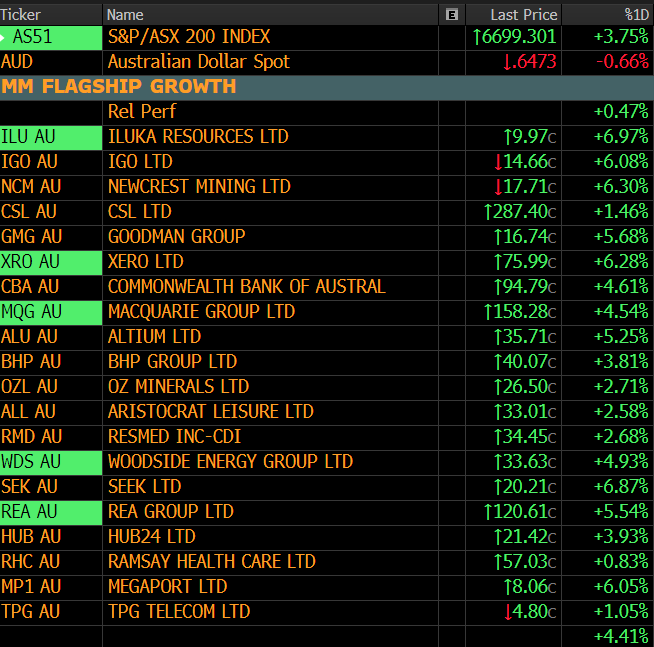 Broker moves
Major movers today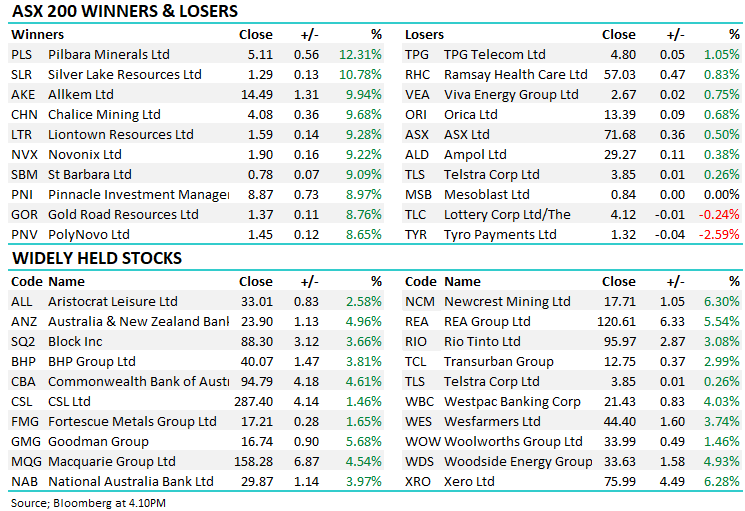 ---
Make informed investment decisions
At Market Matters, we write a straight-talking, concise, twice daily note about our experiences, the stocks we like, the stocks we don't, the themes that you should be across and the risks as we see them. Click here for your free trial.
The Match Out will be available each day after the market close. Follow my profile to be notified when the latest report is live.