The true scope of climate challenges
---
Key takeaways:

The companies within the Morgan Stanley International Equity team's portfolios are encouraging consumers to live more sustainably, with many also aspiring to reach 100% renewable energy use, net-zero carbon emissions, or even be climate positive.
There is greater focus by companies within the portfolios on reducing Scope 3 (emissions upstream and downstream of a company's activities), but the scale of the Scope 3 challenge suggests there is still work to do.
The team's access and experience gives it an advantage in encouraging company management towards a low carbon future.  
Earth Day on 22 April, with its theme of restoration, gave rise to a collection of new environmental pledges on the global stage.

US President Joe Biden, seeking to reclaim global leadership in the fight against global warming, unveiled the US goal of halving emissions from 2005 levels by 2030. Prime Minister Yoshihide Suga raised Japan's target for cutting emissions to 46% by 2030, up from 26%; while Prime Minister Justin Trudeau raised Canada's goal to aim for a cut of between 40 and 45% off its 2005 levels by 2030, up from 30%. The recently agreed European Union (EU) Climate Law aims to reduce EU carbon emissions by at least 55% by 2030 compared with 1990 levels. Biden's move followed President Xi Jinping's emissions goal set last September with China seeking to achieve net-zero emissions by 2060. There is hope that this will spur the next biggest emitters, India and Russia, towards improved pledges at COP26, the United Nations (UN) Climate Change Conference in November this year. Closer to home, Morgan Stanley has pledged (1) to mobilise $1 trillion in sustainable solutions globally that include helping prevent and mitigate climate change.
"Companies' Scope 1 and 2 emissions are just first steps towards solving climate change"
Within our team's portfolios, our companies have been busy too, encouraging consumers — their customers — to live more sustainably. There is growing recognition that companies' Scope 1 (direct or controlled) emissions and Scope 2 emissions (indirect emissions from purchase of energy) are just the first steps towards solving climate change. Greater focus on Scope 3 (everything beyond 1 and 2, including energy customers, consume when using a product) has begun to work its way not only into the consciousness of CEOs but also their advertising campaigns. Household companies see a revenue opportunity in identifying for consumers which small changes at home can make big changes for the planet. Consulting firms argue that the pandemic has intensified interest in "conscious consumption". A US multinational consumer goods corporation estimates that avoided emissions from low-energy laundry cycles since 2015 equals 15 million tons of CO2 or the equivalent of 3 million cars off the road. For context, in 2020 this company's scope 1 and 2 emissions were 2.6 million tonnes.
Personal care companies now offer comprehensive sustainability programmes. Looking to accelerate already steady progress in its carbon footprint, the world's largest cosmetics company aims to reduce its carbon footprint by 50%, ensure 95% of its ingredients are from circular sourcing and invest €100 million in regenerating ecosystems. A German chemical and consumer goods company has launched a carbon footprint calculator to help consumers understand their personal carbon footprint and contribute to sustainability through personal lifestyle choices. The scale of the Scope 3 challenge suggests there is work to do. It aims to save its consumers, customers and suppliers 100 million tonnes of carbon cumulatively between 2016 and 2025. To date, it has saved 50 million tons. Its 2020 Scope 1 and 2 emissions were just over half a million tonnes.
"The scale of the Scope 3 challenge suggests there is work to do"
One of the world's largest software companies takes the prize for ambition, pledging to go carbon negative by 2030 and to remove, by 2050, the entire historical carbon emissions of the company since it was founded in 1975. A global payments company has announced its commitment to reach net-zero by 2040 and celebrated carbon neutrality achieved in its operations in 2020. This company signing up to the Climate Pledge and Climate Business Network offers further examples of companies recognising the importance of not only solving but also being seen to be part of the global solution to climate change.
"Earth Day's announcements indicated an extension of consultants and IT companies seeking solutions to empower companies to decarbonise their supply chain"
Some companies, including a leading software and business solutions company, are seeking to spearhead the move towards a circular economy and a low carbon future with technology facilitating responsible design, sourcing, production, consumption, recovery and reuse. Consultants, already embedded in companies around the world, will play a key role in enabling other companies in the low carbon and energy transition. One consultant predicts (in "The Green Behind the Cloud") that migrations to the public cloud can reduce global carbon emissions by as much as 59 million tons of C02 annually. Earth Day's announcements indicated an extension of consultants and IT companies seeking to co-innovate and co-develop solutions for responsible production and design, empowering companies to decarbonise their supply chain and capture share in the circular economy. This follows similar consultant and IT company alliances of last year, joining with the UN Global Compact, to launch Sustainable Development Goals (SDG) Ambition Guidance, an SDG achievement accelerator.
We in the International Equity Team applaud these ambitions and actions while recognising the challenges of achieving them, and we thought it would be helpful to articulate some of the steps we are taking in our team to accelerate positive change.
We recently enhanced the suitability criteria for our Global Sustain strategy. The Portfolio will seek to achieve attractive returns with significantly lower carbon emissions than the universe. We are working with our clients to join us in this objective where they see fit.
In order to achieve this objective for our Global Sustain strategy, we have introduced an explicit carbon screen to identify and filter out the highest carbon emitters in the universe.
Finally, we have introduced and have been executing for some months on a systematic engagement programme to question the companies we own on their sustainability initiatives, and how they intend to meet the goals they are setting.
Clients of our other strategies also benefit from this additional engagement with our investee companies, given the meaningful overlap in holdings across our strategies. Such conversations also offer insights into management quality, corporate agility and capital allocation in the face of new risks.
ESG integration today requires a facility not only with price and quality but with the third dimension of sustainability. We are conscious that there is always more to learn, but we believe our access and experience do give us an advantage in encouraging company management towards a low carbon future. In this, as in everything we do, we remain ambitious.
Seek long-term outperformance
At Morgan Stanley Investment Management we strive to deliver distinct, innovative strategies that can mitigate risk during market downturns.
Hit the FOLLOW button below to be notified by email as soon as I publish my next wire.
---
(1) See: (VIEW LINK)
To reach the $1 trillion target, MS will work with corporations, governments and individuals to provide clean tech and renewable energy finance, green bonds and other transactions.
---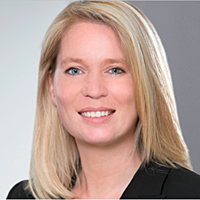 Lead Portfolio Specialist
Morgan Stanley IM
Laura is the lead portfolio specialist for the Global Franchise, Global Quality and Global Sustain strategies and a member of the International Equity team. She joined Morgan Stanley in 2006 and has 21 years of investment experience.
Expertise