For those on the sidelines learning about digital assets we are about to enter some excellent learning territory. The second largest asset in the space, ethereum, is changing its consensus mechanism from proof-of-work (PoW) to proof-of-stake (PoS). The difference could be best summarised as the former regulates its network using energy expenditure (as bitcoin does), the latter through ownership of the asset.
Fork wars are back
At some point in September the ethereum network will pivot from one mechanism to another. It won't be the first time either. Ethereum forked (a fork represents a change to the code) very early in its existence after a hack in 2016 which resulted in two assets;  the continuation of the original chain (ETC) and a new chain, now the most well-known (ETH). The market cap of ETH at $200 billion dwarfs ETC's $7 billion. Nonetheless, that chain continues to exist and continues to be mined.

The upcoming fork creates a problem for ethereum miners, many of whom have invested billions of dollars in mining equipment for PoW. In 2021 ethereum mining revenue exceeded $1 billion per month. Under PoS, mining rewards will no longer go to the entity with the most computing power, rather, to the person who stakes the most ETH. Mining is no trivial business and with their model about to collapse, the PoW miners are not sitting idly by.
One of the leading miners of ethereum is a group led by Chandler Guo. He has announced he will support a fork of ethereum known as ETHW once the merge happens in September. Essentially he will take ethereum as it currently is and continue to mine it, ignoring the upgrades planned by the rest of the network.

Anticipating this some years ago, ethereum developers included something in the protocol known as the "difficulty bomb". This bomb will go off some time in September around the time the fork is planned. The purpose of the bomb is to kill the existing chain by increasing mining difficultly so quickly that it is impossible to find the next block. That means no more PoW coins.
If anything goes wrong with the change to PoS, ETHW might start to look very attractive.
Guo plans to diffuse the bomb through his own fork, which is not trivial, but he is well-resourced enough to deal with it.
Indeed, his connections in the industry run quite deep and exchanges like Poloniex have already announced futures markets for ETHW. What's more, Justin Sun (the founder of cryptocurrency TRON), is planning a new stablecoin that will launch on ETHW.
What will happen?
The issue with all forks is network effect. If you fork an asset, by definition nobody is using it on day one and you are left bootstrapping in the hope that enough people will migrate across to support the new code.
ETHW has some advantage in that all developers are completely familiar with a technical stack they have been using for years. It is actually ETH that is going through the bigger change.
So, if anything goes wrong with the change to PoS, ETHW might start to look very attractive since it will represent the most recent version of ETH and could actually be a roll back option if the whole thing collapses.
The recent 50% rally in ETC might reverse too. A lot of people seem to think miners will switch to support the original chain but we suspect this is just temporary pending developments in ETHW.
Place your bets
The likely outcome here is that ETH continues to be the majority chain and most users sell their ETHW believing it does not have sufficient network effects to be sustained. However, if we start getting technical hiccups (and we certainly will) ETHW will start to look interesting.
Does the consensus mechanism matter?
More than that though, the argument about proof-of-stake will be settled over the course of time. From our perspective, proof-of-stake does not work for monetary instruments and this shift in ETH might define ethereum as nothing more than a low cost transport mechanism for digital assets.
What's more, ETH will become controlled by the largest holders of the currency and that might become obvious if something goes wrong in the technical roadmap ahead of them.
Learning
This is risky stuff. Very few people in the market have a handle on these digital assets. Even casual holders of ethereum aren't really aware of the changes that are coming in less than a month's time. A new asset will be born, with zero liquidity on day one, but it might present a threat to ETH if anything wobbles in the technical roadmap.
The safest thing to do is sit back and take the learnings from the exercise. Does the consensus mechanism matter? We think it does and this change might undermine the value of ETH and its security model.
Does the network effect matter? Again, yes it does. So, despite the weaker long term prospects for ETH it will likely prevail in this upcoming dual.
Fork wars are brutal though and this one is a bit more interesting since so few people seem to know its coming.
........
Daniel Pickering is the Chief Investment Officer of ListedReserve (AFSL 513 745), an investment management business based in Sydney specialising in digital assets. The views expressed on Livewire and in our published articles and comments do not represent investment advice and you should consult your advisor before investing in digital assets.
---

Follow Daniel Pickering's wires
---
---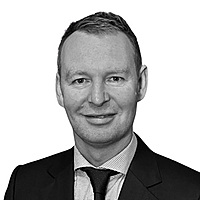 Chief Investment Officer
ListedReserve
Daniel Pickering co-founded ListedReserve in 2018 and has served as the Chief Investment Officer of ListedReserve since launch. He leads a team of analysts researching assets for their high-conviction digital asset funds. Daniel writes a popular...
Expertise