This is how Opendoor could profit from Zillow's iBuying exit
---
As the real estate industry revels in the current housing boom, there is a change in the air as digital technology starts to disrupt the trillion dollar industry. What if A.I. could help you find the house of your dreams and then sell it at the highest possible price without the headache of a broker or agent?
One of the companies espousing this technology is Opendoor, a NASDAQ-listed online property platform which has been shaking up house flipping in the US and is now one of the largest Instant Buyers (or iBuyer) in the market - where offers on homes can be made instantly.
Although Opendoor's direct competitor Zillow has made the decision to bag its iBuying arm, Zillow Offers, after a dive in profits, the company's seven-year journey into house-flipping is likely to be just one part of a wider disruption of the residential real estate industry as sales move online.
In this wire, I discuss Opendoor's strategic advantage outside of traditional real estate - and the future value this could bring. 
Battle of the iBuyers: Opendoor and Zillow
Opendoor and Zillow are two of the largest and most popular iBuyers in the US, accounting for about 86% of iBuying transactions. However, Zillow shocked the market in early November by announcing the sudden shutdown of Zillow Offers, its iBuying business that competes directly with Opendoor. Zillow had been overpaying for houses, leading to a $304 million write-down on inventory in the third quarter and the conclusion that they couldn't make this business work. Opendoor, which we own, fell 15% on the day Zillow's exit became public as the market questioned how much this was a Zillow-specific issue versus a broader iBuying issue. 
We were confident it was a Zillow-specific issue, that Opendoor didn't have the same problems, and we'll explain why later in this piece. When Opendoor reported results on November 10, this was confirmed as the company posted a healthy contribution margin and no significant write-downs1.
The question then becomes: why couldn't Zillow make the model work when Opendoor could? It's likely a range of factors. Some reports suggest Zillow failed due to human error, with employees paying more than the models suggested in order to reach growth targets set by management. 
Here's the Wall Street Journal2: 
"As first-quarter numbers trickled in, it became clear that even though it was making more money than anticipated, the company was on track to significantly miss its annual target for the number of homes it wanted to buy. Worse, it was falling behind its top competitor, Opendoor. 
"This is code red," Joshua Swift, senior vice president of Zillow Offers, said during the virtual meeting, according to the person who attended. Mr. Swift declined to comment through the company. 
Zillow put together a plan to speed up the pace and volume of home purchases, dubbing it Project Ketchup — which employees took as a play on the team's mission to catch up to Opendoor. Zillow planned to buy more homes by spending more money, offering prices well above what its algorithm and analysts picked as market value, people familiar with the matter said."
Experience also likely played a part. Opendoor has been solely focused on this business for seven years now, while Zillow was only three years into its journey and still trying to play catch up. It's also easy to underestimate the organisational challenges Zillow faced. It's difficult to take a high margin advertising business like Zillow and pivot to a low-margin, capital-intensive business that competes with your core real estate agent customers. 
Not everyone is convinced on Opendoor yet. We often see the company characterised as a 'house flipper' that can make money in a rising market but will fail in a declining market. This is clearly a mischaracterisation. Opendoor's core value proposition is offering convenience and certainty to house sellers. In exchange, they charge a service fee to take on that risk. That service fee is currently 5% but has been as high as 14% in the past. In a declining market, the value of that certainty to sellers increases, and we believe Opendoor will increase its fees to reflect that value. 
The reasons that most people sell property — life events like getting married, having kids, and moving for work — still happen in a declining market, and we believe Opendoor will remain one of the best ways to sell your property. 
Opendoor can build a significantly profitable business from iBuying alone, but our view is that iBuying is just the start of a much bigger journey. What the market underestimates is the strategic advantage being an iBuyer gives you. 
If potential sellers start their journey by getting a quote from Opendoor — and why wouldn't you when it's free and convenient — then it lets Opendoor see the property before it hits the traditional real estate system.
This unique view of supply is the wedge that will let them significantly disrupt the residential real estate industry. While Amazon has changed how we shop and Uber has changed how we travel, this offline-to-online transition driven by native digital experiences has been absent from residential real estate. It's an industry that's been captive to vested interests that are incredibly difficult to disrupt, unless you can capture the consumer before they enter traditional channels. And that's the true value of the iBuying business. 
We're beginning to see examples of where Opendoor can take this. Although the company rarely talks about it, we know that they've built an institutional platform so that the houses they see – before they're listed — are shown to institutional buyers like single-family property REITs3. Opendoor runs an auction, and if a bid exceeds what Opendoor themselves would pay, they offer the winning bid instead. Sellers receive a better price, REITs receive a streamlined way to acquire property, and Opendoor receives a fee without the capital requirements associated with the conventional iBuying business. Bloomberg recently estimated this business could represent more than a quarter of Opendoor's sales, which is in line with our estimates4.

On the consumer front5, Opendoor launched Opendoor Complete in early November, a product that combines buying and selling a house into a single, seamless transaction. Rather than worrying about lining up closing dates for your mortgage or about aligning moving dates, this complexity is abstracted away by Opendoor, resulting in a superior consumer experience. Further, in September, Opendoor acquired two startups that provide digitally-native ways to order and manage renovations, Pro.com and Skylight. While Opendoor has not announced how they will use these teams, it's easy to imagine how they could enhance a consumer offer.
Imagine using Opendoor to buy a home where you can order the renovations and remodelling you want, with Opendoor seamlessly handling these for you before you move in. Right now, sellers often renovate homes with a theoretical buyer in mind, but does this make sense? Wouldn't it be better to customise the renovations you want as a seamless part of the buying process? 
We think Opendoor has the potential to transform the residential real estate industry, and it's becoming clear why Zillow Founder and CEO Rich Barton described iBuying as an existential threat two years ago6.
The collapse of Zillow Offers, Opendoor's largest competitor, represents a significant positive for Opendoor's future value. We significantly increased our position in Opendoor through August and September, and the stock was our largest position at 14.1% at the end of October.
Case Study: Digital Footprints 
We started our research into Opendoor by sifting through every document, blog post, podcast, and presentation we could find on their approach to algorithms and data science. We learnt how they incorporate human experience in the process to capture local nuance7, how they model liquidity as well as price8, and how factors like road noise9 and powerlines and the attractiveness of a layout all contribute to their pricing model. We came away with the conclusion that this was a team that had put tremendous effort into understanding the real world complexity of valuing real estate10.
That provides the theory - why we think Opendoor can value houses appropriately - and theory underpins every long-term investment thesis. However, you always want to marry theory with empirical evidence. Sometimes this takes the form of interviews with past employees, talking to competitors, going through financial filings, and sometimes it involves capturing and analysing online data. 
With Opendoor, we wrote software to track their property listings on a daily basis. A listing is typically removed when a house becomes a pending sale, so by tracking when listings disappear we could get a sense for how revenue is developing on a daily basis. 
By cross-referencing that data with public property sales data (in regions where it's available), we can estimate how gross profit is tracking, and we can explore this data for an individual property or at a regional level. It's this monitoring that gave us confidence that Zillow's issues were Zillow-specific as Opendoor's business was still performing strongly. This level of visibility allows us to check whether individual anecdotes about selling a house below cost (which does happen) is representative of a wider area and the company as a whole. Suffice to say, we are comfortable with how Opendoor continues to perform. 
We have used online data to inform our views on companies before. Last year, before we made Zoom an 11.5% position, we used online data to work out whether the cybersecurity concerns prevalent in the media at the time was impacting their ability to sign up enterprise customers. We spoke to a few enterprise customers directly, and then realised that most enterprise customers that use Zoom have a custom subdomain like nike.zoom.us or walmart.zoom.us. 
This might be a small bit of information, but with it, we were able to take a large list of enterprise companies and make a reasonable guess of what their Zoom subdomain would be if they were a customer. We then wrote software that utilised a third party cybersecurity service to check if that subdomain existed, and importantly, when it existed. This gave us a reasonable sense for which enterprise customers had signed up in the past 3 months, which gave us further confidence in the numbers we were forecasting in our models, which gave us confidence to take the position above 10%. 
In today's age, many companies leave digital footprints that can provide insights into how they're performing, and many investors under-appreciate how much information is out there and/or lack the capabilities to fully utilise it. Alternative data is not a new idea, of course, and there are many third party firms that you can pay to provide this data. 
Our view is that if alternative data is widely disseminated it ceases to have value. But if you can collect data yourself in a proprietary way that isn't commonly collected, it can add significant value, and this is a capability we've built out over the past year and will continue to build out going forward. 
Portfolio Changes and Outlook 
Our increased position in Opendoor was the biggest change during the quarter. We also increased our weight in automation stocks to 15% at the end of September, driven by new positions in GXO Logistics (now our second largest holding) and smaller positions in Cognex and Keyence, along with our existing holding in Siemens AG (our third largest holding). We'll discuss the opportunities we see here in a future update. We have made IQVIA our fourth largest holding, and view the contract research organisation as one of the primary beneficiaries from increased drug development productivity in the industry. The portfolio continues to be fully invested and we see no shortage of compelling investment opportunities in this market. 
Learn more
We believe the market is often inefficient at pricing companies where rapid change is occurring, and that focusing our efforts on understanding new innovations early provides the opportunity to exploit this inefficiency to find undervalued and underappreciated companies. Find out more below.

Sources: to view all the sources for this wire please click here 
Managed Fund
Perpetual Global Innovation Share Fund
Global Shares
---

Follow Thomas Rice's wires
---
---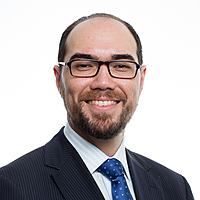 Portfolio Manager
Perpetual Asset Management (Australia)
Thomas joined Perpetual Investments in June 2014 and is the Portfolio Manager for the Perpetual Global Innovation Share Fund. In addition to portfolio management, Thomas also has a focus on global technology and digital entertainment. Prior to...
Expertise