This online bank is coming after the old guard
---
Elevator Pitch

SOFI is an online bank that is growing rapidly as younger tech savvy banking customers are turning away from old traditional, restrictive, high street banks. After coming public via SPAC in October 2020, and de-SPACing in May 2021, SOFI has been weighed down by a large lockup expiry and broader shift away from SPAC related stocks. As the selling pressure eases and catalysts like obtaining a bank charter and Q2 earnings become the focus, the stock is at an attractive level to buy a company generating triple digit growth and with a wide moat.
Background
SOFI was the first online bank (ie. Neo bank) to go public in 2020. Founded in 2011 by Stanford business school students -- originally using an alumni-funded lending model to connect recent grads with alumni in their community – SOFI became the first company to refinance federal and private student loans. Nowadays SOFI is a one stop banking app offering financial services and loans to over 2m members and growing rapidly. Customers love the modern, cheaper, and less restrictive product offering under one roof while SOFI is able to keep costs low and variable profits higher than traditional banks. Separately, SOFI aims to be the AWS of fintech, and its doing so with their Galileo platform, which great fintech businesses like Chime, Robinhood, Revolut, Remitly and many others are built on top.

Investment Thesis
Business Moat and market potential – the breadth of SOFI's offering is impressive and leaves the competition far behind. The SoFi platform is kind of a "super-app" for all things financial-related as it offers a full suite of financial products. There is no other offering that combines all these services in a standalone app. This is a compelling argument by which SoFi should be able to pull a large share of customers (typically, but not limited to younger/millennials) from legacy banks, from which the top 10 hold 50% of consumers' 500M+ bank accounts in the US. A large pie up for grabs especially if you consider that around 50% of Americans use more than 1 bank account to fulfill their needs due to the lack of an integrated financial one-stop shop on a digital platform. SoFi's strategy is simple, obtain new customers on less expensive acquisition-cost products (SoFi Money), and then cross-sell them higher lifetime value products (personal loan / mortgage) at little to no cost through automated, tailored advertising. SOFI has built around a wide moat containing high switching costs, product eco-system and strong new age branding.
Galileo – in 2020 SoFi doubled down on strengthening their tech platform by acquiring the API/fintech platform, Galileo. Galileo is the backbone of almost the entire digital banking market in North America and serves around 70% of the top 100 finetch firms. Robinhood, Revoult and Chime are well known customers. It enables companies to build out their own financial products in payment, card issuing, and digital banking, amongst other functionalities. The platform is expected to be a major revenue driver for SoFi in the long term. The Galileo platform saw the third quarter in a row of 100% customer growth. Worth noting that's a significant acceleration from the growth rates that Galileo saw back in 2019. The business combination fits nicely into the overall SoFi strategy of expanding the product portfolio, and with Galileo, SoFi is now also penetrating the business-to-business revenue stream right next to its consumer-facing offerings. The combination will likely also accelerate and expand SoFi's existing products & services to the 70M Galileo accounts, a nice cross-selling opportunity.
Growth – with only one quarter having been reported since coming public, and the numbers were impressive, it's the accelerating growth in members and products that is eye-popping. In Q1 2021, SOFI reported a YoY increase in revenue of 151% to $216m.. which easily beat managements guidance of $190m-195m. SOFI reports Q2 on the 12th of August so we will hear more about the numbers then, although the street is looking for $225m, and SOFI has already reaffirmed guidance of $980m in FY2021, a 58% YoY increase. We have more data on the growth in members and products. In Q1 SOFI reported 2.2m members, which was +110% from Q42020 and +210% from 1m members in Q12020. Total products (loans) grew 121% YoY to $3.1m and financial services (SoFi money, credit card, invest) +273% YoY to $2.2m. Its also worth noting the Galileo platform saw the third quarter in a row of 130% customer growth, which is a significant acceleration from 2019 growth rates of ~30%. The charts speak for themselves in the appendix below.

Bank Charter - SOFI acquired Golden Pacific Bancorp, a community bank, for $22.3 million as part of its effort to secure a national bank charter. SoFi currently uses third parties to underwrite its loans, which is less profitable, but it would bring that in-house with a charter, using member deposits to fund its lending, as traditional banks do. Management has forecast that a bank charter would yield an incremental $1 billion by 2025. In October last year, the OCC issued a preliminary conditional approval of their application to be chartered as a de novo national bank.
Valuation
The current market capitalisation is $12.5bn, which sounds low when sizing against their own forecasted TAM of $2trillion.
Oppenheimer, one of three brokers that cover SOFI have a SOTP of $25, where they split the company into (1) Lending (2) Tech Platform and (3) Financials Services.
Due to the business mix and opague financial history from Galileo so far, peer multiple analysis is would not be a relative analysis at this stage. However, we comp vs SQ to give some perspective.
2022 EV/Sales is 9.9x vs 5.27 for SQ and 6.97x average for is payment processor software peers (FIS, FISV, GPN, JKHY). But, SOFI is expected to grow revenue by 52.3% in 2021 and management has provided a 5-year outlook through 2025 for consolidated revenue CAGR 43%.
An interesting way to look at the runway for growth is comparing SOFIs expected revenue growth rate after crossing $1bn in revenue to SQ. The chart below shows SOFI is growing quicker than what SQ did when they crossed $1bn in revenue.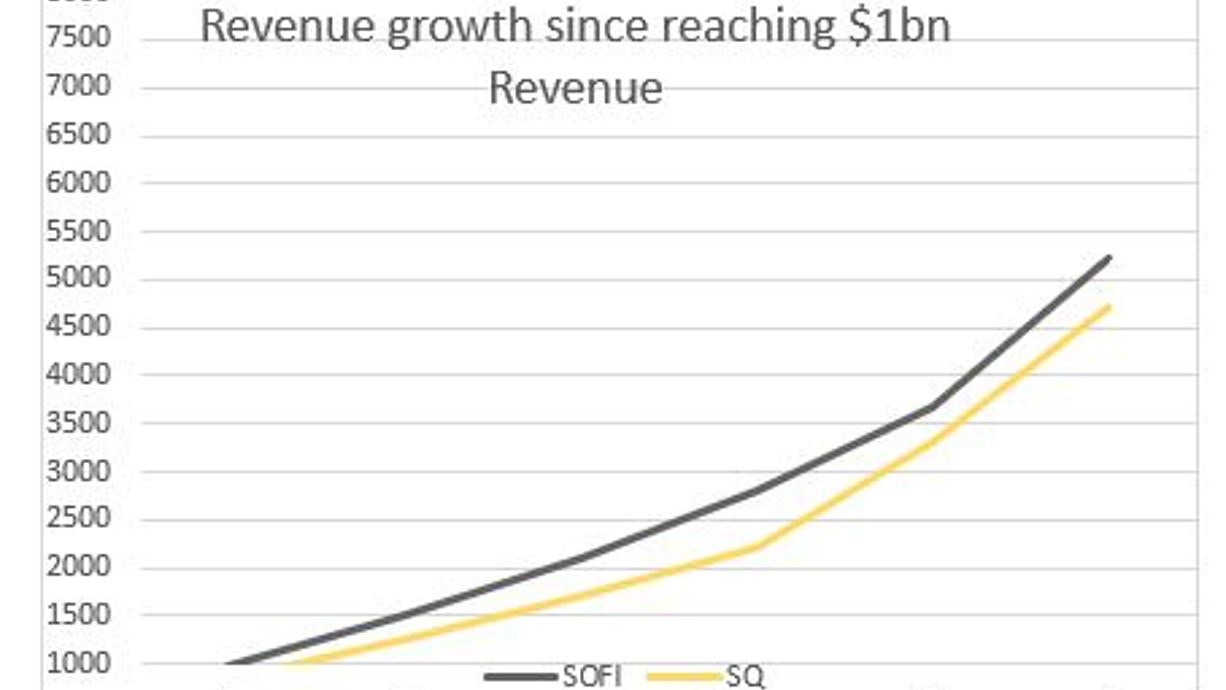 Risks

- Fail to obtain a bank charter

- Additional Regulation Upon Obtaining National Bank Charter/Completing Golden Pacific Bancorp Acquisition

- Competition in Attracting New Members and Retaining Existing Members

- Concentration Risk in Loan Sales and Galileo Customers

- Credit Risk / Regulatory Risk
Technical

SOFI has traded in a range $15-25 in 2021 and $15 has proven as reliable support being tested and held 5 times. The stock has recently sold down from 25 to 15 in a linear pattern implying mechanical selling from the recent lock up.