Three 'fortress' growth stocks for volatile times
---
Turbulent markets make it timely to review growth businesses that boast strong free cash flow and robust balance sheets for volatile times.
The economist and speculator John Maynard Keynes once famously quipped that "Markets can stay irrational longer than you can stay solvent." This same principle can hold as true for companies as it does for speculators. Today, inflation and its resulting capital market dynamics have created a less forgiving funding environment and one result has been a violent selloff of growth stocks.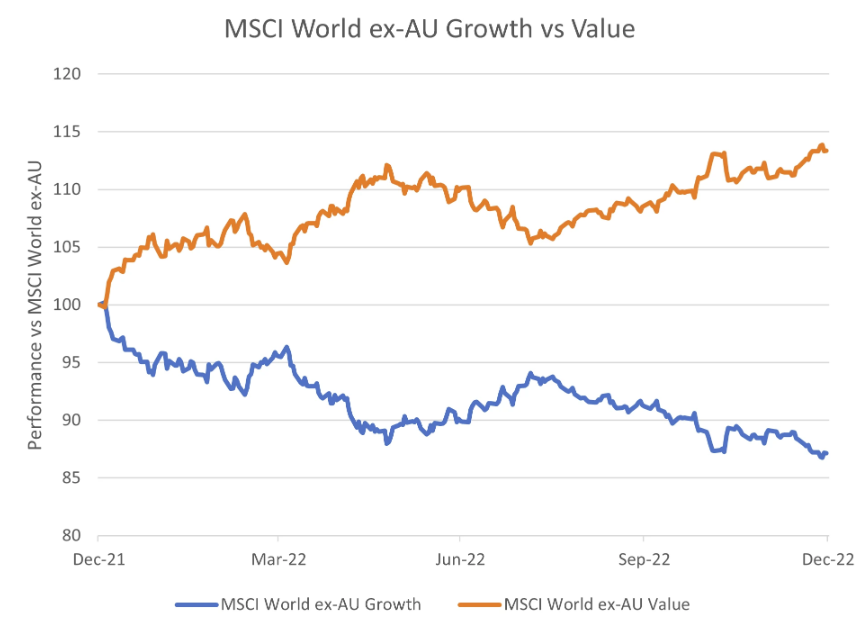 However, not all growth stocks require access to capital, and we believe that the much of the market has, to a great degree, thrown the proverbial baby out with the bath water by shunning growth companies indiscriminately. In fact, to the contrary, there are many growing businesses that enjoy strong free cash flow and robust balance sheets.

In this article, I'll review three companies that continue to benefit from strong fundamental growth drivers and boast both strong balance sheets and enviable free cash flow dynamics.
Tyler Technologies (NYSE: TYL) – Municipal service supports healthy recurring cash flow
Tyler Technologies, (Tyler) is an American company that provides software and technology solutions to the public sector, including local governments, schools, and courts. The company offers a range of products and services spanning financial management, property appraisal, tax assessment, court management, and school administration software.
Because its software offerings provide mission critical services, the company has earned a sticky customer base with a high degree of customer lock-in. This allows for strong revenue visibility, with recurring revenues at ~80%, up from ~55% in 2010.(1) This has been driven in part by the switch from a perpetual license to the much more profitable cloud-based SaaS delivery model.
In addition to strong customer relationships, the company generates strong free cash flow while continuing to innovate within its market. Historical cash flow margins have averaged over 20%.(2)  The company has generated cumulative free cash flow of $1.2bn over the last 5 years, relative to ~$200m in capex spend for growth. A debt-light balance sheet further insulates the company from the need to access the capital markets.(3)
We believe Tyler will be able to maintain and even grow its competitive position by leveraging its strong relationships within the public sector channel to take additional share in what is a $12-15 billion-dollar addressable market. We also note that this growth could be accelerated by further stock market dislocations that create attractive acquisition opportunities.
Synopsys Inc. (NASDAQ: SNPS)
 

– Integrated into the future of computing

Synopsys Inc. provides technology solutions for the design, verification, and manufacturing of electronic systems and components. The company's products and services are used by companies in the semiconductor, computer, and electronic systems industries to design and test their products.

Decades of accumulated expertise in the development of cutting-edge semiconductor design, and electronic design automation technologies means the company's businesses have both high barriers to entry and high customer switching costs.

The company's strong business model results in robust operating cash flow. Full-year 2022 free-cash-flow margin was over 30% at ~US$1.6 billion. In addition, Synopsys commands a fortress balance sheet with $1.4 billion of cash on hand against only $600million of long-term liabilities.(4)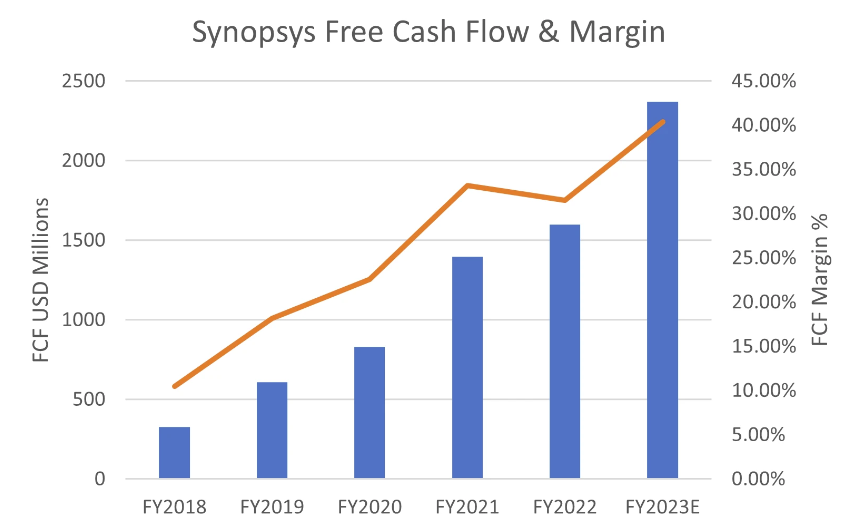 We see the company as positioned to benefit from the increasing growth for connected devices, the internet of things (IOT). Furthermore, Synopsys is well placed to help the semiconductor industry deliver scalable solutions to the rapidly expanding enterprise and consumer demand for Artificial Intelligence (AI) – think ChatGPT – through custom chip designs.

Humana Inc. (NYSE: HUM) – Scaled healthcare delivery
Humana Inc. (Humana) is an American for-profit health insurance company based in Louisville, Kentucky. It is one of the largest health insurance companies in the United States and has operations in all 50 states. The company offers a range of health insurance plans, including Medicare Advantage and Medicaid plans, as well as individual and group health insurance plans. The company also operates a number of health care centres and clinics and has a growing presence in the telehealth market.
We believe Humana has a sustainable competitive advantage in the fast-growing Medicare Advantage market, which caters for an older population cohort. Humana is the second largest Medicare Advantage plan provider, serving over 5 million beneficiaries. It has been growing this business at over 10% since 2017, well ahead of the overall market which itself is poised for continued growth as Medicare eligibility increases.(5)
The company's strong business position has underwritten attractive returns of capital to investors over recent years through a combination of share buybacks and dividends.(6)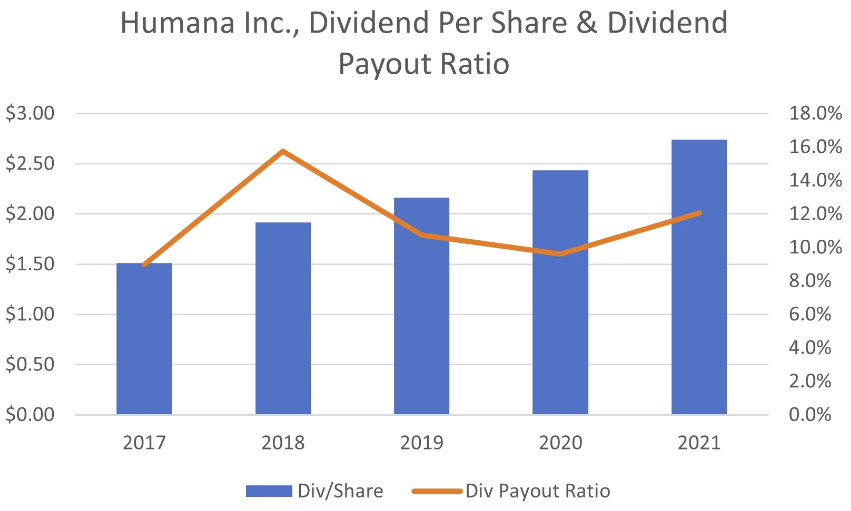 Looking forward, our analysis indicates that the company's Medicare business will continue to support robust free cash-flow over the medium term. This in combination with its balance sheet which boasts strong cash coverage ratios should hold the company in good stead to weather any economic turbulence in the years ahead.

Free cash flow and growth can go hand in hand
With high-flying corporate failures dominating the headlines, it can be easy to forget that growth and healthy cash-flows are not mutually exclusive. Our experience as investors has demonstrated that strong business models can and do align with secular growth trends to create profoundly profitable businesses which can grow independent of the vicissitudes of capital markets and to a degree, the economy at large.
We are encouraged by the market's current opportunity set which we see as offering many high-quality businesses at attractive valuations.
Seeking a growth investment in companies around the world?
We focus on fundamental bottom-up stock analysis to identify and select quality growth companies with sustainable business models and proven management teams that are focused on the creation of shareholder value. Learn more below or via our website.

Managed Fund
Franklin Global Growth Fund
Global Shares
Never miss an update
Enjoy this wire? Hit the 'like' button to let us know. Stay up to date with my current content by
following me
below and you'll be notified every time I post a wire
Welcome to Livewire, Australia's most trusted source of investment insights and analysis.
---
To continue reading this wire and get unlimited access to Livewire, join for free now and become a more informed and confident investor.
Francyne Mu is a vice president, portfolio manager, and generalist research analyst for Franklin Equity Group. Prior to joining Franklin Templeton in 2008, Ms. Mu was a senior investment manager at Pictet Asset Management and a vice president at Citigroup Asset Management, covering financials. She entered the financial services industry in 2000. Ms. Mu holds a B.A. and a B.Com (Hons.) from the University of Melbourne. She is a Chartered Financial Analyst (CFA) Charterholder.
........
(1) Source: Tyler Technologies Inc. Company Reports, as of August 2022 (2) Source: Tyler Technologies Inc. Company Reports, as of August 2022 (3) Source: Tyler Technologies Inc. Company Reports, as of August 2022 (4) Source: Synopsys Inc. Company Reports, as of November 2022 (5) Source: Humana Inc. Company Reports, as of March 2022 (6) Source: Franklin Templeton, Humana Inc. Company Reports The information provided should not be considered a recommendation to purchase or sell any particular security. It should not be assumed that any of the security transactions discussed here were, or will prove to be, profitable. This publication is issued for information purposes only and does not constitute investment or financial product advice. It expresses no views as to the suitability of the services or other matters described in this document as to the individual circumstances, objectives, financial situation, or needs of any recipient. You should assess whether the information is appropriate for you and consider obtaining independent taxation, legal, financial or other professional advice before making an investment decision. Please read the relevant Product Disclosure Statements (PDSs) and any associated reference documents before making an investment decision. In accordance with the Design and Distribution Obligations and Product Interventions Powers requirements, we maintain Target Market Determinations (TMD) for each of our Funds. All documents can be found via www.franklintempleton.com.au or by calling 1800 673 776. Issued by Franklin Templeton Investments Australia Limited (ABN 87 006 972 247, AFSL 225328).
---

Never miss an update
Get the latest insights from me in your inbox when they're published.
---
---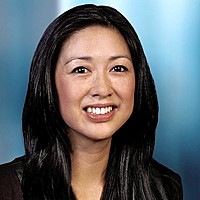 Vice President, Portfolio Manager/Research Analyst
Franklin Templeton
Francyne Mu is a vice president, portfolio manager, and generalist research analyst for Franklin Equity Group. Prior to joining Franklin Templeton in 2008, Ms. Mu was a senior investment manager at Pictet Asset Management and a vice president at...
Expertise