Time to reflect on a crazy week
---
It has certainly been a volatile week, with an overload of information both locally and globally for markets to digest. Markets remained in a risk-averse mood, and equities have fallen sharply. The Aussie dollar has also underperformed, being the weakest G10 currency this week.
On global events, the week started with optimism with Trump/Xi meeting at the G20 agreeing to a ceasefire and the US to hold off imposing further tariffs and in exchange China will purchase, "a very substantial amount" of US goods. This optimism lasted a mere 24 hours; with markets finding fresh reason to worry about the trade outlook as Trump tweeted he is a "tariff Man". Further intrigue was also raised with the arrest of CFO of Huawei – seen as indicative of further strains in US- China relations.
These trade concerns and fears over growth outlook rattled equity markets which fell heavily during the week. This uncertainty also raised doubt over the Fed tightening path for 2019, with market pricing now questioning whether the Fed will continue its tightening plans into 2019. This revised outlook saw bond yields fall sharply lower, with benchmark US10year yields falling under the psychological 3%.
Now, with all this global action, Australia also had an incredibly busy data week, so we'll focus on the key data release which was Australia's GDP. Q3 GDP was reported to have risen just 0.3% for the quarter versus 0.6% consensus. Deepening the disappointment were downward revisions, leaving annual growth at 2.8%. The 3.4% in Q2 revised down to 3.1%. The details weren't encouraging either - business investment fell and consumer spending was weak, rising just 0.3%qtr.
This weak GDP data, combined with global moves doubting Fed tightening has seen interest rate markets remove all pricing for the RBA to raise the cash rate next year.
Before this data, on Tuesday we did have the RBA announce its final decision for the year where rates were left on hold as unanimously expected. The RBA reiterated "The Australian economy is performing well" although did express concern about signs of a slowdown in global trade, partly stemming from ongoing trade tensions. But overall there were no major surprises in their statement, and this marks yet another calendar year of rates on hold – which we expect to again be the case in 2019 and indeed 2020.
Also on central banks worth mentioning Bank of Canada which this week held rates steady, but indicated a much more cautious outlook. Remembering they had been one of the more advanced in the tightening, with 3 hikes this year, yet they too signalled growing caution regarding the outlook
Lastly on the global front, Brexit continues to throw surprises, with growing talk of a second referendum as the Brexit bill is due to be voted on next week. The pound has actually been flat on the week, but, UK equities, for example, are down 5%, with the index trading at levels below those in 1999.
All up then, it has been a very volatile week and with the focus on trade, and growing domestic concerns around the consumer and housing market, the AUD has understandably been weak. Looking ahead, this may continue, although the USD has lost considerable yield support as markets debate the 2019 Fed outlook. The December Fed meeting will be next critical event for markets and will shape early 2019 direction. We'll be back to talk to you about that next week.
---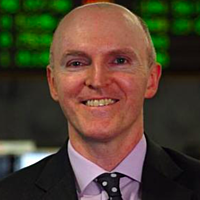 Senior Currency Strategist
Westpac Bank
Sean Callow is Westpac Bank's Senior Currency Strategist, based in Sydney. Sean focuses on the Australian dollar and other G10 and Asian currencies. He has worked in strategy and economics roles in New York, London, Singapore and Melbourne.
Expertise