Triple the market impact of the internet
---
As Douglas Adams put it: "Anything invented after you're 35 is against the natural order of things". As a relatively sprightly 43-year old, I certainly find the scale and pace of technological change today hard to follow, let alone reconcile. 
One of our partnering managers, ARK Invest are right at the cutting edge of these changes and have thankfully shared their perspective in detail here. Their views can sound radical at the time but often morph toward consensus. ARK's Catherine Wood, for example, made a call for Tesla to reach $4000, which got plenty of the wrong kind of headlines, though looks less outrageous after the stock surged five-fold toward $1000 over the last few weeks.

So if you want to see what the biggest investible tech themes of the coming years might be, including what ARK thinks may have triple the market impact of the internet, I've read through their latest report and pulled out some of the key points for you below. The full report is available at the end. 
Deep Learning
The Internet created roughly $10 trillion in global equity market capitalization in 20 years, and they believe that deep learning will have 3x that impact, adding $30 trillion to global equity markets over the next two decades. 

Streaming Media
According to ARK research, streaming revenue should more than quadruple during the next five years, from $86 billion today to $390 billion in 2024.
Electric Vehicles
Four years ago, the Energy Industry Administration (EIA) and other forecasting agencies estimated that EV sales would total a few hundred thousand units in the early 2020s. After EV sales hit 1.45 million units in 2018 and an estimated 2 million in 2019, the same agencies now forecast roughly 6.5 million in 2024.
ARK's thesis for the evolution of the market differs dramatically. Based on Wright's Law, ARK forecast EV sales will be 37 million units, six-times higher than the forecasting agencies' consensus estimate for 2024. 
Automation
Automation encompasses industrial robots, service robots, and automation systems. While many observers fear that automation will destroy jobs, ARK believes it will empower humans, increasing both productivity and wage growth. According to ARK's research, automation will add $800 billion to US Gross Domestic Product (GDP) by 2024, and potentially $12 trillion by 2035.
3D Printing
3D printing collapses the time between design and production, shifts power to designers, and creates products with radically new architectures and less waste, at a fraction of the cost of traditional manufacturing. ARK believes 3D printing will revolutionize manufacturing, growing from $10 billion in 2018 to $97 billion in 2024 at an average annual rate of 65%. 
Autonomous Ride-hailing
Robots that can move people and parcels from place to place should reduce the cost of point-to-point travel to 1/10th the cost of a taxi today. In urban areas, ARK believes autonomous ridehailing will become the norm and personal car ownership the exception, enabling new business models. While autonomous ridehailing should debut a year later than promised, ARK's research suggests that the 10-year net present value (NPV) of its cashflows is more than $1 trillion today and should hit $5 trillion by 2024 and $9 trillion by 2029. 
Aerial Drones
Lower battery costs and autonomous technology should power aerial drones. Soon, ARK believes drones will deliver our packages, food, and even people quicker and more conveniently than ever before. Drones should change shopping behaviour and reduce travel times while potentially saving lives. ARK believes that drone delivery platforms could generate roughly $275 billion in delivery revenues, $39 billion in hardware sales, and $12 billion in mapping revenue by 2030. 
Next Generation DNA Sequencing
Next-generation DNA sequencing ("NGS") is the driving force behind the genomic revolution. Since 2003 the cost to sequence a human genome has dropped from nearly $3 billion to less than $1,000.

ARK believes that as costs continue to drop, NGS will become a standard of care in oncology. It will introduce more science into healthcare decision-making, enable personalized medicine, and accelerate drug discovery. ARK estimates that NGS revenues will grow 43% at an annual rate, from $3.5 billion last year to $21 billion in 2024. 
Biotech R&D Efficiency
The convergence of Artificial Intelligence (AI), Next Generation DNA Sequencing (NGS) and CRISPR gene-editing have the potential to boost the efficiency of drug development radically. It should shorten development timelines, reduce failure rates, and increase returns on
R&D in the search for disease cures. ARK's research shows that the convergence of AI, NGS, and CRISPR gene-editing could add trillions to the market capitalization of the Biotech and Pharmaceutical industries, while creating a more efficient healthcare system. 
Digital Wallets
According to ARK's research, digital wallets will be valued at a premium to retail banks and, thanks to their low cost of customer acquisition, will offer banking services to low income earners in a way that traditional banks cannot. Given ARK's estimate of 220 million digital wallets in the US by 2024, if every user were to be valued according to the lifetime value of traditional bank customers, the digital wallet opportunity could be worth more than $800 billion.
Access the whole report
This was intended as a brief highlights reel to summarise the key themes and potential scale of the addressable markets in the coming years. ARK Invest has produced a far more detailed 80-page report, which you can access in full here. 
---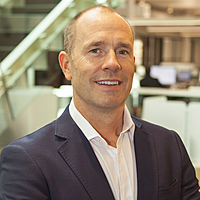 Alex happily served as Livewire's Content Director for the last four years, using a decade of industry experience to deliver the most valuable, and readable, market insights to all Australian investors.
Expertise