Two stocks to watch in the decarbonisation space
---
In this interview with Gary Rollo, Portfolio Manager of the Montgomery Small Companies Fund we focus on the bull market associated with the decarbonisation thematic, the long-term fundamentals for lithium and copper and two stocks we own, Pilbara Minerals (ASX:PLS) and Aeris Resources (ASX:AIS).
Lithium Feedstock
Lithium is a feedstock element for batteries that go into electric vehicles and Australia is very fortunate to be forming a big part of the supply chain with the ability to invest in companies that generate the feedstock required for electric vehicles from two sources - brines and spodumene.
We have seen spectacular changes in the pricing for spodumene as there is limited supply and we expect that profile to be in play for quite some time as the supply side of the industry can't react as fast as the demand side is absorbing this supply.
Decarbonisation and Copper
The second part of the electric vehicle thesis is Copper, the input that electric vehicles require from Copper is about four times of what a conventional vehicle requires.
From the pandemic low of March 2020, the Copper price has doubled to around US$4.35/lb., challenging the record-high of ten years ago. Currently there are around 1.4 billion motor vehicles in the world, or around 18 per cent of our global population of 7.85 billion.
If we assume that over the next two decades, the combination of legislation, technological improvement, and price force the world to electrify just 40 per cent of the motor vehicle fleet, or around 600 million vehicles, this should see an enormous boost in the demand for Copper. At say an average of 55 kilograms difference between conventional combustion engine vehicles and electric vehicles, we are talking an additional 33 million tonnes of demand, or an average annual 1.65 million tonnes.
"We don't think the decarbonisation story is over yet, we believe some of the valuation re-rate is still ahead and Pilbara Minerals is in the Montgomery Small Companies Fund portfolio benefitting from the spodumene price and Aeris Resources is in the portfolio to benefit from the Copper environment." – Gary Rollo Portfolio Manager Montgomery Small Companies Fund
Two beneficiaries – Pilbara Minerals and Aeris Resources
Aeris Resources and Pilbara Minerals make up two of about 6 or 7 stocks in the decarbonisation space in the Montgomery Small Companies Portfolio and on a combined basis account for a little over 5 per cent of the Fund.
In calendar 2021 to date, Pilbara Minerals has appreciated from $0.87 to $2.20; whilst Aeris Resources has appreciated from $0.11 to $0.19, which included the $50 million raising, or nearly 13 per cent of the company's issued capital, at $0.175. Whilst both companies have a combined weighting of 5 per cent in the Montgomery Small Companies Fund, the aggregate exposure to the decarbonisation thematic approximates 12 per cent.
---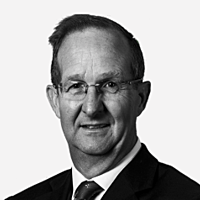 Chief Executive Officer
Montgomery Investment Management
David is a deeply knowledgeable and highly experienced financial services executive. Prior to joining Montgomery, he was CEO and Executive Director of Hunter Hall for 11 years, as well as a Director at JP Morgan in Sydney and London for eight years.