Two years of digital transformation in two months
---
In years to come, when we look back at the impact COVID-19 has had globally, William Hague (the former leader of the Conservative Party in the U.K.) may well turn out to have been right when he said that COVID-19 was a great accelerator to existing forces and trends.
Take its impact on the global power blocs. In the European Union, the health crisis has brought to the forefront existing tensions over whether the Northern Europe states should pay off Southern Europe's debts. At the same time, the American-Chinese rivalry has further intensified and with it all of the associated implications for trade/globalisation and the future role of the U.S. dollar as the global reserve currency. COVID-19's economic impact is accelerating Asia's global ascendancy, as a quick lockdown and rapid implementation of effective testing and tracing means the region's economies appear far less damaged than the West's. Political tensions may rise as COVID-19 leaves tens of millions without jobs, leading to deepening inequality, raising debt burdens and increasing state power. This is pushing to the fore policies such as Modern Monetary Theory, debt write-offs, harmonisation of corporate tax rates, basic incomes provided by the state, and corporates demonstrating wider responsibility to all their stakeholders (less debt/buybacks more on-shoring/tax). 
And then there is the question of who owns data about each of us and how that information may be used, setting up a debate on where the new boundary exists between the state and the individual.
COVID-19 has brought to the forefront existing tensions between global power blocs
As stock pickers we focus on the impact these trends have on individual stocks and industry-specific trends (namely, the high-quality, high-return sectors we own) and the effects on our stocks.
The accelerator effect is particularly clear around technology. Satya Nadella, the Microsoft CEO, claims that COVID-19 has resulted in "two years of digital transformation in two months", as corporates shift to home working. In enterprise technology, Microsoft, given its Teams product and Azure cloud services, is a winner from this shift to the home. In all three cases, COVID-19 is accelerating existing trends, just as the growth of e-commerce and fear of transmission is boosting the shift from cash to cards, helping Visa in the long run, even if the collapse in cross-border transactions is a temporary headwind. While these COVID-19-boosted shifts will likely help the economic dominance of the oligopolistic tech giants, be it in hyper-scale cloud services or social media networks, the parallel rise in concerns about inequality, government debt and privacy means that the political and regulatory risks to these tech companies will need to be watched carefully over the next few years.
Two years of digital transformation in two months
COVID-19 has obviously shown the importance of health care as an industry and shone a light on whether health care systems are robust enough generally or whether better infrastructure is needed. If more funding is required, those who can provide savings will likely do well. For our med tech names, COVID-19 highlights the importance of data –not only using it but also, critically, having it. This provides favourable tailwinds for diagnostics and testing equipment companies (Thermo Fisher(NYSE: TMO), Danaher (NYSE: DHR), Abbott (NYSE: ABT)), especially when you consider 70% of medical decisions are informed by diagnostics, which amount to less than 2% of costs. Recognising that the avoidance of unnecessary trips to the hospital is a way of saving health care systems unnecessary costs could lead to the acceleration of at-home treatments via remote monitoring and telemedicine, e.g. home dialysis.
Trust is the most powerful attribute a brand has
For consumer staples companies, COVID-19 has shown big brands matter. Retailers are aggressively rationalising their shelves of mid-tier brands and the long tail of small niche brands as consumers in the developed world focus on affordability and known, trusted brands. It reminds CEOs that trust is the most powerful attribute a brand has, and must be treated with the greatest of respect. This will accelerate the shift in brands' communication, from marketing to consumers to mattering to them, pushing purpose to the fore whether in product superiority or in their social and environmental impact.
Social distancing and lockdowns have given all age groups a crash course in e-commerce. Once shopping lists are set up online, consumers are unlikely to return to walking the retail aisles. Companies whose management teams invested early in their digital capabilities will likely emerge from COVID-19 stronger than their peers. L'Oréal (EPA: OR) and Reckitt Benckiser (LON: RB), two holdings in our global portfolios, already generate 20% and 10%, respectively, of sales from e-commerce, with margins and market shares at or above their offline ones.
Capable management becomes even more essential in a global crisis
In all cases, it is the quality of the management team that drives the resilience of the company and prospects for its success in coming through this crisis, whether through investing in innovation to remain relevant with customers or understanding and responding to the demands of stakeholders. We have always emphasised the importance of capable management teams in quality investing, which becomes even more obvious in the face of a global crisis.
Invest in quality
Morgan Stanley Investment Management are a global franchise delivering innovative investment solutions across public and private markets worldwide.
Stay up to date with my latest views. Hit the FOLLOW button below to be notified as soon as I publish my next wire.
---

Follow Bruno Paulson's wires
---
---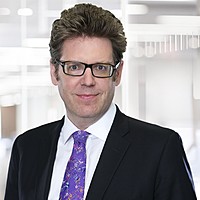 Portfolio Manager
Morgan Stanley IM
Bruno is a portfolio manager for Morgan Stanley Investment Management's London-based International Equity team. Prior to that, Bruno worked for Sanford Bernstein, where he was a Senior Analyst covering the financial sector for eight years.
Expertise