Uniti Group goes from hunter to hunted
---
Over the years, the team at Uniti Wireless (ASX:UWL) has proven incredibly adept at growing through acquisition – before becoming a take-over target – and handsomely rewarding investors along the way. They did it with M2 Group, and now they're doing it again with Uniti. The recently announced $4.50 per share bid by Morrison & Co is a far cry from UWL's 25 cent listing price in February 2019.
I first wrote about Uniti Wireless when its share price was $0.25 and CEO Michael Simmons and one of Australia's great telecommunications entrepreneurs, Vaughan Bowen, took charge of the company.
I followed several of their acquisitions and fundraising rounds. And the company-making $610 million takeover of OptiComm Limited, post the duel with First State Superannuation, in late-2020, was possibly seen as their final significant transaction.
The playbook seemed to read something like "drive home the synergistic benefits from all the acquisitions, position the business as a telecommunications infrastructure company, and then effectively put up the "for sale" sign.
Three years after I wrote my first piece Uniti Group has just received a non-binding, preliminary, highly conditional bid at $4.50 per share from Morrison & Co., valuing the Company at $3.06 billion.
Morrison & Co is a New Zealand-based alternative asset manager, founded in 1988, with current funds under management exceeding A$20 billion. They have an excellent track-record and have been quite busy within the telecommunications sector with two recent transactions coming to mind.
In September 2021, Morrison & Co, the Australian Future Fund, Commonwealth Superannuation Corporation and Sunsuper completed the purchase of 49 per cent of Telstra's telecommunications tower entity InfraCo for a price which valued the business at $5.9 billion. This comprised a portfolio of 8,000 physical towers, mast, large pole and antenna mount structures.
And in September 2020, Morrison & Co acquired the majority interest in Fore Freedom Holdings, a fibre-to-the-premises network business in the Netherlands. Clients include leading blue-chip businesses, and Fore Freedom operates an open-access model, enabling a wide range of internet service providers to operate via its networks.
What makes this situation particularly interesting is the other potential bidders for Uniti Group currently sitting on the side-line. These include the Macquarie (and Aware Super) backed Vocus Group, Canada's Brookfield, the London-based EQT, and the cashed-up KKR (Kohlberg Kravis Roberts) infrastructure fund.
Intuitively, Vocus Group is likely to gain the greatest synergistic benefits out of a theoretical acquisition of Uniti, and time will tell if they join the bidding process.
---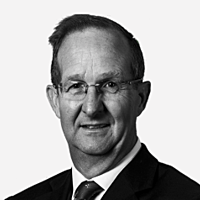 Chief Executive Officer
Montgomery Investment Management
David is a deeply knowledgeable and highly experienced financial services executive. Prior to joining Montgomery, he was CEO and Executive Director of Hunter Hall for 11 years, as well as a Director at JP Morgan in Sydney and London for eight years.