Venturex's zinc project comes up trumps
---
John Nitschke, the well-credentialed chief executive of the lightly capitalised Venturex Resources (ASX:VXR), has been out and about telling the market that the group has the right metals from the right project at the right time.
Nitschke was talking about Venturex's Sulphur Springs zinc/copper project, about 145km south-east of Port Hedland in Western Australia. Funnily enough, it has long been considered of secondary interest to the group's plans to revive its Whim Creek copper/zinc project to the west of Port Hedland as a producer by the end of 2018.
But a value enhancing study on Sulphur Springs has come up trumps, giving real legitimacy to Nitschke's call that it's one for the times, assuming of course that the $18 million company (after its shares popped a none too shabby 28 per cent to a princely price of 0.9c in response to the study) pins down the $180m or so to get the thing into production.
Whim Creek represents a quicker and lower cost route to first production but at least it can now be said that if it is exposure to zinc's leading price strength, and copper's rebuilding to more attractive levels, that investors want, Venturex comes with two bangs for the investor's buck, or more correctly the investor's cent.
Northern Star's bustling chief executive Bill Beament saw all this coming, having positioned the gold producer on the Venturex share register with a holding of about 14 per cent.  His mantra is that it is return on equity that counts. And as a substantial shareholder, the Northern Star team won't be disappointed with key outcomes of the value enhancing study (VES), so named because after the 2012 feasibility study in to Sulphur Springs, and a 2015 optimisation study, what else could it be called?
The base case assumes a one million tonne-a-year project with an initial mine life of 12 years, producing an average of 32,000 tonnes of zinc and 12,000 tonnes of copper (in concentrates) annually. It put the pre-tax net present value at $338m, with an estimated $601m of pre-tax cash flow over the project life at a cash cost of US14c a pound.
The big game changer in the VES is that it takes in the potential to process the 800,000-odds tonnes of enriched supergene material (4.2 per cent copper) through the proposed flotation plant. Needless to say, the ability to mine high-margin near-surface material at the start of the development works wonders on project economics and capital payback, the later estimated at all of 1.6 years on quite reasonable metal price assumptions.
A permit change to accommodate the mining of the supergene material in an open-cut as distinct from the previous underground-only scenario will be required, as will confirmation that the inferred supergene resource can become an ore reserve. And then the issue of financing will need to be resolved.
But as Nitschke said earlier, we are talking about the right metals at the right time.
Platina Resources:
Platina Resources' (ASX:PGM) managing director Rob Mosig is an affable bloke so he won't mind it being said that he does not have the promotional skills of billionaire mining financier Robert Friedland, whose many interests include his co-chairmanship and 19.35 per cent stake in Clean TeQ (ASX:CLQ).
Having said that, the valuation difference between Platina ($32m at 13.5c a share) and Clean TeQ ($354m at 72.5c a share) is nonetheless prompting a bit of head scratching.
Each company owns a world-scale nickel/cobalt/scandium laterite deposit, separated by all of 7km in central NSW – Owendale (Platina) and Syerston (Clean TeQ). The only real difference between the two deposits is that Owendale also comes with some platinum as a future potential revenue booster.
Nearology and similarity might normally be expected to have resulted in Platina following Clean TeQ's fantastic valuation growth in recent times. But it hasn't happened yet.
In typical Friedland big-thinking, Syerston is being pushed along as a major supplier of nickel and cobalt sulphates to meet the lithium-ion battery demands of the green energy revolution sweeping the world. The original focus of tapping the scandium to supply the next generation of lightweight aluminium alloys for the transportation sector remains but is left in the shade by the nickel/cobalt ambition, all of which comes with a development cost of about $900 million.
As Friedland will tell you, securing the $900m (new figures will come out with the release of the definitive feasibility study in the December quarter) will be a snack.
Platina's ambitions are more constrained. While responding to the undoubted growing interest in the nickel/cobalt demands of the green energy revolution with its recent resource updates on high-grade zones of cobalt at Owendale, and by fielding an increasing number of inquiries seeking out non-conflict supplies of the metal, Platina has scandium as its focal point, including an ambition to go down the value-add route by seeking out alliances with alloy makers.
It has got a feasibility study under way, and until it is lobbed by the end of the year, investors could well go to sleep on the stock. But watch out if it strikes a scandium offtake agreement with an end user in the transportation sector.
Kin Mining:
On a mean day in the gold market, the pricing of gold developer Kin Mining (ASX:KIN) at 21c for a market capitalisation of $25m would seem to be about right given first production from its 50,000 ounce-year Leonora gold project (LGP) in WA's North Eastern goldfields is slotted for mid-2018.
But with gold prices continuing to benefit from Donald Trump's daily utterances keeping the fear factor alive and well, to the point where the negative of the inevitable rise in interest rates is being offset, there will come a time when the LGP's forecast cash margins of more than $A500 an ounce at the current Aussie price of a tick over $A1,600 an ounce will be too hard to ignore.
That sort of margin would see a payback on an upfront development cost of $34.6m (less if an option on a second hand plant is taken up) of about 18 months for a project with an initial mine life of 6.5 years, and plenty of exploration upside to boot. It is why Kin's current shareholder purchase plan (raising up to $6.8 million at 20c with a one-for-two free option) will get away with no problems.
While all that pretty much explains where Kin's market rating currently sits, it has got to be said there is nothing in its rating for what the company says will be "next big thing'' once the LGP is up and way. The next big thing is a plan to chase down the at-depth potential for high grade resources along a 12km stretch of the Mertondale shear zone.Because drilling below five known near-surface deposits and previously mined open cuts has generally pulled up at 200m despite the region being known for its deep mines (Gwalia is down to 1,500m), the chase for the next big thing with the eventual help of LGP cash flows will be worth watching.
Because drilling below five known near-surface deposits and previously mined open cuts has generally pulled up at 200m despite the region being known for its deep mines (Gwalia is down to 1,500m), the chase for the next big thing with the eventual help of LGP cash flows will be worth watching.
---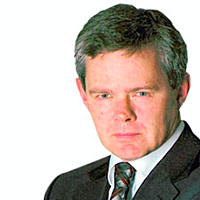 Principal
Independent Journalist
One of Australia's leading business journalists, Barry FitzGerald, highlights the issues, opportunities and challenges for small and mid-cap resources stocks, and most recently penned his column for The Australian newspaper.
Expertise