VW's ringing endorsement of Australian lithium highlights sector's potential
---
The German giant this week named hard-rock lithium, such as that from WA, as being far more desirable than the South American brine-type. Plus, it loves Australia. The comments were a welcome tonic for the still-recovering ASX lithium miners. Plus, smart money is finding its way into gold juniors.
Western Australia's hard-rock lithium stocks have received a much-needed leg up from car giant Volkswagen as it sets about securing supplies for its almighty push into electric vehicles.
The vigour with which the maker of the original people's car all those years ago is pursuing an EV strategy (70 new EV models to be launched over the next 10 years and a quarter of all sales by 2025) has much to do with its recovery from the 2015 "dieselgate" scandal.
No matter what the drive, it is patently good news for lithium, which VW described as being the "irreplaceable element of the electric era".
More to the point is that VW has moved to secure supplies from China's lithium compounds, metal, and battery producer Ganfeng which, in turn, has WA lithium production as part of its supply chain.
In announcing the supply deal, VW said hard-rock mining for lithium was "considered the future-proof solution, both commercially and in terms of sustainability." It was music to the WA lithium crew but not so sweet for the ASX-listed overseas lithium brine producers.
VW said that lithium extraction from brine – predominantly in Chile, Argentina and Bolivia – was deemed difficult to calculate, since the evaporation process can be severely affected by rain, snow and natural contaminants in the material and the impact on the environment (for example, on the groundwater level) can be potentially problematic.
"Lithium extracted from (hard-rock) mining for the future-relevant intermediate product lithium hydroxide, on the other hand, is commercially more attractive (there is one less production step as compared to salar production), more stable to extract, easier to scale and generally more sustainable," VW said.
We all got a pat on the back in the process as VW noted Australia was the world-leader in hard-rock supplies and that it had a "stable political system, a high degree of transparency and ambitious environmental standards".
Not sure about all that. Still, the VW endorsement of the EV (and battery storage of renewable energy) revolution thematic and the key role of WA's hard-rock lithium industry in it all has got to be welcomed by an ASX sector that got clobbered last year on over-supply fears and the general year-end trashing of equity values.
Helped along by VW's commentary and other factors, most lithium stocks have recovered some of the lost ground and are generally higher than their December lows. The question now is whether the recovery from the December lows has been under-done.
Canaccord Genuity runs the numbers
The answer to the above question is almost impossible to answer.
Lithium remains an opaque market, so unlike the bulk commodities and metals stocks which are researched to the nth degree, there is a paucity of deep knowledge on the lithium stocks.
Canaccord Genuity is one of the few to have deep knowledge on the sector and what it means for equity values.
An April 3 lithium report from its Australian and Canadian analysts was not exactly bullish on short/medium lithium pricing as it continues to expect supply growth to outpace demand from 2020 until strong demands swings the market to deficit from 2024.
Big deal, you say. But the thing is that CG, on its supply/demand scenario and price deck, has nevertheless found value to be had across most of the ASX-listed lithium stocks, suggesting that the share price recovery since December has been underdone.
Below is a rundown on its Australian coverage, the interest being the difference between current share prices and CG's target prices:
Alliance Mineral Assets (ASX:A40). Trading at 17.5c (down 33% year to date) compared with CG's (lowered) target price of 35c.
Altura (ASX:AJM). Trading at 12.5c (down 10% year to date) compared with CG's (unchanged) target price of 13c.
Galaxy (ASX:GXY): Trading at $1.85 (down 14% year to date) compared with CG's (unchanged) target price of $3.70.
Kidman (ASX:KDR): Trading at $1.36 (up 24% year to date) compared with CG's (unchanged) target price of $2.15.
Lithium Power (ASX:LPI): Trading at 20.5c (down 21% year to date) compared with CG's (decreased) target price) of 45c.
Orocobre (ASX:ORE): Trading at $3.45 (up 7% year to date) compared with CG's (increased) target price of $6.50.
Piedmont (ASX:PLL). Trading at 15.5c (up 77% year to date) compared with CG's (unchanged) target price of 30c.
Pilbara Minerals (ASX:PLS). Trading at 70.5c (up 13% year to date) compared with CG's (decreased) target price of 80c.
Gold
The historically high $A1800-plus an oz gold price so far this year has meant gold stocks have been as good a place as any to park some spare cash.
And it will remain that way, as long as the US dollar price for the yellow metal does its hedge thing for global economic and political uncertainty and the Aussie battler stays around the US72c mark.
Against that backdrop, investors stuffed to the gills on the mainly fully-priced leading gold issues, and keen on the potential for quality exploration to amp up their returns, look to be stepping up their junior exposures through on-market purchases and by supporting capital raisings.
In many cases, there is the recycling of profits made from other mining sectors into gold equities. It kind of makes sense given the protective appeal of $A1800-plus gold and the leverage to the upside exploration can deliver independently of gold price moves.
It is interesting to note then that Kerry Harmanis of Jubilee Mines nickel fame has increased his stake in Gateway Mining (ASX:GML) from 8% to more than 10% through its recent $2m placement, backing home the idea that the long-overlooked Gidgee gold project could indeed shape up into something big.
(As an aside, Harmanis has long been a 3.8% shareholder in Syndicated Metals (ASX:SMD) which after sometime in the wilderness is stepping up its gold activities with the acquisition of a couple of WA exploration properties, including one from Gateway).
Then there is Neil Biddle of Pilbara Minerals lithium fame who has been in the market buying shares in the cashed up Bardoc Gold (ASX:BDC), again with the idea that there is upside to be had in establishing it as a producer.
The phrase "follow the money" comes to mind.
---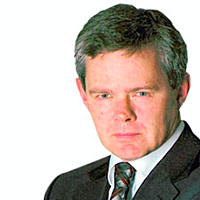 Principal
Independent Journalist
One of Australia's leading business journalists, Barry FitzGerald, highlights the issues, opportunities and challenges for small and mid-cap resources stocks, and most recently penned his column for The Australian newspaper.
Expertise