Walmart To Take Amazon HEAD ON in India
---
US based Global retail giant Walmart will buy a controlling stake of 77% in India's largest e-commerce company Flipkart for US$16 billion, valuing the company at US$21 billion. This deal is the biggest in India's e-commerce market and marks Walmart's foray in the e-commerce space. Amazon and Walmart will now control more than 90% of the market in India.
The e-commerce industry in India has been growing rapidly and is expected to become the second largest e-commerce market in the world by 2034 growing from US$ 38.5 billion to US$ 64 billion by 2020 and quintuple to US$ 200 billion by 2026. Internet penetration in India is very low and is expected to rise from 481 million in December 2017 (35% of the population) to 829 million in 2021 (65% of the population). The penetration of e-commerce in India is low (28% of the population) compared to markets like the US (84% of the population) and with a younger demographic (50% of the population) dominated by Millennials and Generation Z who are very tech savvy, the growth in this space will be unprecedented.
Source: India Brand Equity Foundation
Flipkart is the local player and largest e-commerce company in India. It was founded in October 2007 by Sachin Bansal and Binny Bansal (ex-Amazon employees) with a mere US$ 6,200 and started as an online book retailer. Flipkart has grown both organically and inorganically over time. In 2014, Flipkart bought online local apparel retailer Myntra in a deal costing US$ 300 million and in 2016 it acquired Jabong another local fashion retailer for US$ 70 million. In 2017, eBay agreed to make an investment of US$ 500 million in cash in exchange for an equity stake. Flipkart vertically integrated its business by setting up logistics arm by the name of Ekart which today makes 500,000 deliveries every day. Flipkart also bought PhonePe, a payment start-up that facilitates seamless payments between users. The company has an annual gross merchandise value of $7.5 billion by its 54 million active users and net sales of $4.6 billion in FY2018.   
Walmart and Amazon have a major interest in gaining share in the ecommerce market in India given the size and growth rate of the Indian e-commerce market. In the past, both the companies have struggled to grow in China given the dominance of Alibaba Group Holding Ltd and due to this acquisition now go head to head in the world's fastest growing economy.
A Flipkart buyout is the best route for Walmart to enter the e-commerce retail market and become the market leader in India. Walmart will also invest US$ 2 billion in new equity funding to face competition from Amazon as well as Alibaba-backed local player Paytm in India. It also gets an indirect access to the US$ 672 billion brick and mortar retail stores in India as India still does not allow foreign direct investment in the multi-brand retail market. Interestingly, E-commerce only accounts for less than one-tenth of retail sales in India and hence provides Walmart with an opportunity amid rising incomes, growing use of smartphones and cheaper data. The Flipkart deal is expected to boost B2B footprint and expand footprint for Walmart. Walmart will also bring its logistics expertise to India and create more jobs in India.
Rival Amazon was reported to also be interested in acquiring control of Flipkart. The world's largest online retailer has been pouring billions of dollars into its India business.  However, a deal between Amazon and Flipkart seemed unlikely as the merger of the two largest e-commerce companies in India would most likely not be supported by the Competition Commission of India (CCI). A Walmart – Flipkart deal will create more intense competition for Amazon in India and keep prices competitive to the benefit of Indian consumers.
India has seen a significant increase in FDI and domestic investment targeting e-commerce in India. The world's largest companies and most "sophisticated" investors are investing heavily in this multi-decade-multi-bagger opportunity. With investment opportunities spanning across many sectors, not just the e-commerce sector, we feel Indian equities are a critical capital growth component in a world where growth is rather elusive.
Thoughts and insights provided by Devanshi Raval, from India Avenue's Mumbai Office
---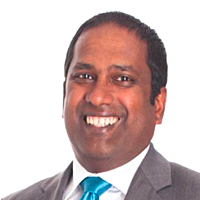 Managing Director
India Avenue
Mugunthan Siva is Managing Director of India Avenue, an Australian based boutique asset management company with offices in Sydney and Mumbai. He has over 25 years experience in Australia and is lead portfolio manager for the India Avenue Equity Fund.
Expertise