Was 2020 the year of the investor?
---
In an otherwise challenging year, 2020 may be the year of the retail investor and ETFs. In only three years, the Australian ETF market has nearly tripled its funds under management to $91.19bn (1) with 2020 showing a shift from usage being dominated by financial intermediaries to self-directed investors. Investment choices have suggested increasing financial literacy across the market and the trend towards a growing retail investment space looks set to continue.
Retail investors rise to the COVID challenge
Historically, periods of volatility have been a trigger for retail investors to leave the market, but this year was different. In the early stages of the pandemic, average retail trading increased to $3.3bn at the end of April 2020 compared to $1.6bn pre-COVID, with many dormant accounts recommencing trading activity (2). Andrew Campion, Head of Investment Products at the ASX, said, "we were surprised by the risk appetite of retail investors in responding to the COVID-19 market sell-off. There was a pronounced 'buy-the-dip' mentality rather than selling into a depressed market."
Nabtrade was one of many trading platforms to experience a surge in investor interest, with buying behaviour indicating informed and measured decisions. Gemma Dale, Director, SMSF and Investor Behaviour at Nabtrade said, "investors were buying largely blue-chip stuff that they were already very familiar with. We saw people buying stuff they wanted to own for a long time before but thought were too expensive."
The surge of retail investors to the market seems poised to continue and Australia's ETF landscape appears likely to benefit from this. Research from the ASX indicated that 900,000 people intended to begin investing in the next year, with 28% planning to buy ETFs in the future and 45% of 'next-gen' investors (aged 18-24 years) intending on using them in the next 12 months (3).
Rising interest in and use of ETFs
The Australian ETF market saw record highs inflows at the peak of COVID-19 concerns, reaching a daily average trading value of $772,705,196 in March 2020 (4). While flows have normalised to an extent since then, they remain higher than in the same periods in previous years. The activity was supported by the surge of retail investor involvement in the market, with investors using ETFs as a fast way to access the market.
ETFs are a growing portion of portfolios, with 20% of investors citing holdings, and 25% of high-value investors using them (5). The appeal is also spreading to self-managed superannuation funds (SMSFs), with 15% now holding them (6).
ETFs' ease of use has been likely to appeal to new entrants to the market, while more established investors have been attracted by the efficiency, market exposure and generally lower fees (compared to actively managed funds).
Ms Dale says, "what we saw in these really, really volatile days, was a lot of our investors wanted to get a piece of the action. They move extremely quickly. If they didn't feel they had time to do the research, or they didn't want to take a position on what was going to move, they just wanted to be in it… We saw a lot of active investing using ETFs to get access to particular positions that they might otherwise have found quite difficult, or just from a timing perspective".
In a testament to the continuing trend towards ETF investing, newer trading platforms such as Superhero or Pearler have a recognised slant towards this style, even offering free brokerage on ETFs in some circumstances.
Australia's ETF market is relatively small in comparison to peers, but should it follow the US and Europe, the trending interest should be long-term.
Alex Cathcart, Portfolio Manager at Drummond Capital, says, "We expect continued growth in the market as a whole, complemented by a build-out in the complexity of the offering. We expect ever more nuance in ETF baskets targeting specific thematics and investment styles."
This view complements the findings of the ASX, with Mr Campion noting that Australian investors are not following the same patterns of ETF buying seen overseas.
Mr Campion says, "in Australia, investors seem to want to buy 'best of breed' ETF products, rather than just a one-dimensional focus on the lowest cost product that you see in other markets, particularly the US. There has also been an increase in investors using ETFs more as short-term trading tools, with increased leveraged and inverse ETFs trading and overall trading volumes in ETFs (volumes are roughly three times higher than the average traded volumes in 2019)."
Alongside retail trading, he anticipates greater institutional use of ETFs to gain access to global markets.
Investment choices in COVID-19
In uncertain times, investors typically move towards safe-haven assets like fixed interest. While this behaviour certainly occurred at various points, there was also a significant movement towards growth assets or those assets investors viewed as opportunities.
Mr Campion says, "the strength of demand for tech-related products and thematics surprised many this year."
Tech-products were able to tap into the 'new world' of working from home, e-commerce and online entertainment, with the FAANG companies particular winners of this. FAANGs and the tech sector as a whole were popular with both buy-and-hold investors and short-term traders. Leveraged products, particularly those focused on the tech sector, also benefitted in this space.
Alongside the surging interest in growth assets, safe-haven assets remained popular, with gold a notably strong performer across the year. Investors faced with low-interest rates turned to gold as a store of value and hedge against future inflation and volatility. Gold-backed ETFs were particular beneficiaries of this interest, accounting for a significant part of the gold market in 2020 according to the World Gold Council (7). While some interest in gold has dropped off in the late part of 2020, many investors view gold as a continued and crucial part of a diversified portfolio.
Chris Brycki, Director and Founder of Stockspot, says, "gold will continue to be a valuable portfolio diversifier in a world of negative real interest rates. The recent pullback shows that timing entry points is difficult, it makes more sense to have a strategic allocation as ballast for your share portfolio."
Looking towards 2021
As the market starts to show signs of recovery off the back of vaccine news, investment trends are again shifting.
Growth was the hot topic for 2020, but there is now a growing trend towards value-based investments.
Jon Reilly, Chief Investment Officer at Implemented Portfolios, says, "We expect to see a continued rotation to this year's out of favour sectors such as Financials, and away from the high-fliers of 2020 including the Technology sector. With a return at least some way back to pre-virus normal life over the course of 2021 likely, paying greater than 35x earnings for some of the big tech names will at some point provide a disappointing portfolio outcome. By contrast, the restoration of bank dividends, both here and overseas, should sustain interest and deliver performance in the much cheaper Financials sector."
That is not to say that investors should shift their portfolios completely out of growth given the longer-term trends and prospects involved, but ensure they maintain measured and diversified portfolios. Growth drivers like technology will continue to attract interest and the biotechnology industry is likely to remain in the public consciousness as vaccine programmes roll out in 2021.
As a final tip to investors in planning for 2021, Mr Brycki says, "when it comes to investing, boring is brilliant. Keep your portfolio simple, low cost, automate your decision-making and get on with enjoying your life in 2021."
Access to a range of opportunities
ETF Securities offer a range of ETFs across asset classes, regions, sectors and themes for your investment portfolio. Click the 'FOLLOW' button below for more of our insights.
---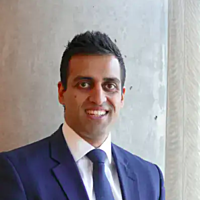 ETF Specialist & Head of Distribution
ETF Securities
Kanish Chugh is responsible for distribution covering sales and marketing strategy for institutional, intermediary and retail clients. He joined ETF Securities in 2015 and has previous experience with Fidelity International, BlackRock and...
Expertise