We have a money printing machine and we are not afraid to use it
---
The Credit Suisse Asian Investment Conference is an annual event bringing together the best business and investment minds globally. At the Conference just concluded we were fortunate to have two current US Federal Reserve (Fed) Presidents presenting to the conference plus former Fed Governor Janet Yellen.
The US yield curve may have inverted (long dated bonds trading at lower yield than short dated), but the message from Chicago Fed President Evans, Boston Fed President Rosengren, and former Fed Governor Yellen is the Fed is not concerned. 
Often an inverted curve points to imminent recession as the bond market thinks rate cuts will be needed in the future. However, the US economy is in good shape. Wages are rising mildly, unemployment at 3.8% is below their internal benchmark of 4.4%. 
Although GDP growth has slowed to 1.75% from 3%, it is sitting at about the long term trend. Inflation is controlled at 2%, and they see the Fed funds rate as neutral.
The most important comment was they don't see yield inversion as a sign of recession coming. In fact they place a low probability on it. The reason is we have seen a secular decline in bond yields that started before the GFC. The flatter curve is structural.
There is no one reason for this but factors include: psychological effects of the GFC, demand for safe assets from an ageing population, still large bond holdings on central bank balance sheets and the expectation of Quantitative Easing (QE) when and if needed.
QE is effectively money printing as the Fed buys bonds issued by the US Treasury using cash it has created. Global growth has slowed but the Fed is no longer shrinking its balance sheet, another rate rise is doubtful, and the European Central Bank (ECB) have taken a dovish stance.
The key takeaway is we are likely in for some months of weak data but there are reasons for optimism as monetary and fiscal stimulus, both existing and yet to come, works its way through the system.
Fed has firepower to avert recession and will use it
President of Boston Fed Rosengren argued the Fed balance sheet is not stretched. Regarding official rates, the message was consistent between Yellen, Evans and Rosengren - the Fed rate will likely go to zero in a recession. The reasoning is the Fed typically cuts rates by 5% in a slowdown, given the current level of 2.5%, they will have no choice in order to have impact.
Rosengren was unequivocal, the Fed will also have to use its balance sheet to undertake QE. Optically, the value of treasuries held at 3.9 trn seems high compared to holdings of 800bn at the start of QE 10 years ago. But Rosengren argues once you net off deposits by Treasury with the Fed the true level of holdings is 1.7trn.
Whatever the number it is clear the Fed will be aggressive with QE if required.
Rosengren addressed the inverted yield curve. The inversion does not cause a recession, it is correlated to recession. In the past, the Fed has had to raise rates sharply to reduce inflation. That is not the case today, inflation is only 2%. The Fed does not have to cause a rapid slowdown in the economy to address inflation.
Also, US rates have been pushed down by extremely low yields in Europe and Japan. Investors have moved into US treasuries chasing yield. Falling US bond yields is not just a verdict on the likelihood of US recession.

Thus, investors should take comfort the Fed will be proactive in avoiding recession or even a major slowdown. Perhaps unusually, the Fed's approach will support bonds and equities, in aiming to push down yields to stimulate borrowing and activity. The flip side, barring an unforeseen crisis, is cash is not king.
Never miss an update
Stay up to date with the latest news from Credit Suisse Private Banking by hitting the 'follow' button below and you'll be notified every time I post a wire. Want to learn more about Credit Suisse Private Banking? Hit the 'contact' button to get in touch with us.
Credit Suisse Private Banking specialises in asset diversification, holistic wealth planning, next generation training, succession planning, trust and estate advisory, philanthropy. Find out more here
---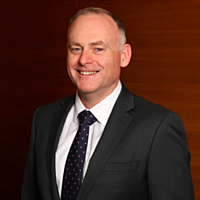 Chief Investment Officer
Credit Suisse
Andrew McAuley is a Managing Director of Credit Suisse Wealth Management Australia. As Chief Investment Officer, he is responsible for developing discretionary and advisory investment strategies across multi asset class portfolios for clients in...
Expertise