Wetar better than Bali for Finders' copper cash machine
---
Plus, Oklo's hunt for a golden elephant, finding Xanadu in Mongolia and Centaurus chasing Brazilian gold
It's no Bali, but Indonesia's Wetar Island in the Banda Sea north of Timor Leste is proving to be a happy stomping ground for the often over-looked copper producer Finders Resources (FND).
With the help of some decent gold mining infrastructure left behind by Billiton four years ahead of its merger with our own BHP, Finders (operator and 73.5 per cent owner) took a staged approach to developing Wetar's copper, some 3km from the coast.
The initial 3,000 tonne-a-year heap-leach operation feeding a solvent extraction and electrowinning (SX-EW) plant was recently expanded by adding a 25,000 tonne SX-EW plant at a cost of $US117 million. The resultant 28,000 tonnes-a-year capacity is a decent amount of copper in anyone's language.
More to the point is that the relatively high-grade copper mineralisation and low stripping ratios makes Wetar a low-cost producer. And now that the expanded operation is hitting its straps, it is going to throw off a lot of cash.
So much so that CannaccordGenuity analyst Larry Hill reckons rapid de-leveraging of the balance sheet could see Finders in a net cash position by mid-2018, allowing the company to use cash surpluses to pursue multiple near-mine growth opportunities.
Hill has a 35c price target on the stock. That compares with its subdued share price of late of 17.5c for a market of about $140m. It has been subdued because of the retreat in copper prices in the past two months from $US2.70 a pound to less than $US2.50 a pound.
Forecasts around copper prices nevertheless remain bullish as the world's big producers struggle with falling grades and the occasional strike.
Wetar is pretty robust at whatever copper price comes its way. At a price of $US2.25 a pound, its life-of-mine (currently seven years) cash surplus is forecast at about $US200m. Crank the price up to $US3.60 a pound, and close to $US500m would come flooding in the front door.
Oklo's hunt for a golden elephant
If following the "smart'' money floats your boat, Mali gold explorer Oklo Resources (OKU) should pique your interest.
Heavyweight resources fund BlackRock has recently marched to a 14.9 per cent stake in the company (paying mostly 24c a share) and existing Mali gold producer Resolute Mining (ASX:RSG) has been there a while longer with a 5.6 per cent stake.
Both are backing home the idea that cashed up Oklo – it recently pulled in $8.7m from a placement to Blackrock and others at 24c a share – is on to something special at its Seko prospect within its Dandoko project area in western Mali.
It's a region known for its multi-million ounce gold deposits which are generally found adjacent to north-east trending splay structures off the Senegal Mali Shear Zone.
Dandoko/Seko shares the same setting, some 30km east of B2Gold's 5.1 million-ounce Fekola project and 50km to the south-east of Randgold's 12.5m ounce Loulo gold mine.
Oklo got the pulses racing earlier in the year when it reported that a wide-spaced drilling program had confirmed significant bedrock gold mineralisation at Seko. Best results included 15m at 3.02 grams of gold a tonne, 18m at 2.01 g/tonne and 54m at 1.37g/tonne.
A new 10,000m drilling program has just kicked off, meaning the news flow will be strong in coming months. Needless to say, interest in the program will be strong, particularly if earlier results are matched or bettered at the five anomalies that make up Seko.
Oklo has been trading at the placement price of 24c, valuing the company at about $72m.
Finding Xanadu in Mongolia
Mongolia is not everyone's cup of tea. A recent kerfuffle over a since-abandoned government plan to force foreign investors to use Mongolian banks is the type of issue that bobs up regularly as the emerging nation finds its feet in the world.
Persistence in pounding the streets of the capital Ulaan Baatar has its rewards though. Just ask Rio Tinto. That it remains a Mongolian fan is demonstrated in its $US5.3 billion expansion of its Oyu Tolgoi copper-gold mine. And good luck to them too.
But today's interest is in Xanadu Mines (ASX:XAM). It is an advanced explorer leveraged to Mongolia's unfolding mineral wealth. It is trading at 20c for a market cap of about $103m – a reflection of the advanced nature of its exploration in the Kharmagtai and Oyu Ulaan districts.
The passing of the winter chill has allowed the 2017 field season to kick off and based on past results, there is good reason to think that the company has a real shot at coming up with copper-gold, and gold, discoveries that could rank as globally significant.
The proof of that will be in the drilling. A recently lobbed presentation outlines the 2017 drilling program and it is worth a look at. But to cut to the chase, Bell Potter analyst Peter Arden is a Xanadu fan. He has a 48c a share valuation on the stock.
Centaurus chasing Brazilian gold
Talking about leveraged exploration, it is a position that the hardy and Brazilian-focussed Centaurus Metals (CTM) has worked its way into with the start, any day now, of a gold exploration program in the north of the country.
Centaurus is better known for its efforts over the years to build a meaningful iron ore presence in Brazil. But realising the assets it has assembled are not going to be game-changers, it has turned to the in-country intellectual property and relationships built up over the years to swing its focus to gold.
Having said that, its iron ore assets – including the ready to go Jambreiro project – comfortably account for the group's modest market capitalisation of $9m at the current share price of 0.8c.
That means there is pure upside leverage to any success with the gold exploration effort.  Centaurus has high hopes for the soon-to-start program it has mapped out for its Serra Misteriosa prospect in a part of Brazil known for big gold systems.
The virgin prospect sits to the south of the 5m ounce Volta Grande project owned by Belo Sun Mining and has as its target intrusion-related gold mineralisation hosted within a shear zone. Assuming the drill bit starts turning in coming days, results would likely begin to flow around mid-June.
---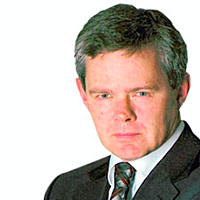 Principal
Independent Journalist
One of Australia's leading business journalists, Barry FitzGerald, highlights the issues, opportunities and challenges for small and mid-cap resources stocks, and most recently penned his column for The Australian newspaper.
Expertise