What goes on during Reporting Season?
---
For equity analysts and fund managers in Australia, Christmas comes twice a year, every February and August, when most Australian listed companies reveal their semi-annual profit results. Companies also guide the growth in profit, revenue, profit margins, or dividends that shareholders expect over the following financial year. Though Covid-19 has seen fewer companies commit to providing guidance given the uncertainty around lockdowns and the dramatic increase in class action lawsuits brought forth by litigation funders keen on profiting from negative deviations in company earnings.
This can be a stressful time for a fund manager. When companies reveal unpleasant surprises, the company's stock price tends to get sold down hard. Alternatively, it can be enjoyable when the company reports a good result that validates the investment case for originally owning their shares.
In this piece, we will go through how Atlas approaches each day during reporting season and what goes on during a typical day during the earnings season.
Before Reporting Season
In the lead up to reporting season, Atlas reviews all the stocks in the portfolio and considers the key factors and financial metrics that investors will be looking for on results day. We compare our forecasts to the consensus analyst forecasts. What we are trying to do here is to identify which companies are performing ahead of expectations and, more importantly, which companies have the potential to disappoint.
The Spread over the Month
Companies listed on the ASX with a June year-end have until the last day of August to release their financial results; otherwise, they are suspended from trading on September 1st. However, results are not released evenly throughout the month as companies tend to avoid reporting either in the first or last week of the month, preferring the middle weeks. Consequently, there are days when several large companies report on the same day and often at the same time, which often results in the market making swift and not well-considered decisions as to whether the result was either good or bad. Frequently we see a stock trading down on what Atlas considered to be a favourable result, only to see the company's share price recover the following day after investors have digested the financial reports. The below chart shows the distribution of results during the August reporting season, with the week starting August 16th being the heaviest. Wednesday, August 18th, will be challenging for analysts with CSL, Coles, Dominos Pizza, Fletcher Building, Deterra, Santos, Supercheap Auto, Tabcorp, and Vicinity Centres reporting.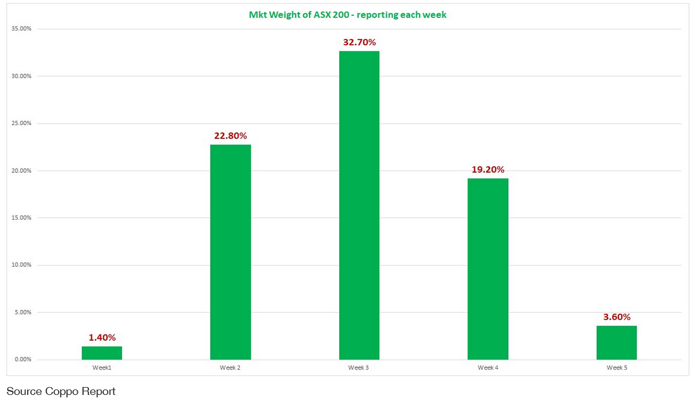 On the Day
Generally, companies post their financial results with the ASX around 9 am; this gives investors an hour to digest the facts and figures before trading on the stock exchange begins at 10 am. During this period, we will be combing through the profit and loss, balance sheet and cash flow statements, comparing our forecasts to what the company actually delivered. Also, it is important to compare how a company has performed against their peer group. For example, in isolation, Coles report reporting a slight decline in sales and a steady profit margin could signal a great result if Woolworths and Metcash reported significant decreases in sales and shrinking profit margins.
Company management will then formally present their results to shareholders on a conference call or in-person during the morning, generally between 9 am and midday. These presentations are directed towards the institutional investment community and are effectively closed to the media and public, and can take between one and two hours. The management team gives greater detail on the factors contributing to the profit result and explains any potentially contentious issues. The most informative part is always the question-and-answer session, which allows investors to gauge how confident management is in tackling the most controversial problems coming out of their financial accounts.
Typically, it will only be the sell-side analysts asking management questions, with the large institutional investors saving their questions for behind closed doors. The problem with this is that in addition to writing research, some sell-side analysts want to protect their relationship with the company and keep on its good side for future lucrative investment banking deals. Frustratingly this can sometimes see soft questions being served up for management or avoiding the hard questions when the management has made some mistakes.
After presenting the results, we will generally have a quick discussion to see if there have been any fundamental changes to our thoughts and discuss the market reaction. The immediate market reaction can often be misleading, as most of the trading on results day is done by hedge funds or high-frequency traders rather than long-term fundamental investors.
Lunch with the Company
Before Covid-19, one of the benefits of being a good client of one of the investment banks is the opportunity to have lunch with the company management team, though there have been few of these events since 2019. These events are held in the bank's boardroom and are fully catered events, though it is rare to see anybody accepting a glass of wine with their steak or fish. Many fine bottles of wine from the cellars of the investment banks get opened, offered around the table by waiters and then returned to the sideboard with one glass poured out.
Whilst this may seem to offer institutional investors an advantage over retail investors, any new insight is rarely gained in these events. This occurs as they are essentially a group meeting of rivals trying to understand what others think about the company. Further, if you know the company well or have a particularly insightful question, an analyst will save that for a one-on-one meeting with the company. Often several large and complicated companies report on the same day, so unless an individual company has had a particularly good or bad result, it is poor time management to spend 1.5 hours over lunch picking through the financial accounts of a company that has performed as expected.
Immediately Afterwards
Over the following week, the company will then organise individual one-hour meetings with their largest institutional shareholders both in Australia and overseas. Before these meetings, it is essential to be well prepared, as this is frequently the best forum to understand whether you should buy more of a company's stock or completely sell out. During our meetings with the management teams, we will generally seek clarity (on behalf of our investors) on specific issues that we feel weren't covered to our satisfaction at the formal presentation. While some of these meetings can be quite hostile or very friendly, they are a valuable forum for both parties to give feedback on how our client's capital has been managed in the past and how that capital should be employed in the future.
I have been in these meetings where management has raised a potential strategy that seemed aggressive and quite alarming. In one case, I left a meeting with management to immediately begin selling down the fund's position. The company in question was facing both a falling oil price and published decisions of their large listed clients to delay or abandon projects, both public information. These issues were largely glossed over in the earlier analyst call in favour of softball questions to management. A similar flippant response to these concerns was given in our meeting with management, which resulted in the action taken.
After the management meetings and subsequent to reviewing the financial results of a company's competitors, Atlas is then in a position to determine what changes (if any) are made to our valuation of the company and whether the security's weight in the portfolio is still appropriate in light of competing investment opportunities.

Never miss an update
Enjoy this wire? Hit the 'like' button to let us know. Stay up to date with my current content by
following me
below and you'll be notified every time I post a wire
Welcome to Livewire, Australia's most trusted source of investment insights and analysis.
---
To continue reading this wire and get unlimited access to Livewire, join for free now and become a more informed and confident investor.
---
---
Atlas is a boutique investment manager focused on generating regular income for pension and SMSFs investors. Atlas' High Income Property Fund (ASX:AFM01) provides quarterly income with low volatility. Click follow to be the first to get my next wire
........
This document is issued by Atlas Funds Management Pty Ltd. Atlas Funds Management Pty Ltd is not providing any general advice or personal advice regarding any potential investment in any financial products within the meaning of section 766B of the Corporations Act. No consideration has been made of any specific person's investment objectives, financial situation or needs. The provision of this presentation is not and should not be considered as a recommendation in relation to an investment in any entity or that an investment in any entity is a suitable investment for any specific person. Recipients should make their own enquiries and evaluations they consider appropriate to determine the suitability of any investment (including regarding their investment objectives, financial situation, and particular needs) and should seek all necessary financial, legal, tax and investment advice. Atlas Funds Management Pty Ltd, it's directors and employees do not accept any liability for results of any actions taken or not taken on the basis of information in this presentation, or for any negligent misstatements, errors or omissions. This presentation is not an advertisement and is not intended for public use or distribution. Past performance of a fund is no guarantee as to its performance.
---
Atlas is a boutique investment manager focused on generating regular income for pension and SMSFs investors. Atlas' High Income Property Fund (ASX:AFM01) provides quarterly income with low volatility. Click follow to be the first to get my next wire
Expertise
Atlas is a boutique investment manager focused on generating regular income for pension and SMSFs investors. Atlas' High Income Property Fund (ASX:AFM01) provides quarterly income with low volatility. Click follow to be the first to get my next wire
Expertise