What our recession dashboard is telling us
---
The aggressive flattening of the 10-year versus two-year Treasury curve has spurred much market discussion. Commentators have gone into overdrive in discussing the merits of an inverted "two to 10-year yield curve" as a recession predictor.
Like our fellow investors, we are closely watching the shape of yield curves, and not just the two to 10-year curve (which inverted for a period in recent days) in order to analyse what any changes might signal for the US economy. We are looking particularly closely at the US given the country's significance for the world economy.
But we also look at a range of other so-called "macro" indicators which track economic health to help form our opinions. We track these using the Schroders Recession Dashboard, which incorporates 20 measures in total.
The dashboard offers a broader and more informative way of monitoring recession risks than is possible by focussing on any single measure.
A number of recession indicators "flashing red"
The number of variables flashing a recession warning has climbed compared to the end of last year (see chart, below). Just under 40% (seven out of 20) of these measures, which encompass both macro and financial market indicators, are signalling recession risk.
Judging from history, US recessions have typically followed when more than 40% of the indicators have flashed red. When this threshold was breached towards the end of 1995, however, the US avoided a recession, albeit growth did significantly slow.
Given its size and role as a driver of global demand, the US economy is often the biggest swing factor in determining the outlook for the world economy. It is still, after all, the globe's largest economy, accounting for over a quarter of all output.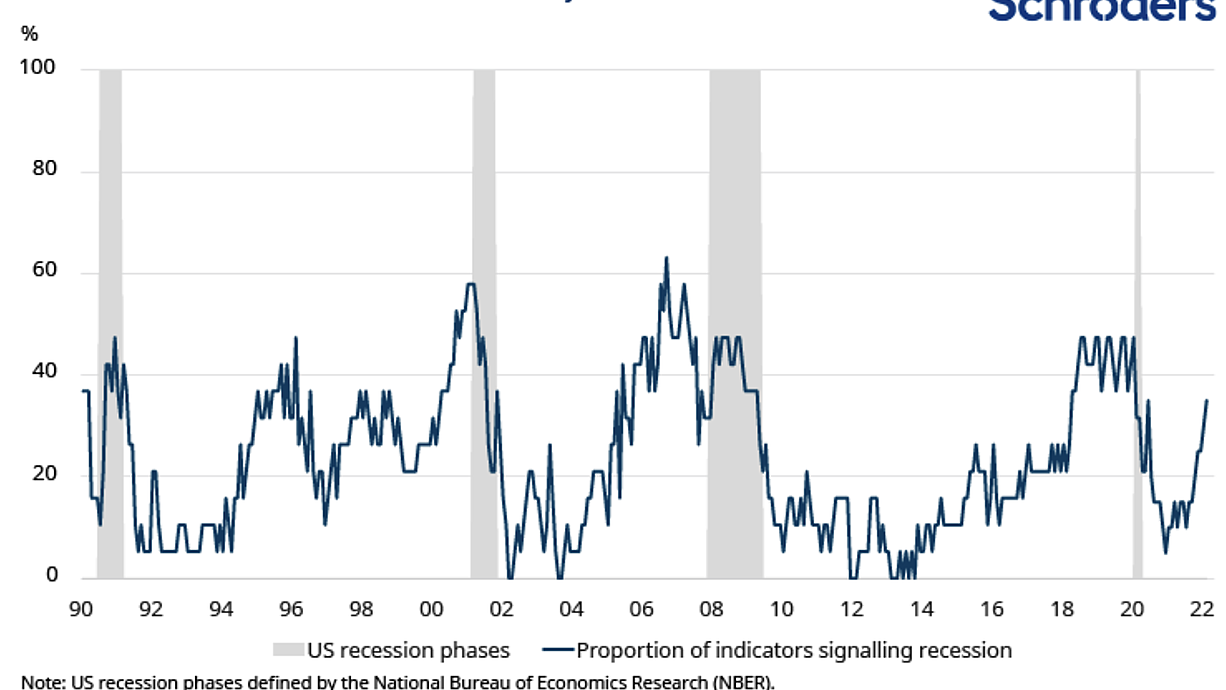 We have created the Schroders Recession Dashboard (see below) by drawing on the expertise of our Multi-Asset Investment team, which is made up of 90 investment professionals across the globe covering a wide-range of assets in multiple markets, regions and strategies.

We have also drawn on the methodology behind Absolute Research Strategy's dashboard.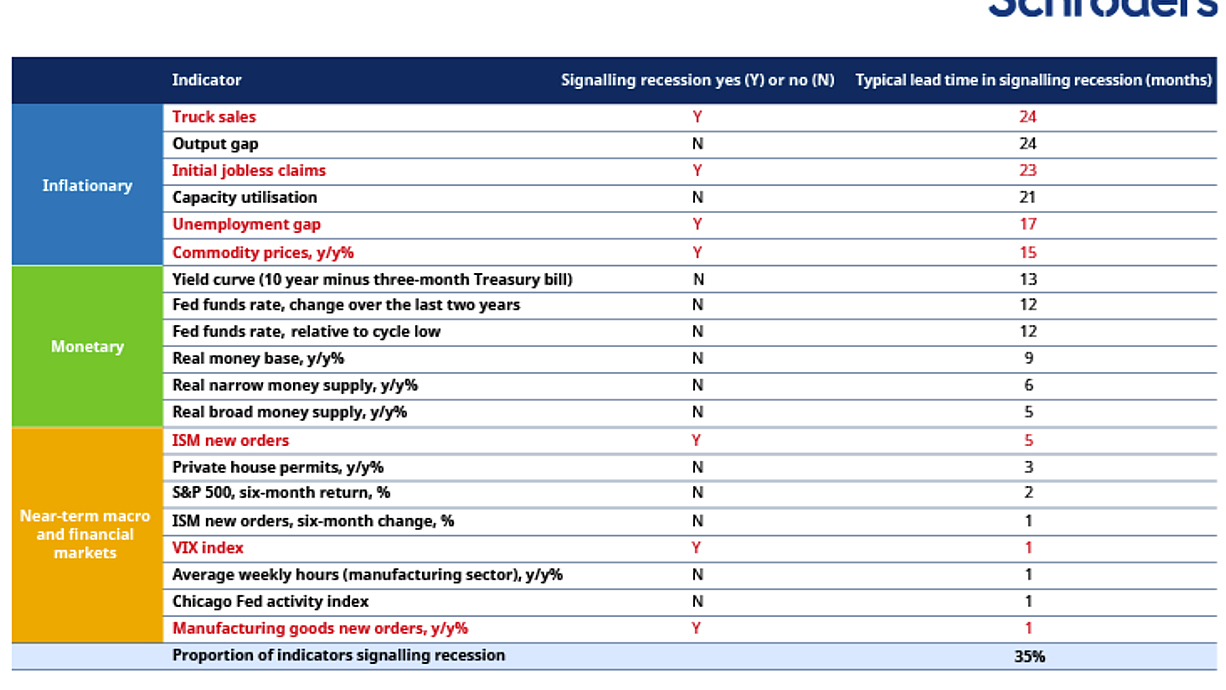 The "economic cycle" is the period in which an economy moves from a state of expansion to one of contraction, before expanding again. We monitor three broad categories of indicator to help guide us as to when a cycle might be entering its contraction, or recessionary, stage.

There is a logical ordering of the variables, into "inflationary", "monetary" and "near-term macro and financial markets".
Inflationary indicators provide early warning signals that the US economy is at full capacity and overheating. They have typically flashed recession risk around 15 months to 24 months before past recessions.
Monetary As inflationary pressures accelerate, this eventually triggers the Federal Reserve (Fed) to tighten monetary policy. These monetary indicators are then impacted by the Fed hiking interest rates. They have typical lead times of between five to 13 months.
Near-term macro and financial markets At some point, increasing interest rates take their toll on economic activity and this hits market sentiment. This category is the last to signal recession risks, as most of the indicators flash red when recession is about to happen, typically a month in advance.
Inflationary indicators send concerning signals
There are always exceptions to general rules. We've seen one recently with the VIX which measures equity volatility which has been impacted by the tragic events in Ukraine.
That this particular near-term financial markets indicator is currently flashing red is not necessarily signalling imminent US recession risk, but probably more likely geopolitical uncertainty.
However, the inflationary indicators, which have typically signalled recessions some time in advance, are now mostly in a sea of red. Two-thirds of these measures are flashing recession risks, which is elevated compared to history (see chart, below).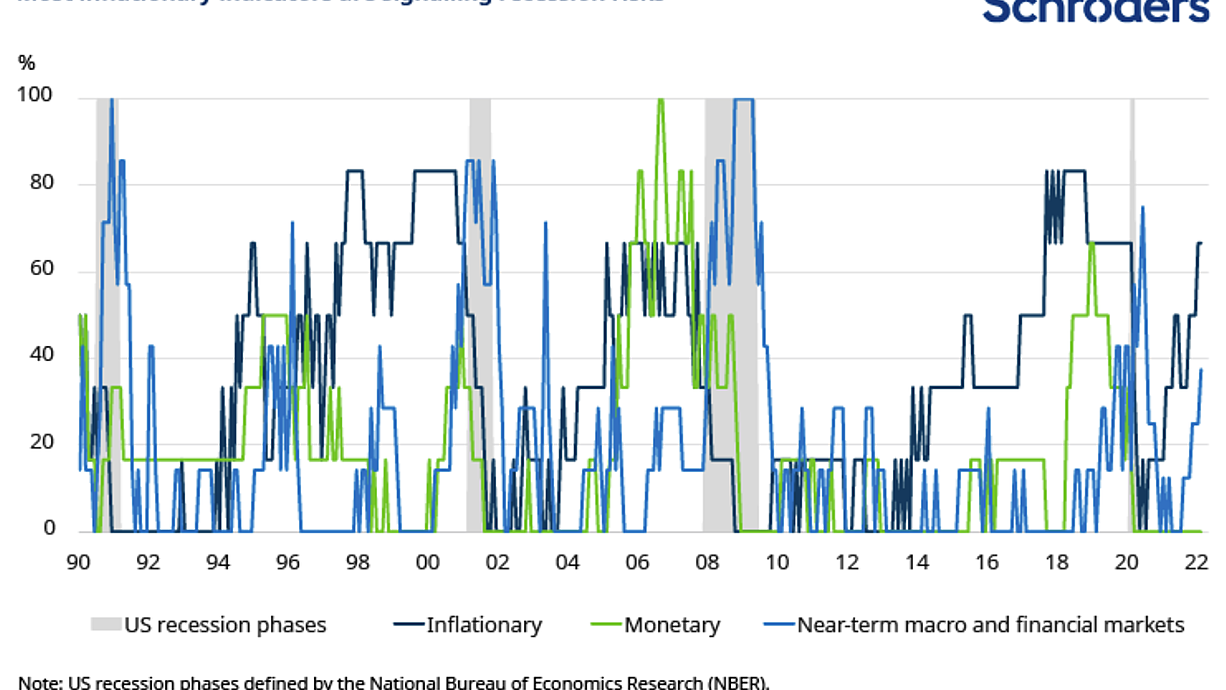 This category typically warns of recession in the next 15 months to two years, and the signal they're sending is concerning.

With the Fed expected to further increase interest rates over the coming months, we should start to see some of the monetary indicators react and the recession temperature to turn up a notch.
We will continue to closely monitor the Schroders Recession Dashboard and keep readers regularly updated with any new developments.
Stay up to date with all our latest news
Hit the 'follow' button below and you'll be notified every time we post content on Livewire. To learn more about our capabilities, please visit our website.
........
This material has been issued by Schroder Investment Management Australia Limited (ABN 22 000 443 274, AFSL 226473) (Schroders) for information purposes only. It is intended solely for professional investors and financial advisers and is not suitable for distribution to retail clients. The views and opinions contained herein are those of the authors as at the date of publication and are subject to change due to market and other conditions. Such views and opinions may not necessarily represent those expressed or reflected in other Schroders communications, strategies or funds. The information contained is general information only and does not take into account your objectives, financial situation or needs. Schroders does not give any warranty as to the accuracy, reliability or completeness of information which is contained in this material. Except insofar as liability under any statute cannot be excluded, Schroders and its directors, employees, consultants or any company in the Schroders Group do not accept any liability (whether arising in contract, in tort or negligence or otherwise) for any error or omission in this material or for any resulting loss or damage (whether direct, indirect, consequential or otherwise) suffered by the recipient of this material or any other person. This material is not intended to provide, and should not be relied on for, accounting, legal or tax advice. Any references to securities, sectors, regions and/or countries are for illustrative purposes only. You should note that past performance is not a reliable indicator of future performance. Schroders may record and monitor telephone calls for security, training and compliance purposes.
---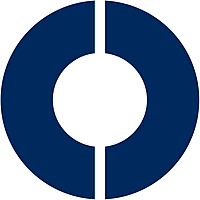 Established in 1961, Schroders in Australia is a wholly owned subsidiary of UK-listed Schroders plc. Based in Sydney, the business manages assets for institutional and wholesale clients across Australian equities, fixed income and multi-asset and...
Expertise