The last thing you read that blew you away
---
With half the market about to fly somewhere warmer for a week or two, now seemed like a good time for some holiday reading lists.
I regularly get the opportunity to pose questions to our contributing fund managers as part of our Q&A series, always finishing by asking: "What was the last thing you read that blew you away?" 
I've pulled their collective responses together here for some book-shopping inspiration. There are eleven books (including a trilogy), as well as an article, podcast and an awesome video presentation (the one from Tony Seba). Topics cover markets, but there is just as much Sci-fi, History and Tech in there too. 
I hope you find it useful, and please use the comments box to nominate anything you have read recently that impressed you. 
Ray Dalio's 'Principles' book for me is a real stand out as a piece of literature. And the two key things, one is radical transparency, because I think for me as I've gone through life and investing, radical transparency for me is kind of the truth will set you free. Especially in finance, and with accounting and numbers. So radical transparency is certainly a very strong belief that I have.
And then also the fact that lessons are basic and failure is how you learn and develop.
And reading Dalio and being a big fan of Michael Jordan has certainly led me to a place where in my mind failure, as both of them say, is how you learn. And your ability to handle failure determines the probability of you being successful and learning. And then your ability to culminate that learning into being successful is the key.
And then once you are successful, your ability to manage your ego, manage your temperament will basically drive the duration of how long you will be successful for.
And that for me is what I've learned from Dalio and being a Michael Jordan fan for years. Just that lessons learned become probability for success. They're the ingredients, but your ability to be successful and hold that success for years or decades, is a function of managing your own ego and self-awareness, and basically personality and temperament. And that allows you to be successful for a long period of time. So for me that book had a lot of brilliance in it, and I recommend it to anyone. It's great.


I tend to try and read one investment book and one non-investment book after another.
On the investment side, I read 'Superforecasters', which is written by Philip Tetlock and Dan Gardner and it's an extraordinary book. For those who haven't read it, the science behaviourally around how you are able to put together and think about future outcomes and the probabilities around that, and the kind of people and the kind of traits and attributes they have, and the way they think that enables them to be radically better - and as teams as well.
So this is something that's obviously pretty prescient if you think about it, most investors aren't just an island, they work as part of teams, how do you get the best out of teams without getting the worst out of teams, the worst behavioural aspects of teams, the crowding and herding and stuff. Superforecasters is a wonderful book. It's been out a couple of years now but I would recommend it to everyone.
And on the non-investment side, I read A Brief History of Germany, that's an amazing book. I think we all, in the same way when it comes to investing, we think about the world in the last five years. 
That was a book that highlighted to me how Germany was a radically different country just 120 years ago and Europe looked completely different and it made me feel, thinking a bit about the Brexit piece, which I know everyone thinks is absolutely transformational, but made me understand that that is pretty much a speck in the annals of history and that we will, in terms of how we're evolving, and these democracies and these countries, we've got a long way to go and it's worth always, as an investor, standing back and trying to think a bit about the bigger picture.
How Not to Be Wrong, by Jordan Ellenberg
More recently I've read this book called How Not to Be Wrong, by Jordan Ellenberg. It talks a lot about the pitfalls of drawing inferences from data. Unfortunately, I'm, still wrong a lot, but ... it's a good book to read. I think there are some good lessons in there. If you look at statistics, what can you meaningfully say from them? I think there are some really great anecdotes and lessons to keep in mind.
One that springs to mind is an anecdote about World War II. They had these people trying to figure out what to do about aeroplanes that were being hit by German guns. And they had all these planes come back, and they'd look at where all the holes were being found, and they would think about whether they should put more protective covering here or there.
But some clever guy realised that actually they had a very biased sample set, because they weren't seeing any of the planes that had actually crashed. And the ones that had crashed were the ones where the bullet holes were penetrating the engine block, not the ones hitting the wings, or the tail, or whatever. The real protective covering should have been on the engine. And all this analysis of how to protect other parts of the aeroplane didn't really help. Even though you were analysing actual data, the data was biased. So I think that's kind of interesting.
The Prize, by Daniel Yergin, you know, while we were investing in oil and gas stocks, that was a nice companion to have, just to look at the long history of oil and gas, which was very interesting.
I listen to This American Life, it's a podcast about just ordinary Americans and their stories. I find that often quite fascinating.

The Foundation Series' by Isaac Asimov
It's hard to choose between a Scifi book I read recently, 'The Foundation Series' by Isaac Asimov, and a book I read for work about information theory.
I liked the sci-fi book because it covers a huge time span and speaks to the power of long-term, almost-invisible forces that actually are almost quite predictable, but drive massive long-term change in a very small gradual way, year after year after year.
And so it's just a reminder as an investor that there's a lot of noise in the near term, but there are also these great structural forces in the world that are just going on every single day. Like a tide rising, you can't see it but it's happening and it's incredibly powerful. As an investor, it's great to be reminded of these long-term steady trends that can be invisible day-to-day, but they are there over many years.
The work-related book about what's called information theory I thought was fantastic – it was called Knowledge and Power by George Gilder. It's about how the explosion of information availability through new technology and networks is completely reorienting the global economy.
If you think about a lot of the disruption we're seeing, it's about people finding new ways to access information, which completely changes the economic decisions they make, which then completely changes the world. If you think about Amazon or eBay, they're fantastic information networks where you can find the cheapest stuff quickly versus the old way of walking around the shop thinking "I believe it's cheaper here, but I might walk to the next five shops and check". Now you can check that at the press of a button, completely changing the economy and changing behaviours. The theory behind the book is the information age in which we're living is the next industrial revolution.
It's a fantastic book to read, giving some useful frameworks about how we should think about that for the long run as investors. The information economy is definitely not going away and I think it will structure much of what happens in the next 20 or 30 years.
Thinking in Bets: Making Smarter Decisions When You Don't Have All the Facts', by Annie Duke

"A book that I have just finished reading was recently recommended to me by a very astute and thoughtful fellow investor. 'Thinking in Bets: Making Smarter Decisions When You Don't Have All the Facts' was written by Annie Duke, a poker champion. This book resonated with me, as investors like poker players, have to continually make decisions based on imperfect sets of information.
Poker players don't know what cards their opponents are holding and their opponent's exact state of mind when they decide to either play a hand or fold. Investors face an even greater set of uncertainties when buying or selling a company ranging from currency, changing business conditions, legislation and policy changes and actions of a company's competitors.
In the book Duke seeks to differentiate between the quality of the decision and the quality of the outcome, to improve the average weighted results of an investor's decisions or bets. The initial example she uses is a play called by the Seattle Seahawks head coach in the final seconds of Super Bowl XLIX. The play called was a pass that was intercepted in the end zone, a bad outcome for Seahawks fans worldwide, but a quality decision based on its probability of success in the context of the game.
Like all investors, I can think of several situations where the purchase of a stock looked prescient due to a surprise takeover or a factor that I had not previously considered boosted company profits, however, in hindsight, the actual quality of the initial decision was not particularly good and nor well-reasoned
Tony Seba, presenting on "Clean Disruption of Energy and Transportation".
'Diplomacy' by Henry Kissinger
'Diplomacy' by Henry Kissinger changed my life. To develop a template on how diplomacy should be carved out and then to put all history through the eyes of that template without distorting the view is a remarkable achievement. He also writes well and the book takes forever to read.
Hit ''follow" for future updates
If you've found this piece useful, please send to your investing friends and colleagues. Please also hit "follow" to be the first to get future updates. Thank you for your support, and all the best for a prosperous investing journey through the second half of the year.
---

Follow Alex Cowie's wires
---
---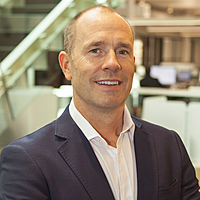 Alex happily served as Livewire's Content Director for the last four years, using a decade of industry experience to deliver the most valuable, and readable, market insights to all Australian investors.
Expertise