Charting a path of recovery and a return to normality at the moment is very challenging, however we believe that recovery in global growth will start in Q3. The problem with this scenario is it appears to be the most optimistic outcome from a series of possibilities. We assume a peak in economic shutdowns in the next few months with markets reacting positively before the fact. But the other scenarios all appear to be something worse, which shows how fear infects forecasting. Markets will trough when we reach peak fear. One way to measure fear of Covid 19, is how much attention it receives. Below is a graph of Google searches on the topic of Covid 19 and related words. It shows that searches peaked on 23rd March for Australia and the world and the US a week earlier. The 23rd coincided to the day with the bottom in the US and Australian share markets. Perhaps we have seen peak fear already, but we would counsel caution. SARS had a double peak in infections, with markets similarly dipping again with the second peak.

Source: Google Trends, Credit Suisse
In defense of our base case, Asian countries, and we would argue Australia and New Zealand, have had success in controlling outbreaks. The world does not have to wait for a vaccine before taking careful steps towards something closer to normality. Widespread testing, social distancing, and shutdowns work, and are available to any country which chooses to exercise them. Meanwhile, the global fiscal and monetary policy measures undertaken by Governments, are recognition that payment flows simply cannot stop. Short term obligations have to be met, whether it be promised loan funding, rent payments or cash for the weekly food shop.
An extreme decline in economic activity has arrived abruptly. 
But resuming a good portion of past activity in sectors like restaurants and domestic travel will quickly lead to high short-term growth rates. Thus Q3 GDP growth for developed economies, global industrial production, unemployment and other economic measures are likely to show strengthening in our Winter. That said, it is another question as to how quickly the level of GDP will return to what it would have been had Covid 19 not occurred. Jobs will be lost that will not be recovered in 12 months or even longer. For example, Flight Centre has announced the closure of 250 stores, not temporarily but permanently. There will be other examples. We have to acknowledge that the improvement we are expecting will be off a lower base.
What can't go wrong
The world is dealing with a living thing that can mutate. There are as many opinions as to mode of contagion, mortality and the best approach to control it as there are experts in epidemiology. Outside of China it started as a disease affecting mobile and affluent populations. Once established, it has spread further in those populations. So it's not a complete surprise that major metropolises like Milan, London and New York now suffer. There is hope that New York has already plateaued, but then the city that never sleeps is interconnected with so many other large cities in the US, focusing just on a peak in cases in New York might lead to a false Spring.
The general consensus among the experts is that warmer weather in the northern hemisphere should slow the virus. 
But will shutdowns then again be required in the coming Autumn? It could be that more extensive testing and better treatments may make it more controllable. I have no doubt the Australian Government is concerned what winter may mean for cases in Australia. But, we do have the advantage of lower population density, a cohesive community response and coordination between the states and Commonwealth.
Central banks have moved early and have been aggressive, lending freely and articulating a "whatever it takes" approach. The concept of targeting inflation has been pushed to the background and rightly so. The US Fed and other central banks have expanded the list of securities they are buying including asset backed securities, primary and secondary issuance of investment grade paper and commercial paper. The Fed has announced these measures are unlimited. But there are limits to central bank support. The Fed and the RBA for that matter, won't deal with all counterparties. There will always be organisations who by virtue of weak balance sheets or cash flows will not be able to source liquidity from the relevant central bank. Therefore, another thing that can't go wrong is the failure of a major financial organisation. But, given actions by central banks and government so far, that seems unlikely.
The massive fiscal support announced by governments globally can be used by business and households to pay bills in the short term. It won't become stimulus until normal life resumes, and as long as the shutdowns have not lasted to the point the cash has been exhausted. Government support is aimed at building a bridge over the crisis. The Australian Government has announced economic support equivalent to about 12% of GDP. Actions by the RBA will probably add another 5%. But they are not forcing beneficiaries to spend it. Rather, the aim is to ensure the private sector is ready to participate in the recovery as opposed to failing before it gets the chance. 
An extended shut down raises the probability that even the massive fiscal package announced so far is not enough. 
That said, with ongoing improvement in the new case trajectory around the world, the debate is becoming more and more as to what an exit from lockdown looks like. It is becoming apparent that the mood appears to be changing to one of learning to live with Covid 19 until a vaccine is developed. That means economic activity will start recovering, and investment markets are already reacting positively to that.
Learn more
Credit Suisse Private Banking specialises in asset diversification, holistic wealth planning, next generation training, succession planning, trust and estate advisory, philanthropy. Stay up to date with our latest insights throughout 2020 by clicking the follow button below and you'll be notified every time we post a wire. 
---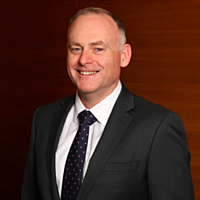 Chief Investment Officer
Credit Suisse
Andrew McAuley is a Managing Director of Credit Suisse Wealth Management Australia. As Chief Investment Officer, he is responsible for developing discretionary and advisory investment strategies across multi asset class portfolios for clients in...
Expertise