Which currency is next to be whacked by a dovish central bank?
---
A week ago the US dollar was under pressure after the Federal Reserve indicated at least an extended pause in its tightening cycle. We expected this dovish turn from the Fed would undermine the US dollar for some time. Instead, the dollar is up against all G10 currencies this week, with the Australian dollar one of the weakest performers. Markets continue to price in flat rates in the US in 2019, removing previous yield support for the greenback. But the dovish mood has extended beyond the Fed, with the RBA's change of tone most notable.
This was always going to be a big week for the RBA, given the 2 month gap since its last meeting and with 3 events this week – the policy meeting, speech by Governor Lowe and quarterly statement. The Board meeting on Tuesday produced the fully expected steady hand on the cash rate at 1.5% and confirmed lower economic growth forecasts for 2019 and 2020, which we had been expecting since the Q3 GDP shock just after the RBA's December meeting.
The statement also conceded greater downside risks to the global economy and noted the further house price falls in Sydney and Melbourne. But the concluding paragraph on the stance on monetary policy was identical to December. Hence the sharp market reaction the next day when Governor Lowe revealed that the "next-move-is-up scenarios" were no longer more likely than rate cut scenarios. Rather, they are now more evenly balanced.
This comment provided fuel for a decline in market yields that has been in play for months. There will be intense focus on any soft data in coming weeks, keeping a lid on Aussie dollar rallies. But the RBA's baseline forecasts of 2.75-3% growth and unemployment falling to 4.75% really just affirms our long-standing forecast for the RBA to hold steady again this year.
Markets are now pricing about an 85% chance of a move by December, though with only a low probability of action in the next few months.
On the positive side for the Aussie, this week we saw December trade data which confirmed that Australia recorded growing trade surpluses over 2018 even as the US-China trade war began. December's $3.7bn surplus was the second largest on record. Iron ore prices were at 2 year highs before China's lunar new year holidays so the reopening of China's markets will be closely watched next week.
Less encouraging were the fall in Australian retail sales and building approvals in December. In the week ahead, the only official Australian data release is home loan approvals but we will be interested to see updates on consumer sentiment from Westpac and business confidence from NAB.
Offshore, there will be plenty of US data and another round of trade talks between US and China negotiators. The Reserve Bank of New Zealand's first policy decision since 8 November will also be closely watched. The Aussie/Kiwi cross was very volatile this week and should remain so, with rate cut chatter on both sides of the Tasman. We'll speak to you next week.
---

Follow Sean Callow's wires
---
---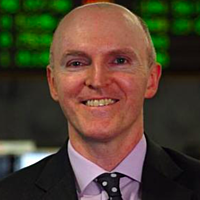 Senior Currency Strategist
Westpac Bank
Sean Callow is Westpac Bank's Senior Currency Strategist, based in Sydney. Sean focuses on the Australian dollar and other G10 and Asian currencies. He has worked in strategy and economics roles in New York, London, Singapore and Melbourne.
Expertise