Why engaging with fossil fuel producers can create the change we need
---
The solution for many investors and managers when it comes to carbon emissions abatement has been to avoid the problem. It is no surprise that negative screening and ESG divestment has become the most popular and widely used ESG strategy.

Looking back through history we can see that exclusion has shaped many positive outcomes for society. In the 1980s, the divestment movement that lobbied university endowments and companies to exit apartheid-era South Africa was a huge success. By the end of the decade some 150 institutions had divested as a result.
This paved the way for many other divestment campaigns targeting the likes of tobacco, firearms, and alcohol to name a few.
Today, the current exclusion focus is undoubtedly on fossil fuel producers. Those that follow this strategy believe that companies with strong environmental, social and governance standards outperform those that do not in the long run.
There is good evidence to support this – a New York University review found a positive relationship between ESG and financial performance for 58% of the corporate studies focused on operational metrics such as ROE (return on earnings), ROA (return on assets), or stock price.
But there is also a belief that starving these companies of capital will force them to change their business practices. We think this argument is flawed.
Divestment will not destroy demand
If we want to drink from plastic bottles and drive over bridges made from cement, why should we abandon those companies that produce these goods? Divestment will not destroy demand and more importantly, divestment will not drive the decarbonisation the world needs.
Instead, divestment is likely to push the problem on to the shoulders of others.
As ESG has emerged in the last few years as one of the strongest drivers of capital allocation in global markets, it's increasingly tempting for investors to take the path of least resistance and simply jettison carbon-intensive stocks.
The divestment movement is understandably enjoying widespread appeal in a time of climate emergency. But by targeting the low-hanging fruit that are international oil corporations and thermal coal producers, the movement misses the more complex and pertinent question - how to actually reduce the global demand for fossil fuels?
The argument that squeezing the flow of investment into fossil fuel companies will lead to their demise or drastic business transformation is perhaps not as effective as first thought.
Through the exclusion of fossil-fuel companies, investors are missing an opportunity to create the change we need and accelerate the decarbonisation.
Secondly, often forced divestment only passes the problem on to another company or operator. The problem simply does not disappear off the face of the earth, the carbon just gets shifted. More carbon gets emitted, and the problem remains.
There are also other flow-on effects to consider, like the recent supply shocks we are seeing in Europe, and the trend that's seeing poor ESG performers move to the private sector which creates less transparency.
Whilst it might be easier to exclude fossil-fuel companies, if investors can utilise engagement to encourage transformation, greater impact can be achieved. The major fossil fuel companies of today are critical to the transition and offer the greatest potential in shaping the future.
Integrate not eliminate
There is evidence that ESG integration, broadly speaking as an investment strategy, performs better than negative screening approaches.
A recently released Rockefeller Asset Management study finds that ESG integration will increasingly be defined by "leaders" and "improvers", with the latter showing uncorrelated alpha enhancing potential over the long-term.
ESG exclusions on the other hand can hinder innovation. If all investors had the same exclusions, we would ultimately be excluding the companies that have the greatest potential to make the biggest future difference for the economy.
This leads to the idea that ESG investing can help persuade unsustainable companies to shift their business models.
BP is an example of a company trying to do just that. 
In 2020, chief executive Bernard Looney pledged to cut oil and gas production by 40 per cent, by 2030. In this example, BP are hoping to be a "leader" in the oil space.
Whilst BP's shares have failed to outpace those of oil groups that have not moved to decarbonise as quickly, it could be a longer-term winner if it gets it right.
The power of engagement
There is an argument for both impact investors fostering growth in innovation and new technology, while on the other hand ESG investors can cajole incumbents towards a just transition using engagement and voting.
While both approaches are critically important, the weight of capital needs to be on engagement as this means of making impact does not require billions.
Whilst we are not supportive of those companies that do not acknowledge the need to decarbonise and do little about it, those who acknowledge the challenge but require capital to decarbonise (and are well positioned to make a good return on this capital) are prime candidates. 
These are the businesses that we should be targeting in an ESG strategy.
The difference between rhetoric and reality
The path to a more sustainable economy isn't through avoiding investment or forced divestment. A better approach to a more sustainable economy is to work with companies and come up with sustainable long-term solutions.
The reality is that we can't get to net zero just by buying all the green assets. Investors need to understand their exposure to carbon and understand what plans companies have in place to reduce emissions and then compare these plans to science-backed targets.
The real opportunity lies in finding the companies that can make the transition in the most efficient way. 
By investing in these companies and engaging with them on their carbon emissions roadmaps we will see the change we need. If you invest in a company with a clear roadmap to net-zero, then you are investing in a sustainable company.
Learn more
Spheria Asset Management specialises in identifying the world's best small and microcap businesses. 
Visit the Spheria website to learn more and click follow so you don't miss Aimee's future wires. 
........
THIS COMMUNICATION HAS BEEN PREPARED BY SPHERIA ASSET MANAGEMENT PTY LIMITED ABN 42 611 081 326 ('SPHERIA'), CORPORATE AUTHORISED REPRESENTATIVE 1240979 OF PINNACLE INVESTMENT MANAGEMENT LIMITED (AFSL 322140). SPHERIA AND PINNACLE FUND SERVICES LIMITED BELIEVE THE INFORMATION CONTAINED IN THIS COMMUNICATION IS RELIABLE, HOWEVER, NO WARRANTY IS GIVEN AS TO ITS ACCURACY AND PERSONS RELYING ON THIS INFORMATION DO SO AT THEIR OWN RISK. TO THE EXTENT PERMITTED BY LAW, SPHERIA AND PINNACLE FUND SERVICES LIMITED DISCLAIM ALL LIABILITY TO ANY PERSON RELYING ON THE INFORMATION IN RESPECT OF ANY LOSS OR DAMAGE (INCLUDING CONSEQUENTIAL LOSS OR DAMAGE) HOWEVER CAUSED, WHICH MAY BE SUFFERED OR ARISE DIRECTLY OR INDIRECTLY IN RESPECT OF SUCH INFORMATION CONTAINED IN THIS COMMUNICATION. THIS COMMUNICATION IS FOR GENERAL INFORMATION ONLY. THE INFORMATION IS NOT INTENDED AS A SECURITIES RECOMMENDATION OR STATEMENT OF OPINION INTENDED TO INFLUENCE A PERSON OR PERSONS IN MAKING A DECISION IN RELATION TO INVESTMENT. IT HAS BEEN PREPARED WITHOUT TAKING ACCOUNT OF ANY PERSON'S OBJECTIVES, FINANCIAL SITUATION OR NEEDS. ANY PERSON CONSIDERING ACTION ON THE BASIS OF THIS COMMUNICATION MUST SEEK INDIVIDUAL ADVICE RELEVANT TO THEIR PARTICULAR CIRCUMSTANCES AND INVESTMENT OBJECTIVES. ANY OPINIONS OR FORECASTS REFLECT THE JUDGMENT AND ASSUMPTIONS OF SPHERIA ON THE BASIS OF INFORMATION AT THE DATE OF PUBLICATION AND MAY LATER CHANGE WITHOUT NOTICE. ANY PROJECTIONS ARE ESTIMATES ONLY AND ARE CONTINGENT UPON MATTERS OUTSIDE THE CONTROL OF SPHERIA AND THEREFORE MAY NOT BE REALISED IN THE FUTURE. PAST PERFORMANCE IS NOT A RELIABLE INDICATOR OF FUTURE PERFORMANCE. THE INFORMATION CONTAINED IN THIS COMMUNICATION IS NOT TO BE DISCLOSED IN WHOLE OR PART OR USED BY ANY OTHER PARTY WITHOUT THE PRIOR WRITTEN CONSENT OF SPHERIA.
---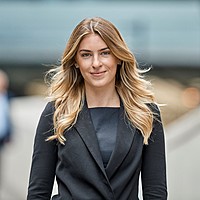 Investment and ESG Analyst
Spheria
Aimee joined Spheria in 2019 as an analyst for the Spheria Global Microcap Fund. Previously she worked as an analyst at Bank of America Merrill Lynch. Aimee holds a Bachelor of Commerce from The University of Sydney.
Expertise