Why India could be third-placed by 2030
---
India is the world's sixth-largest economy by GDP (US$3trillion) and is likely to shift closer to being the third-largest by the end of this decade (US$5-7trillion), trailing only the US and China. However, what worked in the past might not be what will drive growth in the future. Dominant themes driving incremental growth of the 2020s is likely to propel India towards economic significance in value and supply chains globally. Being early adopters of these themes can lead to a significant opportunity for investors to create wealth, rather than piling in on what has already been successful.
Source: IMF
Increasingly, the country's equity markets are attracting investors looking for liquid, less correlated, growth investments, which are underpinned by long-term positive fundamentals of the region. The reforms attempted since the Modi-led BJP Government came into power in 2014 are likely to bring productivity gains in the future through increased financialisation, digitalisation, a broader tax net and better governance and compliance).
Taking a step back though, India and China were roughly at the same level of GDP in the mid 1980s. However, China went ahead through a more aggressive focus on manufacturing to drive its economy, whilst India pursued services as the key driver of its economy.
If we study the recent history of India, then its growth is dominated in the last 10-12 years post GFC by consumption via credit. This held up the economy whilst low levels of private investment and weak infrastructure, agriculture, and manufacturing sectors, given the high cost of capital and a clogged-up government-owned banking system, led to low levels of capital formation.
Source: (VIEW LINK)
In the last decade in India, growth has been driven by credit-fuelled consumption. This led to the indices being dominated by private banks and consumption companies. Today consumption and banking companies account for 50% of the market cap. Yet the Private Banks in India all trade between 2.5-5x book and Consumption related businesses almost exclusively trade at above a P/E of 40x one-year forward. Foreign investors' universe of Indian stocks is often limited to these as they do not have the capability to do deeper research on lesser-known companies. Because of this, quite often the conclusion by Global, Emerging Market and/Asian fund managers is that India is an expensive market relative to their broader opportunity set. This is partly true given the compounding growth opportunity of India's long-term fundamentals but is also reflective of large, liquid and investable companies for big funds being found exclusively among the Top 20 stocks by market cap. That is, they often simply pick their favourite Private Bank, Information Tech or Consumer company in India. Inevitably there will be cheaper options in other regions.
But in the midst of COVID, the most troubled sectors were in consumption and banking, given their significant customer touch business model. While they re-equip themselves via digital platforms (now possible in India through significant digital and financial infrastructure reform), the businesses that are making headway are Manufacturers/Exporters, Globally oriented Cyclicals, Information Technology and Pharmaceuticals. This means most at the top of the market cap tree. This is dominated today by Consumer and Banking stocks but is likely to make way over time for businesses that:
have built significant scale locally and can export their value proposition overseas much more cost-effectively, or
already have a significant overseas presence and are increasingly winning large corporate deals from large global corporations.
Going forward, some of the dynamics that played out in the past may not look the same. Why? Because of:
Poor tax infrastructure, 
high logistics costs, 
low inflation, 
high interest rates, 
non-performing loans, 
poor monsoons, 
lack of private investment.
This combination has meant the manufacturing, export and agriculture sectors were left behind. This resulted in capital formation being poor and capacity utilisation remaining weak.
We are likely to be heading towards a period in which actively managed, high conviction portfolios of 15 to 20 stocks will pay off relative to passive investing. When it comes to India, this can be implemented efficiently in a managed fund to play out themes that should dominate over the decade.
In my view the best way to play the India story over this decade is through an India focused, actively managed, high conviction fund, focused on investment themes which should participate significantly in the incremental growth of India over the decade – this may be different to what drove growth over the last decade. India's economy is likely to be close to the third largest in the world by 2030 and is a story which should not be ignored by investors.
Never miss an insight
Enjoy this wire? Hit the 'like' button to let us know. Stay up to date with my content by hitting the 'follow' button below and you'll be notified every time I post a wire. Not already a Livewire member? Sign up today to get free access to investment ideas and strategies from Australia's leading investors.
........
This document ('Document') has been produced by India Avenue Investment Management Limited ('IAIM') ABN 38 604 095 954, AFSL 478233 and has been prepared for informational and discussion purposes only. This does not constitute an offer to sell or a solicitation of an offer to purchase any security or financial product or service. Any such offer or solicitation shall be made only pursuant to a Product Disclosure Statement, Information Memorandum or other offer document (collectively 'Offer Document') relating to an IAIM financial product or service. A copy of the relevant Offer Document relating to an IAIM product or service may be obtained by writing to us on info@indiaavenueinvest.com or by visiting www.indiaavenueinvest.com. This Document does not constitute a part of any Offer Document issued by IAIM. The information contained in this Document may not be reproduced, used or disclosed, in whole or in part, without the prior written consent of IAIM. Past performance is not necessarily indicative of future results and no person guarantees the performance of any IAIM financial product or service or the amount or timing of any return from it. There can be no assurance that an IAIM financial product or service will achieve any targeted returns, that asset allocations will be met or that an IAIM financial product or service will be able to implement its investment strategy and investment approach or achieve its investment objective.  Statements contained in this Document that are not historical facts are based on current expectations, estimates, projections, opinions and beliefs of IAIM. Such statements involve known and unknown risks, uncertainties and other factors, and undue reliance should not be placed thereon. Additionally, this Document may contain "forward-looking statements". Actual events or results or the actual performance of an IAIM financial product or service may differ materially from those reflected or contemplated in such forward-looking statements. Any trademarks, logos, and service marks contained herein may be the registered and unregistered trademarks of their respective owners. Nothing contained herein should be construed as granting by implication, or otherwise, any license or right to use any trademark displayed without the written permission of the owner. Certain economic, market or company information contained herein has been obtained from published sources prepared by third parties. While such sources are believed to be reliable, neither IAIM or any of its respective officers or employees assumes any responsibility for the accuracy or completeness of such information. None of IAIM or any of its respective officers or employees has made any representation or warranty, express or implied, with respect to the correctness, accuracy, reasonableness or completeness of any of the information contained in this and they expressly disclaim any responsibility or liability therefore. No person, including IAIM has any responsibility to update any of the information provided in this Document. Neither this Document nor the provision of any Offer Document issued by IAIM is, and must not be regarded as, advice or a recommendation or opinion in relation to an IAIM financial product or service, or that an investment in an IAIM financial product or service is suitable for you or any other person. Neither this Document nor any Offer Document issued by IAIM takes into account your investment objectives, financial situation and particular needs. In addition to carefully reading the relevant Offer Document issued by IAIM you should, before deciding whether to invest in an IAIM financial product or service, consider the appropriateness of investing or continuing to invest, having regard to your own objectives, financial situation or needs. IAIM strongly recommends that you obtain independent financial, legal and taxation advice before deciding whether to invest in an IAIM financial product or service.
---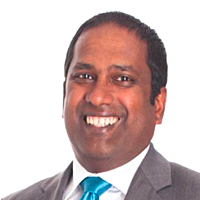 Managing Director
India Avenue
Mugunthan Siva is Managing Director of India Avenue, an Australian based boutique asset management company with offices in Sydney and Mumbai. He has over 25 years experience in Australia and is lead portfolio manager for the India Avenue Equity Fund.
Expertise