Why India gets top gong among emerging markets
---
India may be best known to Australians for its food and cricketers. But the world's largest country is quickly earning a reputation as a leading investment destination, with one of the best performing share markets in the world.
In the following video, Zach Riaz, Investment Manager for Banyantree Investment Group, goes into bat for India and tells us how India's government has created one of the world's top-performing share markets. And explains how China's geopolitical pain, could be India's gain.
Prime Minister Modi hits a six
India is a country of young people with an exciting future, Mr Riaz explains. And India is set to reap a demographic dividend that in many ways resembles China. This not only includes a strong and vibrant middle class, supported by higher income growth and globalisation but also greater urbanisation as more people move into the cities.
Making matters better still are the policies introduced by Prime Minister Modi. Mr Riaz says:
"As the reform agenda through the economy and investments start to come through, then we expect good numbers. And then all that leads into earnings upgrades. All that leads into... re-rating… and if the earnings line starts to get upgrades and that PE multiple starts coming down."
Why India scores more runs than emerging markets
Why invest in India specifically when I can invest in emerging markets? This is a question that Mr Riaz is sometimes asked. For him, the answer is two-fold.
First, India has outperformed the broader emerging markets index over the past five years – and by a considerable margin.
Second, emerging markets indices can be too broad, Mr Riaz feels. This is because they include a vast swathe of countries with little to nothing in common such as South Africa, Turkey and Russia. This means using emerging markets ETFs can sometimes be too scattergun or internally contradictory to be useful. He explains:
"Our view is looking at emerging markets more from a bottom-up perspective because there's such divergence in the underlying countries. The fiscal, monetary policies and the structural themes behind it, and also the growth profile, the currencies—they all differ."
Will the coronavirus bowl India out?
With the supersized population, high-density cities, and weaker healthcare system, some are wondering how India will fare if the coronavirus gets out of hand. Investors have wondered whether economic growth could get derailed if India were to go through another wave of infections.
For Mr Riaz, any doomsday scenario is unlikely. However, the risk needs to be monitored. He says:
"Generally the economic indicators for India coming out of the recovery have been pretty good. The RBI is pretty accommodative…the currency is holding up pretty well, the current account balance is pretty good as well right now... So I think the near term risk is really how these new infection rates and cases get handled."
India has a better geopolitical average than China
India has been compared to China in its investment potential. And on the surface, there are certainly similarities between the two countries. Both have enormous populations. Both are clocking in impressive GDP and share market growth. And both are emerging Asian economies with plenty of room to grow.
Mr Riaz believes that both countries merit investor attention. However, he says that India has some edges over China, especially relating to politics.
"The US President had a meeting with the Indian Prime Minister [Modi], the Australian Prime Minister, and they're all talking about how to handle China," he says.
"So I think India is also going to be a beneficiary for some investors who may become slightly more concerned on how this, the world versus China story plays out… [India is] still growing well, and it's not in the firing line of some of the major governments. So that could also play into… the performance of the market."
For more gems such as these, and to see the discussion in greater detail, watch our interview with Zach.  
Access a range of opportunities
ETF Securities offer a range of ETFs across asset classes, regions, sectors and themes for your investment portfolio. Click the 'FOLLOW' button below for more of our insights.
---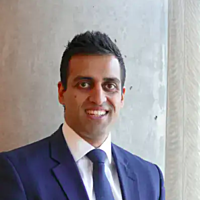 ETF Specialist & Head of Distribution
ETF Securities
Kanish Chugh is responsible for distribution covering sales and marketing strategy for institutional, intermediary and retail clients. He joined ETF Securities in 2015 and has previous experience with Fidelity International, BlackRock and...
Expertise