A very topical question, after our look at Woodside Petroleum (WPL) in the Weekend Report. Oil suffered a massive decline in prices in 2014-5 leading to panic in the oil sector with companies going into administration, or literally collapsing in price e.g. Santos (STO) fell ~75%.
Saudi Arabia attempted to halt the major competition coming from shale gas in the US by simply pumping more oil which brought down global energy prices. Many OPEC members have been decimated by the decline in prices, losing money on every barrel produced. The price war appears to have abated for now, and the market is going through a period of rebalancing. 
We are simply looking for oil to retest its best levels of last year ~$US60/barrel, not a particularly aggressive call considering price movements over the last two years. Looking shorter term, characteristics of sell-offs can be very telling – with a test below ~$US40/barrel being rejected.
We like the oil sector at current levels for further 8-10% appreciation. We hold Origin Energy (ORG) in the portfolio with a target of $6.20 and can buy Woodside Petroleum (WPL) for a shorter term trade
Crude Oil Monthly Chart
Get your questions answered by the Market Matters team. Each Monday they answer questions from four subscribers, sign up for your free 14-day trial today and you can submit a question which could be included in next Monday's report:  (VIEW LINK)
---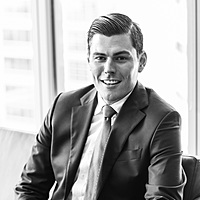 Market Matters is an online investment and share trading advisory service designed for those that want to take their wealth further. We specialise in advice for active share market investors, including those new to the markets or those with a Self...
Expertise
No areas of expertise