Will you win from Winu copper 'find'? Rio still refusing to say
---
Details of Rio's reportedly-huge copper find in WA continue to leak. Following last week's aerial photos showing a 56-man camp and drill rigs, this column can now reveal the project apparently has a name: Winu. Of course, Rio refuses to confirm this – presumably because that would confirm the discovery exists.
Rio Tinto's hush-hush copper discovery in WA's remote North Paterson region apparently has a name – Winu.
We say apparently, as Rio has continued to keep a tight lid on the find.
It's the one that from satellite imagery, aerial phots from a plane flyover last week and rising social media speculation, has got the WA industry buzzing.
Rio has been telling journos who had the plane flyover pictures in their hands that everyone needs to cool their jets.
The suggestion is that Winu (the naming could not be confirmed yesterday) is an early-stage copper discovery that is not as significant as some have been suggesting i.e. its Rio's best discovery in 25 years and that it has the makings of a Mt Isa.
It might be early days but Rio is sure investing heavily in Winu if it is not shaping up as to something special.
A 56-man camp big enough to support at least three drilling rig crews, and plans to put in an airstrip, suggest Winu is no ordinary early-stage prospect.
As Rio continues to remain hush-hush, others are organising a high-resolution flyover by satellite in coming days to see just how many holes have been punched in beneath the sand dunes and the new scale of the grid pattern.
Should the images come this way, they will be made available for all to see, the motivation here being that what is potentially good news for Rio is also potentially good news for the juniors operating in the Paterson.
Having said that, if Rio were to come out soon and say Winu is not something special, the plan is to report it here first. But the mounting evidence suggests that will not be case.
Social media provided some interesting takes on Winu this week following on from the publication of the pictures from the plane flyover.
"That's what that plane that flew over was all about hahaha," said one. Another said the "cat is out of the bag lol" while another said "some of the strongest results I've seen."
That kind of chatter happens when a company makes no official comment on what everyone wants to know – is Winu something special or not.
Winu – if that is what it is called – is about 120km north-north-west of Newcrest's Telfer gold-copper mine.
Discovered in late 2017, Rio followed up with one the of biggest land grabs by a single company in recent memory. Last year Rio held 1000sqkm of the North Paterson in its own name and 1335sqkm in joint ventures.
Now it has got more than 11,000 sq kms in its own name (all the way to the coast at Eighty Mile beach between Port Hedland and Broome) and 1760sqkm in joint venture.
The discovery was reported here in April on the strength of rumours that drilling had returned 140m thick intersections of visible copper mineralisation from a depth of 40m.
Rio's hush-hush approach to date on Winu cannot last for ever. Indeed, it stands to reason now that anyone contemplating selling their Rio shares in coming weeks and months would like to know if Winu is big or not. Make that needs to know.
Winu stirs interest in juniors
Good old-fashioned nearology is alive and well for the juniors active in the Paterson. It stepped up during the week too.
There was something of celebration in the share price of Encounter (ENR) when it announced it had struck a strategic alliance by way of a placement and potential joint venture with Nova owner Independence Group (IGO) on its Yeneena copper-cobalt project in the Paterson.
Sipa (SRI) pulled in $1.5m from a placement at 0.91c a share to fund on-going work on its Paterson project, 10kms from the Rio discovery, and Antipa (AZY) – which has a joint venture with Rio in the North Paterson near the discovery  – reported promising copper-gold results from its wholly-owned ground closer to Telfer.
Carwine (CWX) capped off three years of geological studies by announcing it had recently been awarded four exploration licences in the Paterson adjacent to Rio and Antipa, while Metalicity (MCT) announced it had picked up 2,166 sq km in the Paterson considered prospective for copper.
So things are heating up in the Paterson, with or without Rio giving the juniors a leg up by going public on Winu.
Peel Mining
Glen Campbell would be pleased.
Resource definition drilling by Peel Mining (PEX) at last year's Southern Nights discovery south of Cobar in NSW – named in honour of the late country singer- has just yielded one of the best-ever intersections of zinc-lead-silver-gold-copper mineralisation.
The 18.2m intersection from a relatively shallow depth of 182m assayed 40.3% zinc, 15.7% lead, 0.97% copper, 356g/t silver and 2.77g/t gold.
It shouldn't be done, but we're going to do it anyway – on a gold equivalent basis, you're looking at 43g/t.
So it is a special intersection. A ring around to some oldtimers with experience at high-grade polymetallic operations like Rosebery and the defunct Hellyer mine in Tasmania reckon the Southern Nights hit is in its own league.
It was little wonder then that Peel shares went for a trot in Thursday's market, rising some 11c or 36% to 42c to recover some of the ground lost since the start of the year because of the retreat in base metal prices, and some indifferent exploration results reported around mid-year.
The question now is what does it mean? Southern Nights was discovered in August 2017 and it sits 1km south of the known mid-1970s Wagga Tank discovery. All up, there is a 2km mineralised corridor between Wagga Tank/Southern Nights which already had the makings of supporting a mine development, subject to all the usual caveats.
Prime amongst those is success in the fully funded resource drill out which will lead to a maiden inferred resource estimate before June next year.
That drilling is on a typical 40m x 40m spacing but will be pulled in to 20m x 20m spacings in the super-high grade lens or pod which produced the stunning assay results to allow an indicated resource estimate there to be made.
As a very rough guide, the lens looks to be good for say 500,000t to 750,000t of mineralisation after taking in to account high-grade hits encountered in half a dozen or so nearby holes.
Apply a possibly conservative 25% zinc equivalent grade, and the lens would be very meaningful in terms of contained metal value.
Confirmation  of all that would bring in to the play the potential for the lens to become the focus of a strong cash-flow producing "starter'' project, possibly as a dig and truck operation as Peel's peers in the region have spare milling capacity.
Alternatively, it could become the focal point of a larger operation which justifies Peel building its own mill.
Wagga Tank/Southern Nights was already shaping up as a large system and remains to be fully tested. The latest drill results point to any development having at least one sweet spot. Previous drilling has indicated there could be more, maybe not at such stunning grades. So the story is not over.
The plan now is to keep drilling up to Christmas, take a short break, and then come back and drill to the end of March/April. Peel should have enough data then to make the resource estimate, and then move in to a scoping study in to a development.
Meanwhile at the copper-rich Mallee Bull deposit, 50kms from Wagga Tank/Southern Nights, the Peel joint venture with CBH Resources/Toho Zinc is currently studying a "dig and truck'' operation which would involve processing at CBH's Endeavour operation. Some news on that is expected by the end of the year.
---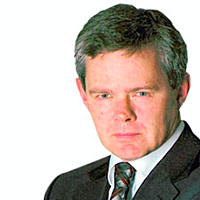 Principal
Independent Journalist
One of Australia's leading business journalists, Barry FitzGerald, highlights the issues, opportunities and challenges for small and mid-cap resources stocks, and most recently penned his column for The Australian newspaper.
Expertise