Winds of change: Vaccine relief and the acceleration of e-commerce
---
With the roll-out of vaccines to combat COVID-19, a new president in the White House come January and a surge in online activity through 2020, Magellan rounds out the year with a focus on two key sectors in its global portfolios: healthcare and technology. 
Hear from the investment team at Magellan Financial Group as they distil and dissect these key areas of interest and provide a macroeconomic look at what could lie ahead for investors in 2021.
Never miss an episode
New episodes of 'Magellan - In The Know' will be published on the last Tuesday of each month. We seek to bring you timely, unique and thought-provoking insights to help you make sense of today's investment landscape. We will connect with colleagues and outside experts, including CEOs of stocks we hold and leading global consultants in economics, politics and risk. Click follow to be the first to receive it each month.
---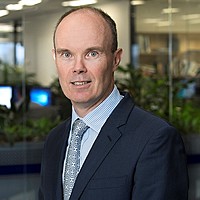 Chairman, CIO and Lead Portfolio Manager
Magellan
Hamish Douglass is Co-Founder, Chairman and Chief Investment Officer of Magellan Financial Group, and Lead Portfolio Manager of Magellan's Global Equity strategies.
Expertise