Woolworths' senior bond looks expensive
---
Woolworths  (WOW) has launched new 5 year and 10 year senior bond issues, which are expected to be large in size given it has over $2 billion of debts maturing in 2020 and 2021. I would not be shocked to see WOW try to print between $750 million and $1.5 billion in total across these two tranches.
WOW has proposed aggressive pricing for the 5 year and 10 year bonds at 160bps and 210bps over the swap rate with no new issue concession, which is surprising. In fact, it appears WOW is assuming it can get away with a negative new issue concession inside any reasonable estimates of fair value. 
Given the complete lack of liquidity in the Aussie corporate bond market in recent months, which has forced the RBA to attempt to bail it out by making some assets temporarily repurchase eligible, WOW's approach to pricing Australia's inaugural jumbo corporate bond issue in the middle of what is arguably the worst recession since the great depression smacks of hubris.  
We have priced the BBB rated, 5 year WOW issue using a range of different methods, which are quickly summarised below. First, we have an Australian multi-factor valuation model that captures 601 different bonds and has high explanatory power. This model accounts for WOW's credit rating, the bond's maturity, its capital structure position, industry sector, size and liquidity, amongst many other things.
On this basis, we have fair value for the BBB rated 5 year senior bond at around 170bps above BBSW before any new issue concession. In recent global corporate bond issues, new issue concessions have been large and as much as 50bps or more, especially for early primary market trades. 
One problem with this valuation estimate is that it relies on Australian corporate bond market prices, which have been illiquid of late. Indeed, there was evidence to suggest the corporate bond prices in March were some three percentage points above the true fair market value. 
We have also built a global supermarket valuation model that includes 55 securities and accounts for a range of variables, including WOW's credit rating, tenor and so on. This puts fair value for a 5 year, BBB rated senior WOW bond at about 216bps above BBSW before any new issue concession.
WOW also has a very short-dated, sub-1 year USD senior bond on issue, which is currently trading on a spread of BBSW + 160bps that validates the global supermarket model's pricing for a much longer 5 year security (ie, fair value in the low 200s before any new issue concession).
To highlight one offshore peer, consider the UK supermarket giant Tesco. Tesco has a shorter-dated, 4.14 year, EUR750m senior bond outstanding. This BBB- rated security is currently trading at the equivalent of 220bps over swap. Add in a new issue concession and the longer tenor for a 5 year issue, and we once again arrive at fair value for WOW in the low to mid 200s.
The Tesco EUR senior bond also notably benefits from a very strong ECB bid for corporate paper, which has artificially reduced credit spreads (ie, arguably provides optimistic price guidance). For what it is worth, WOW and Tesco both have BBB anchor ratings with S&P – Tesco gets lowered down one notch because of what S&P calls "comparable rating analysis". WOW and Tesco also have similar EBITDA interest coverage, Debt/EBITDA, FFO/debt, cash flow from operations/debt, FOCF/debt, and DCF/debt metrics.
WOW does have a specialised "green" supermarkets bond outstanding, but this is an ESG security (in fact, the world's first green supermarkets issue) that offers no real price guidance given its highly technical ESG investor-base that resulted in it being issued well inside fair value.
All the recent Aussie bond issues we have participated in have been fairly priced with reasonable new issue concessions, including AAA rated deals launched of late by Suncorp and Bank of Queensland, and the new Macquarie Bank hybrid on the ASX, which is offering an attractive spread of 470bps over the bank bill swap rate that is materially wide of secondary curves. 
Woolworths obviously feels that there are many investors out there willing to accept spreads on its senior bonds that we find hard to rationalise...One can get higher rated BBB+ bonds issued by the major banks with a shorter maturity that pay some 100bps more than what Woolworths is offering.

........
Disclaimer: This information has been prepared by Smarter Money Investments Pty Ltd. It is general information only and is not intended to provide you with financial advice. You should not rely on any information herein in making any investment decisions. To the extent permitted by law, no liability is accepted for any loss or damage as a result of any reliance on this information. Past performance is not an indicator of nor assures any future returns or risks. Smarter Money Investments Pty Limited (ACN 153 555 867) is authorised representative #000414337 of Coolabah Capital Institutional Investments Pty Ltd, which holds Australian Financial Services Licence No. 482238 and authorised representative #001277030 of EQT Responsible Entity Services Ltd that holds Australian Financial Services Licence No. 223271.
---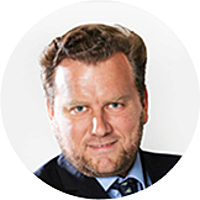 Portfolio Manager & Chief Investment Officer
Coolabah Capital
Chris co-founded Coolabah in 2011, which today runs $7 billion with a team of 33 executives focussed on generating credit alpha from mispricings across fixed-income markets. In 2019, Chris was selected as one of FE fundinfo's Top 10 "Alpha...