While Entertainment One is a developer, owner and producer of a growing number of successful pre-school properties, the one that is garnering the most attention right now is actually one of its longest held and most successful brands.  Peppa Pig, which is celebrating her 15th anniversary in the UK and Australia this year, is just embarking on a potentially strong growth curve in China.  Chinese children have embraced Peppa Pig's positive family values delivered with engaging stories and the region is on the cusp of providing significant long-term growth prospects as new merchandising licences are now being rolled out.
China is emerging as a merchandise licencing super power and with 70m pre-school children compared with 16m in the US, the opportunity is vast for brands which resonate with local tastes and preferences.  Entertainment One has sold over 40m books in China since the launch in April 2016 and has more than doubled its licencing agreements over the past year.  Peppa's performance has been supported by significant broadcast exposure in China airing on State owned CCTV and all major VOD platforms including Tencent, iQIYI and Youku with over 100bn Advertising Video on Demand (AVOD) views since launch on these platforms in October 2015. 
China has now entered the "Year of the Pig" and Entertainment One, along with Alibaba have co-produced "Peppa Celebrates Chinese New Year" which was launched nationwide on February 5th.  A six-minute advertising trailer for the movie called "What is Peppa" became a viral sensation in China with over 1.5bn views on social media platforms in less than one week of release.  The trailer can be viewed here:
Entertainment One will release exclusive Chinese New Year merchandise and large-scale retail activations with leading e-commerce platform Tmall which will be supported by a significant marketing campaign and a cross partnership with Merlin Entertainment's new "Peppa Pig World of Play" which is an indoor attraction recently opened in Shanghai.
Looking at the numbers
Last year Peppa generated US$1.3bn of retail sales which drove a revenue increase of 21% to £84.7m.  As Entertainment One expands Peppa's launch into China, enters new markets such as Japan and bolsters her existing positions in established markets such as the US, UK and Australia we consider the Peppa brand alone should reach global retail sales of US$2bn over time.
While Peppa is certainly taking the spotlight currently, it is important to note that another strong pre-school property, PJ Masks, is also being rolled out globally and generated US$1.0bn of retail sales last year alone.  PJ Masks is broadcast in all key territories of the Disney Junior Network and recently premiered on Tencent, iQIYI and Youku VOD platforms in China.  We consider PJ Masks to potentially grow to generate US$2.0bn retail sales over time, similar to Peppa Pig.
In summary
We have held Entertainment One in the Ellerston Global portfolio for some time and continue to benefit from the solid performances around Peppa Pig and PJ Masks.  Entertainment One's Family Division is in the production phase of a number of other properties including Ricky Zoom and Cupcake & Dino which could drive additional long-term value to shareholders and upside to its existing value of its library rights which currently stands at US$2bn alone. 
Entertainment One first entered the portfolio over two and a half years ago, around the same time as the first vote on Brexit in the UK.  Risk assets were under pressure at that time and quality franchises were being offered for sale at very attractive prices.  Entertainment One's share price had declined from a high of £3.26 in early 2015 down to our initial purchase price of around £1.70 and was clearly a "fallen angel".  Over time we have added to our exposure as its prospects have only gotten brighter with the demand for high quality independent content continuing to intensify and Management execution around optimising the value of its franchises continues to impress.
Never miss an update
Stay up to date with the latest Global Equity news from Ellerston Capital by hitting the 'follow' button below and you'll be notified every time I post a wire.
Want to learn more about investing outside of Australia? Hit the 'contact' button to get in touch with us or visit our website for further infomation.
---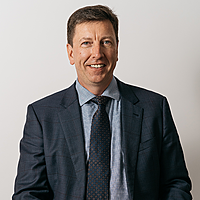 Portfolio Manager
Ellerston Capital
Bill is Co-Portfolio Manager for Ellerston Global. He has over 19 years of financial markets experience, previously working for UBS, MMC Asset Management, QIC and Kira Capital. Bill has a Bachelor of Commerce and is a CFA Charterholder.
Expertise