10 trends reshaping the future of emerging markets
---
In 1986, Victor Kohn, then a young analyst and now Emerging Market Equity portfolio manager at Capital Group, set out on his first trip to Argentina, Brazil and Chile to meet with management of companies he was researching. For 13 of the 17 companies, Kohn was the first investment analyst they had ever met with. He recounts how difficult it was to prepare for such meetings, having to contact local brokers, who would photocopy and mail companies' reports over to him.
The emerging-market universe today looks very different to that of the 1980s and '90s. Domestic inflationary pressures that were once these countries' weak points have generally steadily reduced. While government debt has risen, it looks manageable in comparison with the significant rise in the debt levels of developed countries. 
Emerging markets have also seen their aggregate current account balance move from deficit to surplus. Compared with the 1990s, when several emerging market economies experienced crises, foreign exchange reserves are now substantial. And currency pegs are less common, giving emerging market countries more flexibility in responding to crises1.
Major trends, such as a revival in travel demand, the growth of digital platforms and the acceleration of mobile technology, are spurring the prospects for EMs. The health care industry in emerging markets will be transformed by the dominant force of innovation while rapid urbanisation in China - and rising incomes - will increasingly mean greater housing demand. Frontier markets, many of which did not experience a recession in 2020, offer an additional opportunity set for investors, particularly within fixed income.
In a recent webinar, Victor spoke with Valeria Vine, a Capital Group equity investment specialist, as they considered the trends they believe will shape the future of emerging markets.
Not the emerging markets of the past
Emerging markets have always been an exciting place to invest. And while they can be volatile and suffer from liquidity problems, markets are becoming more developed, more mature, more differentiated as well as often more resilient.
From a variety of tech components to electronics, digital payments, e-commerce, biopharma, gaming, social media and many more areas, emerging markets companies are innovating and becoming increasingly competitive on a global scale.
Here are the 10 themes we believe will drive opportunities in emerging markets in the next decade.
1. Emerging market middle classes are driving growth in air travel
Before the COVID-19 pandemic, around 150 million people in Asia travelled for the first time each year. Over the next 20 years, the region is expected to account for around 50% of incremental air traffic1, fuelled by the rapidly rising middle-class population.
In China, domestic air travel had almost returned to pre-COVID levels in late 2020 after the coronavirus outbreak in the country was brought largely under control. However, the recent rise in coronavirus cases led to the return of some travel restrictions.

2. Emerging markets underpin long-term growth in luxury goods
Given the discretionary nature of consumer spending, sales of luxury goods are viewed as cyclical. The evolution of a wealthy class in China and other Asian economies over the past three decades has provided the industry with an underpinning of sustained and structural growth.
Capital Group equity analyst Lauren Carter expects demand to escalate in the coming years as the ranks of the consumer class expand and newcomers are attracted by the social cachet and aspirational value of luxury items. She expects China to remain a powerful source of growth in the years ahead. Indeed, Chinese consumers have shown a greater affinity for high-end goods than their counterparts around the world.
3. Emerging markets are driving the transformation to digital payments
The pandemic has expedited the long-term structural trend from cash to electronic payments. In China, electronic payments have been widely adopted due to the proliferation of e-commerce, mostly supportive regulation (until recently) and a large target market.
In Latin America, Brazilian consumers and businesses are benefitting from disruptive ideas and solutions provided by fintech companies. For example, payments provider PagSeguro offers point-of-sale terminals to small merchants, most of whom were previously unable to accept electronic payments. Consumers, on the other hand, benefit from PagSeguro's range of digital banking services, which can be accessed conveniently on their mobile phones.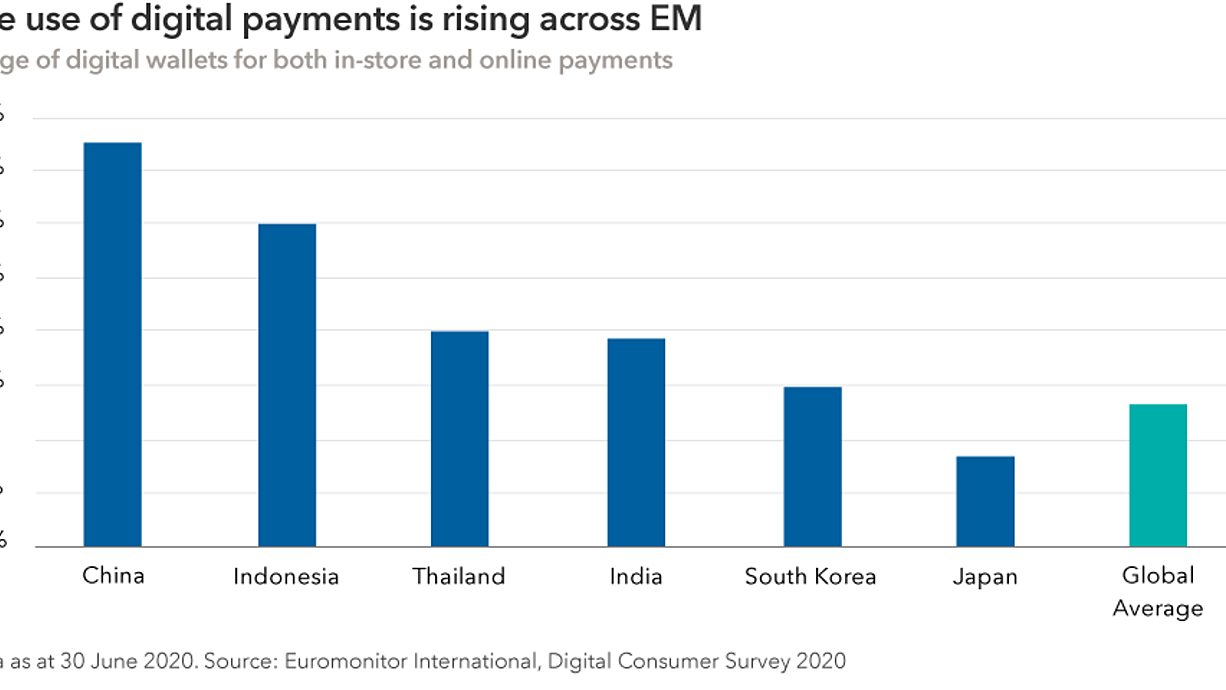 4. Mobile technology trends are accelerating as internet usage rises

Emerging-market companies within e-commerce, gaming and social media have developed and localised their technology while accelerating their growth in ways that differ from their peers in developed markets.
Gaming is rapidly moving into mainstream entertainment as a wide variety of games become available on mobile devices. China-based Tencent, for example, has grown to become a dominant player in the global gaming market. One of its high-profile investments is US-based Riot Games, the developer of the popular multiplayer game League of Legends. The company acted swiftly in announcing new restrictions limiting game duration and in-game purchases for minors amid expectations of regulatory moves to curb internet addiction among students.
5. Innovation is a dominant force that will transform the health care industry in emerging markets
Over the next decade, China's strategic policy initiatives in biomedicine could have broad ramifications for investments in the global pharmaceutical sector and in China itself. Based on our current growth projections, China is steadily closing the gap between it and the US market. This growth comes as China is already the largest global supplier of active pharmaceutical ingredients, a point that raised concerns during the pandemic given rising geopolitical tensions and policies promoting domestic protectionism.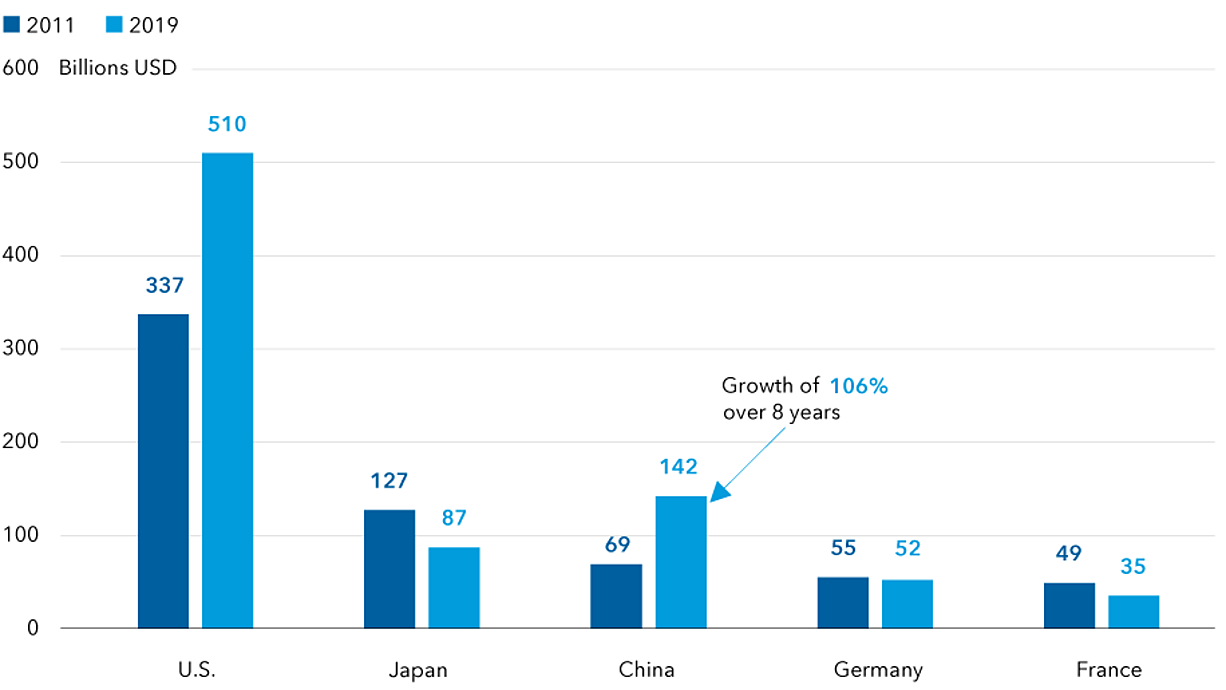 Elsewhere, telehealth could become a permanent fixture in the way we deliver health care going forward. The idea is that, instead of a visit to see a doctor, the patient's first stop would be an app. Such is the case in Mexico, where doctors can monitor the blood sugar levels of their patients remotely using an app developed by Clinicas del Azucar, a health care provider of low-cost diabetes care.2 This self-monitoring approach allows patients to remain in the comfort of their home, greatly benefitting those living in remote and rural areas.

6. The US-China rivalry may define geopolitics
Prior to coronavirus, the trade dispute between the US and China was arguably the biggest economic storyline – and the frosty relationship between the two superpowers could remain one of the top investment themes over the next decade.
According to portfolio manager Chris Thomsen: "It's not just geopolitics. It will also have a direct impact on businesses as they are forced to take sides and perhaps adjust the way they operate on both sides of the fence". While he prefers to avoid companies that may get caught in the crossfire, he still believes great investment opportunities abound. "Purely domestic Chinese internet companies aren't going to be hurt by a trade war. I also look across industries at innovative start-ups led by amazing entrepreneurs."
Indeed, the internet space has been one of the most attractive investment areas. Although companies such as Tencent initially copied their peers, they have since evolved into incredibly sophisticated multifaceted platforms. Today, the company could be viewed as one of the first-generation of Chinese internet companies.
Capturing these opportunities requires in-depth research, which can help us identify companies and industries that are aligned with the Chinese government's policy priorities as well as those that have attractive long-term fundamentals.
7. Indian equities: an expanding opportunity set
India has continued to upgrade its infrastructure following the devastating second wave of coronavirus infections in the country, which now appears to be mostly under control. According to our estimates, by the fourth quarter of this year, more than half of the population over 15 years of age would have received at least one dose of COVID-19 vaccine if the current pace of vaccination is maintained.
Pandemic aside, the country's entrepreneurial culture and vast pool of technology talent has given rise to a host of domestic competitors, some with significant private equity funding.
"In our many conversations with companies, we sense a buoyancy in corporate and entrepreneurial sentiment that has been missing for the past few years," says Capital Group portfolio manager Brad Freer. "The central government budget for the 2022 fiscal year, with its focus on infrastructure spending and growth, has further buoyed sentiment."
Now, as companies extend their scale, many are lining up in the initial public offering queue. If successful, these deals could help support the digital ecosystem and diversify India's equity markets. New public companies are part of the further diversification of India's equity market away from state-owned enterprises to private-sector banks, technology companies and consumer stocks.
8. Banks, insurers and financial exchanges: The rising trio of the financial sector sets the stage for long-term economic progression in emerging markets
Financial sector headlines are often dominated by banks and insurers. Insurance companies, for instance, have reported a significant growth in business segments serving China's growing middle class and high-net-worth individuals. One of the beneficiaries is AIA Group. "To build a sustainable business model, the company (AIA) trains young agents to sell higher quality products. Their focus on rewards and recognition attracts more high-calibre candidates while improving the brand in the eyes of customers," says investment analyst Patricio Ciarfaglia.
Financial exchanges are another area that has emerged as steady growers and dividend payers. In Asia, exchanges are at the centre of public financial markets that are expanding, providing a tailwind of secular growth. Russia has also experienced similar growth in recent times as retail investors flock to stock trading platforms in search of higher returns.
On the banking front, larger private banks in India have been growing profits and gaining market share. They are well-positioned to scoop up some of the country's weaker lenders. For instance, HDFC Bank and Kotak Mahindra Bank are leveraging technology, amid the digitalisation of India's economy, to make faster lending decisions and reach customers in rural areas through mobile apps.
9. Rapid urbanisation in China and rising incomes will increasingly mean rising demand for housing
The percentage of US citizens living in cities is expected to increase to 90% by 2050, from 74% in the 1980s. The percentage of the Chinese population living in Chinese cities in 2050 could also approach the high 90s, up from the very low base of just 20% in the 1980s. Every year, the equivalent of 1% of China's population moves to the cities. That is 14 million people, and it is equivalent to two cities the size of London.3
This is an unprecedented rate of urbanisation and it creates opportunities for companies that are able to secure attractive land sites for development at a reasonable cost.
10. Frontier markets will continue to be an area of focus given the growth and diversification potential for long-term investors
Frontier markets offer an additional opportunity set for investors, particularly within fixed income, but for many investors, they remain relatively unexplored. Many traditional emerging market countries are now much more developed than they used to be, with more stable institutions and infrastructure. As such, it will be difficult for these countries to grow at the same rate as they did in previous decades.
Within equities, many may consider the frontier markets index4 to consist of a large number of small countries. In fact, it is very concentrated by country, with the MSCI Kuwait, Vietnam and Morocco comprising approximately half the index5. However, frontier markets are generally under-owned and under-researched, which could create opportunities to generate alpha.
An alternative approach to capture opportunities arising from frontier markets is by investing beyond the traditional boundaries of geographical domicile, focusing instead on successful companies that are taking advantage of key secular trends in developing countries.
All in all, multiple secular growth trends underpin the promising outlook for emerging markets. As the focus of growth shifts towards emerging markets, we believe that an on-the-ground presence in these regions and in-depth fundamental research are key to identifying important trends, and finding companies with robust networks and supply chains, while being sensitive to unique intricacies and constraints in these regions. This should ultimately help generate strong long-term investment results.
Put today's investment insights into a long-term perspective
Capital Group believes in a smarter way of investing that combines individuality and teamwork into a tailored approach to help investors meet their goals. For more insights click 'FOLLOW' below.
Footnotes
Source: Boeing Commercial Market Outlook 2020-2039
"After coronavirus, telemedicine is here to stay", an article published by the World Bank
on 7 July 2020.
As at 30 June 2020. Forecasts shown for illustrative purposes only. Source: Oxford Economics
MSCI Frontier Markets 100 Index
As at 31 April 2021. Source: MSCI
---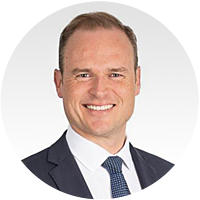 Investment Director
Capital Group
Matt Reynolds is an Investment Director at Capital Group. He has over 20 years of industry experience including head of Australian equities – core at Colonial First State Global Asset Management. He holds a bachelor's degree in Economics from The...
Expertise