10 years gone, 20 years to go
---
The last 10 years have been a relatively rosy environment for equity markets around the globe. Post GFC in 2008, a brief hiccup with the US Debt Ceiling issues, and the taper tantrum, markets have been rising on a discount rate of next to nothing as interest rates fell globally (until COVID-19 hit us). In such an environment equity valuations rose, driven by rising P/E's rather than rising earnings.
However, looking forward from here, it appears that earnings growth will need to do the hard work in a rising rate environment. Excitement about the transition to renewable energy, technology and innovation, new age medicine and mobile apps, will require greater transparency on earnings and cash flows for those company's stock prices to push ahead from here as hurdle rates rise. 
In general, US companies have been superior in most categories and its equity market has shown leadership over the past 10 years. Emerging markets, which were expected to be the leaders given their growth fundamentals, were in fact significant laggards.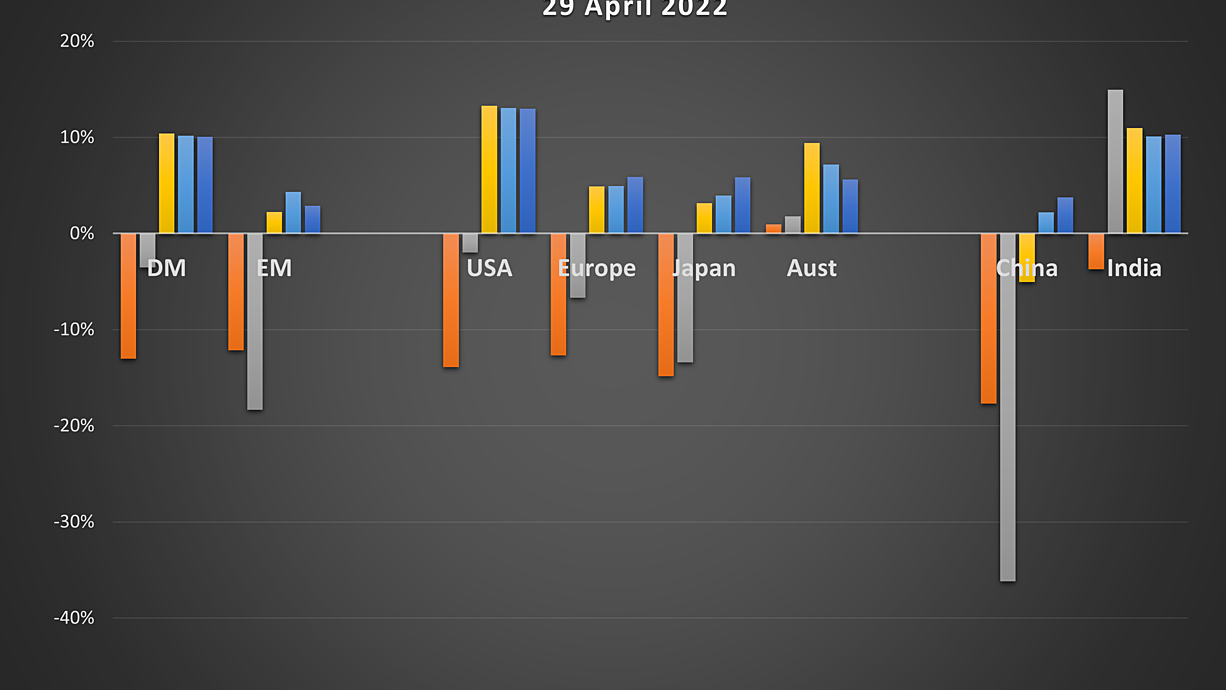 The equity market returns in the chart above, computed in USD, show a fairly clear picture. Regionally the US equity markets have driven global equity markets returns, ahead of Europe, Japan, Australia. Whilst Emerging Markets as a group have significantly underperformed Developed Markets over the last 1, 3, 5 and 10 years, it is not all constituents of EM which have fared poorly. In fact, in India's case its equity market has kept pace with the US (even in USD terms).
Yet many savvy institutional investors and leading investment consultants continue to view investing in Emerging Markets as a "safer" investment than investing in a single country like India. From a perception view point the case can be made that a broader opportunity set provides a more diverse range of exposure across economies, which should to lead to lower volatility. However, investment portfolios are not assembled in isolation! Evidence shows that India's equity market correlation with AUD based assets is close to half that of Emerging Markets equities correlation with Australian equities. In any case, don't Australian investors have significant exposure to just three markets in particular i.e. Australia, US and China (probably close to 40-45% of the portfolio for a "Balanced Option" investor)?
Is India's growth story an ideal fit for Australian domiciled clients with AUD assets, given its low correlation and secular growth. Evidence over the last 10 years points to this!
India's companies (as an aggregate) exhibit extremely low earnings volatility (relative to other regions like the US, Australia), given companies in that market having potential to compound earnings due to the nature of significant and growing addressable markets available. With India's growing global economic presence and participation in supply chains, the ability to grow earnings should have significant upside due to operating leverage.
In an environment where earnings growth will be critical to maintain and increase share prices, it seems obvious to back fundamentals which are more secular rather than cyclical over the next decade. 
Never miss an insight
Enjoy this wire? Hit the 'like' button to let us know. Stay up to date with content like this by hitting the 'follow' button below and you'll be notified every time I post a wire.
........
This document ('Document') has been produced by India Avenue Investment Management Limited ('IAIM') ABN 38 604 095 954, AFSL 478233 and has been prepared for informational and discussion purposes only. This does not constitute an offer to sell or a solicitation of an offer to purchase any security or financial product or service. Any such offer or solicitation shall be made only pursuant to a Product Disclosure Statement, Information Memorandum or other offer document (collectively 'Offer Document') relating to an IAIM financial product or service. A copy of the relevant Offer Document relating to an IAIM product or service may be obtained by writing to us on info@indiaavenueinvest.com or by visiting www.indiaavenueinvest.com. This Document does not constitute a part of any Offer Document issued by IAIM. The information contained in this Document may not be reproduced, used or disclosed, in whole or in part, without the prior written consent of IAIM. Past performance is not necessarily indicative of future results and no person guarantees the performance of any IAIM financial product or service or the amount or timing of any return from it. There can be no assurance that an IAIM financial product or service will achieve any targeted returns, that asset allocations will be met or that an IAIM financial product or service will be able to implement its investment strategy and investment approach or achieve its investment objective.  Statements contained in this Document that are not historical facts are based on current expectations, estimates, projections, opinions and beliefs of IAIM. Such statements involve known and unknown risks, uncertainties and other factors, and undue reliance should not be placed thereon. Additionally, this Document may contain "forward-looking statements". Actual events or results or the actual performance of an IAIM financial product or service may differ materially from those reflected or contemplated in such forward-looking statements. Any trademarks, logos, and service marks contained herein may be the registered and unregistered trademarks of their respective owners. Nothing contained herein should be construed as granting by implication, or otherwise, any license or right to use any trademark displayed without the written permission of the owner. Certain economic, market or company information contained herein has been obtained from published sources prepared by third parties. While such sources are believed to be reliable, neither IAIM or any of its respective officers or employees assumes any responsibility for the accuracy or completeness of such information. None of IAIM or any of its respective officers or employees has made any representation or warranty, express or implied, with respect to the correctness, accuracy, reasonableness or completeness of any of the information contained in this and they expressly disclaim any responsibility or liability therefore. No person, including IAIM has any responsibility to update any of the information provided in this Document. Neither this Document nor the provision of any Offer Document issued by IAIM is, and must not be regarded as, advice or a recommendation or opinion in relation to an IAIM financial product or service, or that an investment in an IAIM financial product or service is suitable for you or any other person. Neither this Document nor any Offer Document issued by IAIM takes into account your investment objectives, financial situation and particular needs. In addition to carefully reading the relevant Offer Document issued by IAIM you should, before deciding whether to invest in an IAIM financial product or service, consider the appropriateness of investing or continuing to invest, having regard to your own objectives, financial situation or needs. IAIM strongly recommends that you obtain independent financial, legal and taxation advice before deciding whether to invest in an IAIM financial product or service.
---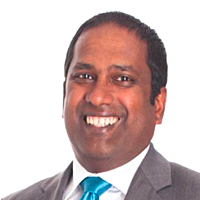 Managing Director
India Avenue
Mugunthan Siva is Managing Director of India Avenue, an Australian based boutique asset management company with offices in Sydney and Mumbai. He has over 25 years experience in Australia and is lead portfolio manager for the India Avenue Equity Fund.
Expertise