2020 Australian Federal Budget - infrastructure commentary
---
In the 2020 Federal Budget, the Commonwealth Treasurer announced an additional A$10bn in funding for infrastructure projects over the next four years, increasing the post COVID-19 infrastructure commitment to A$14 billion in 'new and accelerated' projects. Importantly, the revised plan is designed to create an additional 40,000 new jobs and stimulate the economic recovery.
The key infrastructure developments highlighted in the Budget include:
A$7.5bn to the transportation sector across all states;
A$3bn to 'shovel ready' projects on a 'use it or lose it' basis; and
A$2bn for new projects under the National Water Infrastructure Development Fund, taking the total commitment to A$3.5bn.
Some points to make in relation to the commitments are:
(1) All infrastructure spending is good infrastructure spending!
Improving the nation's economic arteries
Firstly, investment in the nation's infrastructure improves the economy's 'arteries', aiding economic growth and job creation. As we look to emerge from the COVID-19 recession, this will be critical in the economic recovery. The spending announced in this Budget is very much designed to achieve the goal of making the economy more efficient and productive. Projects such as the A$560m New England Highway Singleton Bypass in NSW, the A$750m Stage 1 of the Coomera Connector in Queensland and the A$528 million in upgrades to the Shepparton and Warrnambool rail lines in Victoria should all contribute to improving the nation's economic efficiency and productivity, while also creating jobs during and after construction.
Developing a pool of privatisation candidates
Government infrastructure spending also lays the groundwork for a pool of potential future privatisation candidates once the assets are fully developed, leading to growth in the infrastructure investment asset class. While this Budget did not announce any headline-grabbing new 'mega' projects, there are a couple of announcements worth noting.
The AFR reports the 2020 Budget disclosed a future equity injection (no dollar amount provided) into the Australian Rail Track Corporation (ARTC) to deliver the A$10 billion Melbourne-to-Brisbane Inland Rail project. The inland rail will be principally freight, and there are freight-oriented private railways all over the world.

The ARTC is a Commonwealth owned statutory corporation, established in July 1998, that manages most of Australia's interstate rail network – around 8,500 kilometres of track. The ARTC charges 'above track' rail companies for the track 'service' provided. It is a clear 'User Pays' asset that could be a privatisation candidate in the future, particularly if the Inland Rail is completed.
Outside the Budget, the recently announced A$4.5 billion NBN upgrade to make the network almost 100% fibre suggests the Federal Government has a real privatisation agenda here. Making the service all fibre should considerably improve its potential sale value. However, it should be noted that this upgrade largely restores it to a specification very similar to what was originally proposed by the Rudd/Labor government before it got a haircut at the hands of Tony Abbott and Malcolm Turnbull. So the Government did endure a short amount of political pain as a result of this decision. However, this would be well and truly forgotten if a successful privatisation is achieved.
Other potential privatisation candidates from previous Budgets include the:
A$5.3 billion Western Sydney Airport (the 'Nancy-Bird Walton Airport'),which is under construction.This will be Sydney's second major airport and is an obvious candidate for privatisation. Airports have been privatised all over Australia and indeed all over the world. While COVID-19 has obviously hurt air travel in the short term, by the time this asset becomes available for sale it is likely the COVID-19 air travel dip will be confined to the history books;
A$2 billion Melbourne-to-Geelong Fast Rail – depending on the economics of this project it is a possible candidate for privatisation; and
A$0.8 billion Gateway Motorway Extension in Brisbane: Transurban already runs tolled motorways in Brisbane and this may be a logical extension.
(2) Big Government Debt: using privatisation capital to reduce public debt in 'big chunks'
There is no doubt this very expansionary Budget was warranted given the COVID-19 recession we face. Budget papers forecast gross government debt will reach A$1.138 trillion by 2024, or 51.6% of GDP. While this is very high by Australian standards, it is not excessive on a global basis as shown below. For a selection of countries this table reflects public debt as a percentage of GDP as at 2019, and therefore prior to any COVID-19 stimulus flowing into the sovereign debt numbers. So Australia, at 51.6% in 2024 (i.e. including our COVID debt), is not excessive by international standards.
However, this is not to suggest that public debt levels won't be a focus of future Australian governments. Indeed, this is exactly where public sector asset privatisations will come in to play, potentially providing government big licks of fresh capital to repay public sector debt in an accelerated manner.
(3) Finally, a word of caution on government infrastructure spending promises
In the 2018 Federal Budget, an A$75 billion 10-year infrastructure investment program was announced; an A$100 billion 10-year program was announced in the 2019 Budget; and this has now increased to A$110bn. More broadly, big infrastructure investment plans have been a 'staple' in virtually every Commonwealth and State Budget for the last 20-30 years. We understand the announced spending in last night's Budget is incremental to earlier commitments.
However, unfortunately public sector reporting generally does not provide clear accountability for these promises, and the question is always if or when the money actually gets spent. More recently, expenditure/progress appears to be lagging expected timetables, although things are slowly getting done (e.g. the Sydney Light Rail and Sydney Metro). Importantly, in this Budget the Government prioritised accelerated spending, with a number of initiatives designed to stimulate investment over the next four years including 'use it or lose it' programs. We hope this fast tracks the much needed infrastructure investment pipeline.
We at 4D believe there is no economic growth recovery without roads, railways, pipelines, power transmission networks, communication infrastructure, ports and airports. Infrastructure should be a key component of the post COVID-19 stimulus and we were happy to see the new and accelerated initiatives last night.
Invest across the globe
4D, a Bennelong Funds Management boutique, invests in listed infrastructure companies across all four corners of the globe. For more insights on global infrastructure, click the 'FOLLOW' button or visit 4D's website.
........
The content contained in this wire represents the opinions of the authors. The authors may hold either long or short positions in securities of various companies discussed in the article. This commentary in no way constitutes a solicitation of business or investment advice. It is intended solely as an avenue for the authors to express their personal views on investing and for the entertainment of the reader. This information is issued by Bennelong Funds Management Ltd (ABN 39 111 214 085, AFSL 296806) (BFML) in relation to the 4D Global Infrastructure Fund (AUD Hedged), the 4D Global Infrastructure Fund (Unhedged) and the 4D Emerging Markets Infrastructure Fund. The Funds are managed by 4D Infrastructure, a Bennelong boutique. This is general information only, and does not constitute financial, tax or legal advice or an offer or solicitation to subscribe for units in any fund of which BFML is the Trustee or Responsible Entity (Bennelong Fund). This information has been prepared without taking account of your objectives, financial situation or needs. Before acting on the information or deciding whether to acquire or hold a product, you should consider the appropriateness of the information based on your own objectives, financial situation or needs or consult a professional adviser. You should also consider the relevant Information Memorandum (IM) and or Product Disclosure Statement (PDS) which is available on the BFML website, bennelongfunds.com, or by phoning 1800 895 388 (AU) or 0800 442 304 (NZ). Information about the Target Market Determinations (TMDs) for the Bennelong Funds is available on the BFML website. BFML may receive management and or performance fees from the Bennelong Funds, details of which are also set out in the current IM and or PDS. BFML and the Bennelong Funds, their affiliates and associates accept no liability for any inaccurate, incomplete or omitted information of any kind or any losses caused by using this information. All investments carry risks. There can be no assurance that any Bennelong Fund will achieve its targeted rate of return and no guarantee against loss resulting from an investment in any Bennelong Fund. Past fund performance is not indicative of future performance. Information is current as at the date of this article. 4D Infrastructure Pty Ltd (ABN 26 604 979 259) is a Corporate Authorised Representative of BFML
---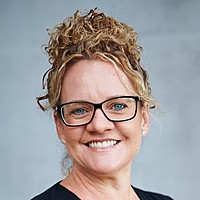 Global Portfolio Manager and Chief Investment Officer
4D Infrastructure
Sarah has almost 30 years of experience across financial services, including 20 years focused on global listed infrastructure. She is an experienced portfolio manager, having successfully launched and managed several listed infrastructure funds...
Expertise