2020 Vision: property developers share their outlook for next year
---
Build-to-rent is coming … and will be here to stay. The market will be challenging next year, but for those who continue with projects, there will be increased demand from 2021 onwards. Pre-sales continue to lag, yet site prices remain high.
These are just some of the insights shared in a recent Developer Lunch, hosted by Qualitas in Sydney. The discussion among mid-to-large developers suggested there are challenges ahead in 2020, but the long-term outlook remains positive overall.
Below is a snapshot of what's on the minds of developers, and the outlook for the year ahead.
Land Prices / Development Sites
Site acquisitions are difficult in residential. There's no such thing as a bargain anymore, and developers must work hard to find a suitable site. Although the market among end-purchasers has cooled, vendor expectations have not followed. Many vendors are happy to sit on their hands and wait for the next cycle, rather than rush a sale.
Small boutique apartments sites are performing the strongest. Many developers are using the strategy to ride out the cycle, with the exception of the very large developers whose business models rely on delivering large projects.
Construction
Building approvals have slowed significantly, particularly in the residential space. Builders are in for a tough time and jobs will likely be lost (a sentiment echoed by recent economic indicators). It is a developer's market in this regard as contractors will have to be competitive to win work and keep their trades.
The market is expected to continue to slow throughout 2020 and then pick up again in 2021.
The residential crane index is clearly declining, even as commercial cranes are increasing. This reflects a divergence in the market between residential and commercial property prices and activity.
Pre-sales & Buyer Demand
In the middle to outer ring suburbs of Sydney pre-sales are still lagging. In the north west, developers have found that furnishing apartments has resulted in sales, otherwise generally sales in that corridor are very slow. They have less flexibility in the outer ring areas to tinker with pricing in order to generate a sale, and so the only option is to wait for the market to pick up or interest rates to drop again – which is considered likely.
The experience in the inner ring suburbs of Sydney has been different. Sales have noticeably picked up over the last three months, particularly for completed projects where buyers can touch and feel the product. The election result and subsequent interest rate drops have spurred this momentum.
It remains to be seen whether this is a temporary injection of adrenaline to the market or whether things will gradually pick up from here. Most attendees agreed that the next year will be challenging, but 2021 will see a surge of new stock come back to market and the demand will be there to meet it.
Queensland is seen to be well positioned in the cycle at the moment compared to NSW and VIC.
Builder quality
The various defect issues that have been widely publicised have changed the relationship between buyer and builder. Buyers are more cautious and builders have been brought to a more client facing role.
Purchasers are much more knowledgeable about what to look out for than they used to be.
In a rising market, some sub-par developers/builders got away with building poor product. These groups are now closing down, as the market sees a flight to quality.
Build-to-rent
There was clear agreement among participants that BTR is coming and will become a permanent fixture of the market.
Australia's BTR market is expected to be modelled off of the UK rather than the US.
The GST treatment of such developments is not expected to change. It's more likely that land tax will be addressed, which is the biggest impediment to feasibility.
BTR yields should be compared to commercial yields, as they are less risky. Australian valuers are still getting their heads around how to value this new asset class.
Projects commencing in Melbourne because land prices make more sense. Sydney is difficult because of the high cost of land.
Key to getting BTR right is the apartment mix, including more 1 beds and studios. People are more likely to pay less rent for a smaller room and utilise the large amount of common facilities that are on offer. As the developer is ultimately the owner, they also need to focus on durability in choosing materials.
Looking for regular income and diversification?
The Qualitas Real Estate Income Fund (ASX:QRI) aims to deliver investors with a regular stream of income with the added benefit of diversification beyond shares and traditional property investments. Click 'Contact" below to find out more.
........
This communication has been issued by The Trust Company (RE Services) Limited (ACN 003 278 831) (AFSL 235150) as responsible entity of The Qualitas Real Estate Income Fund (ARSN 627 917 971) (Fund) and has been prepared by QRI Manager Pty Ltd (ACN 625 857 070) (AFS Representative 1266996 as authorised representative of Qualitas Securities Pty Ltd (ACN 136 451 128) (AFSL 34224)). This communication contains general information only and does not take into account your investment objectives, financial situation or needs. It does not constitute financial, tax or legal advice, nor is it an offer, invitation or recommendation to subscribe or purchase a unit in the Fund or any other financial product. Before acting on any information contained in this communication, you should consider whether it's appropriate to you, in light of your objectives, financial situation or needs. While every effort has been made to ensure the information in this communication is accurate; its accuracy, reliability or completeness is not guaranteed and none of The Trust Company (RE Services) Limited (ACN 003 278 831), QRI Manager Pty Ltd (ACN 625 857 070), Qualitas Securities Pty Ltd (ACN 136 451 128) or any of their related entities or their respective directors or officers are liable to you in respect of this communication. Past performance is not a reliable indicator of future performance.
---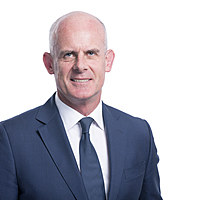 Managing Director – Global Head of Capital
Qualitas
Tim is responsible for the firm's real estate finance activities and was responsible for establishing the Sydney presence of the firm. He has over 20 years experience across real estate financing markets.
Expertise