3 lithium stocks and 1 uranium play on investor radars as the sell-off creates opportunity
---
It's the most enduring thematic of our times, and now investors can get exposure at a significantly lower price thanks to the recent impact of rising rates and global strife. 
Lithium stocks are already showing the first signs of recovery, while Boss prepares for FID as uranium outlook charges up.
The global decarbonisation thematic is none too worried about the shakedown in equity markets over China's slowdown and the impact of rising inflation/interest rates in the major economies.
The thematic is alive and well. And it's here to stay for decades to come, as governments and companies alike combine forces to rein in global carbon emissions from the (renewable and sustainable) electrification of everything.
It means decarbonisation is pushing through the current equity market concerns. And because decarbonisation is metals-intensive (including uranium), the thematic acts as a long-term differentiator for mining equity values.
That's not to say that mineral commodities and the equity values of the miners have been immune to the current shakedown in equity markets. They haven't been, and they will continue to be buffeted, for a time anyway.
But strong growth will return to China once it learns to live with COVID like the rest of the world, and the heat will eventually come out of interest rates/inflation once COVID-affected supply channels recover, and some form of detente is achieved in the Russia-Ukraine conflict.
None of those recovery factors for the global economy are around the corner. But they will pass, while all the time, the decarbonisation thematic will continue to gather pace, creating huge and decades-long supply challenges for the broad sweep of commodities plugged in to the decarbonisation effort.
From all that it can be suggested that the current equity market weakness is providing investors with a substantially lower-cost entry point than was the case a couple of months ago to the biggest and most enduring thematic of our times – global decarbonisation.
Lithium
Investors in the ASX-listed lithium space are starting to take advantage of the situation, with the sector's leading stocks fighting back on the share price front after being pounded along with the rest of the market.
And as pointed out by Macquarie in a research note a week ago, they all have "material" valuation upside at spot prices.
The firm has a price target on Pilbara (ASX: PLS) of $4 compared with its Thursday close of $2.81. Allkem (ASX: AKE), trading at $13.49, was given a price target of $17.70 and Liontown (ASX: LTR), trading at $1.28, was given a target of $2.50.
Their recent share price pounding was a response to the perception that China's economic slowdown and COVID lockdowns would drag lithium prices down. While there has been a little bit of weakness, the resultant equities sell-off has clearly been overdone.
Macquarie estimated that the producers PLS and Allkem (Liontown is a developer) were being valued as if their realised lithium carbonate equivalent price was $US15,000/t.
The spot price is currently a shade under $US70,000/t. Repeating that is a spot price, not the net price the producers would be receiving under their mix of contract and spot prices.
But there is an almighty scramble by the industry to capture a greater share of the bumper spot pricing by shifting their customers to more variable/index-based pricing contracts.
Early success in doing just that was why the big US lithium producer Albemarle was able to again upgrade profit expectations during the week.
PLS provided further evidence during the week that investors' concerns over lithium prices on the China slowdown were overdone when it reported the result of its fifth online auction of spodumene concentrates.
The cargo of 5,000/t (grading 5.5% lithium oxide) popped off for a record $US5,955/t. On a more standard 6% basis, it equates to $6,586/t, or 5% more than the last auction a month ago.
PLS boss Ken Brinsden will be giving investors an up to date assessment of the lithium market at the Resources Rising Stars conference on the Gold Coast (7-8 June). Liontown boss Tony Ottaviano will also be updating investors on the group's Kathleen Valley development.
RBC Capital noted that the price equivalent in the PLS auction was 35% above the current spot price in China (and 6% above the reported weekly Platts index price).
It said the record price "indicated that Chinese converters are willing to pay more for spodumene given the current lithium market conditions".
"We believe this is a good indication that underlying demand remains strong and that spodumene concentrate prices in China and seaborne (markets) can still move higher," RBC said.
It all goes to what was suggested earlier – demand for the metals critical to global decarbonisation is pushing on regardless of the current hissy fit in equity markets.
While the lithium producers and developers are starting to recapture their former highs, the juniors are doing okay too as investors switched on to the decarbonisation thematic seek out leveraged exposure that a discovery can provide.
That came through in the 10% gain on Thursday to 8c for Trek (TKM) on news that it had come across a swam of lithium-bearing pegmatite dykes at its Tambourah project near Marble Bar.
Fortescue (FMG) did some sampling and rock-chip sampling there between 2016-2020, with assays from its work returning greater than 1% lithium, allowing Trek to talk about the pegmatites being lithium-bearing at this early stage. Trek is now getting busy working up drill targets.
Trek also gets the understatement of the year award by noting its board knows something about lithium in the Pilbara. It was talking about the guys that started what is now the $7.5 billion PLS story - Neil Biddle, John Young and Tony Leibowitz.
Uranium/Boss
The uranium sector is another one to have been sold down heavily with the rest of the market despite being well and truly being plugged in to the decarbonisation thematic.
Nuclear power (and uranium) has come in from the cold in recognition that its base-load capability without carbon emissions has a key role to play in the global push on decarbonisation.
Why, even the tree-huggers in California have asked to be part of Joe Biden's plan to extend the life of existing nuclear power plants. It seems they don't like the blackouts that come from over-reliance on wind and solar power so early in the energy transition.
Still, none of that has stopped the ASX-uranium stocks from being beaten up in recent times. But like the lithium stocks, they are fighting back, with value hunters moving in at the lower levels to secure exposure to the growing acceptance of nuclear power in the energy mix beyond coal and gas.
Boss Energy (BOE) is an example. It has come up off recent lows to recover to $2.19 in Thursday's market.
But that remains well short of the $3.10 it commanded on April 14 when the broader market was less skittish, and when there was a sharper focus on the potential for Former Soviet Union (FSU) uranium supplies to be sanctioned out of existence.
The World Nuclear Fuel Market conference is coming up in Montreal on June 5-7 and it's a fair bet that there will be lots of discussion about uranium's demand profile in a decarbonising world, and the world's undue reliance on the FSU for much of its uranium and enrichment capacity.
Canaccord reckons the West and its allies need to reduce their reliance on Russian energy more broadly, and that the retreat should have a profound impact on the uranium market.
"Even in the absence of sanctions, our discussions with market participants indicate that Western utilities are self-sanctioning and moving to reduce/eliminate their reliance on Russian material, which is likely to have large knock-on effects for the entire nuclear fuel cycle," Canaccord said.
"In the Western-aligned markets, we now see the potential for an even more pronounced supply deficit than in the aggregated global market."
Meanwhile, Boss hasn't flagged if it will be making the long haul to Montreal. But a diary entry suggesting that a final investment decision on its Honeymoon project in South Australia cannot be far off means that, if it does, it could well be the belle of the ball.
Canaccord has a price target on the stock of $3.20 (it was involved in Boss' capital raising earlier in the year).
"Honeymoon stands ready to be one of the first uranium mine restarts globally to receive a positive final investment decision," Canaccord said.
"Honeymoon is fully permitted and benefits from $170 million in sunk infrastructure. Using our long-term $US75/lb price forecast, we expect the project to generate about $180 million per annum of operating-level EBITDA and have a less than two-year payback."
Never miss an insight
If you're not an existing Livewire subscriber you can sign up to get free access to investment ideas and strategies from Australia's leading investors.
And you can follow my profile to stay up to date with other wires as they're published – don't forget to give them a "like".
---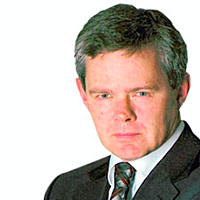 Principal
Independent Journalist
One of Australia's leading business journalists, Barry FitzGerald, highlights the issues, opportunities and challenges for small and mid-cap resources stocks, and most recently penned his column for The Australian newspaper.
Expertise