3 reasons why Airtasker is set to thrive
---
Airtasker is an Australian online marketplace that connects people who need help with a task to people who can get the task done. The company listed on the ASX during March and is a key holding in the Firetrail Small Companies Fund, which entered into the position via a pre-IPO holding.

What does Airtasker do? 
A large portion of Airtasker's revenue is derived from cleaning, furniture removalist and handyman services. As such Airtasker plays in the $52bn local services industry. 
Airtasker's key competitive advantage relative to other online services marketplaces is the flexibility and autonomy the platform provides users. Users create their own unique tasks and communicate the requirements directly to taskers. The flexibility is valued by both customers and taskers, reflected by the fact that a new task is posted on Airtasker every 17 seconds. In addition, the company is now the number 1 employer of platform workers in Australia, ahead of even Uber! 
The opportunity ahead
We believe there are 3 key opportunities for Airtasker to deliver significant revenue growth over the medium term: 
Invest in both call-to-action and brand marketing to accelerate new customer acquisition and increase frequency of spend 
Launch new products such as a "Tasker Superstore", allowing taskers to suggest tasks to consumers driving increased engagement and platform usage 
Expand offshore by applying the successful Australian blueprint to new markets including the UK, NZ, Singapore and medium-term the US. New markets increase Airtasker's total addressable market 12 times to $643bn as illustrated by Fig 2. 
The first opportunity, increasing marketing spend, presents the lowest hanging fruit, and will have the largest impact on Airtasker's top-line growth over the short-to-medium-term. Fig. 1 shows that Airtasker has delivered consistent growth in new customers. A fact that is particularly impressive given the company reduced marketing spend by 90% during the pandemic. We see an opportunity for Airtasker to re-accelerate customer acquisition via increased brand awareness. We estimate 8% of Australian households have used Airtasker with current levels of brand recognition sitting at about 50%. The company aims to reach over 80% brand awareness within the next 2 years. Heightened brand awareness will drive increased market penetration and growth in total transaction value on the marketplace.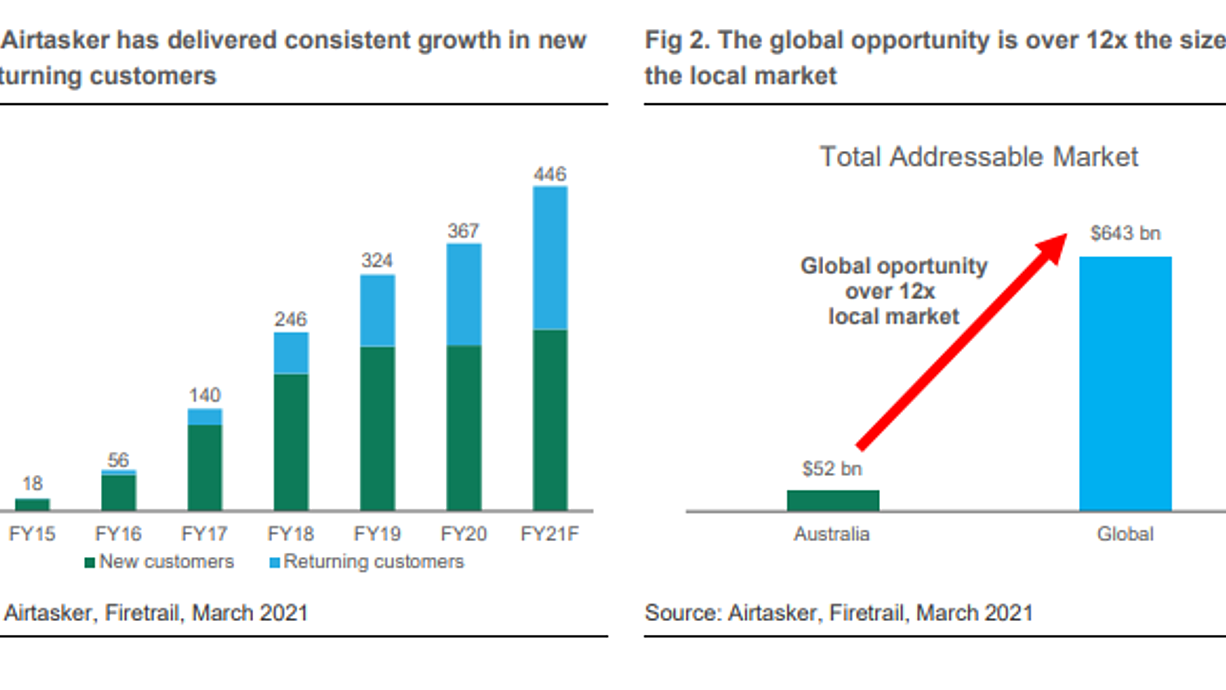 Furthermore, we believe there is an opportunity for Airtasker to invest in call-to-action marketing to increase the frequency of customer spend. Currently, customers transact on Airtasker 2 times p.a. on average. An increase to 3 times per annum would immediately deliver 50% revenue growth holding customer numbers flat. We believe investment in call-to-action marketing coupled with the pending launch of the new "Tasker Superstore" will help Airtasker achieve increased customer engagement and frequency of spend over the medium-term.
Conclusion
The perceived growth potential for Airtasker in Australia is material. We continue to believe there is upside from Airtasker executing on its Australian growth plans despite the stock's strong ASX debut. There is even further upside if the company executes against the international expansion strategy. The Airtasker management team is motivated and has a strong track record of execution. We have a high degree of confidence that Airtasker has the potential to become a global online services marketplace.
Want more market analysis like this?
We hope you enjoyed this wire. If you want to read more market analysis from the team at Firetrail Investments, click the 'FOLLOW' button below. 
---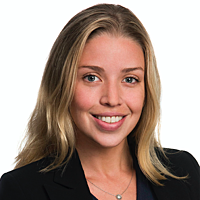 Analyst
Firetrail Investments
Eleanor is an Equity Analyst at Firetrail Investments. Eleanor's primary sector responsibilities include Media and Technology. Eleanor has 5 years relevant industry experience.
Expertise