5 semiconductor companies you need to know about
---
Semiconductors are at the heart of modern computers and phones. Also known as microchips, they are the all-important "brains" behind any computer.
Semiconductors are complicated. The companies that make them are often invisible to the public, and how they operate can be hard to understand. Here we take a look at five important semiconductors and break down what they do.

Qualcomm
The advent of 5G phones has benefitted Qualcomm in a big way. Qualcomm is one of the premier microchip designers and has a memorably named headline product called the Snapdragon. This is one of the strongest smartphone chips used outside of the iPhone (Apple designs its own microchips for its iPhones).
Most high-end Samsung Galaxy smartphones, such as those in the S series, are powered by the Snapdragon. Samsung uses it because it is one of the best in class.
What is especially compelling about Qualcomm's chips is that they are designed in such a way that they can drain less power and generate less heat while generating reasonable computation power. Consumers don't want to buy phones that get really hot when they use them.
Xilinx
Pronounced "Zi – Links", Xilinx is famous for producing field-programmable gate arrays. An FPGA is a flexible microchip that can be reprogrammed. As it can be chopped and changed, it can do lots of different tasks.
Xilinx has been in the news a lot recently because it is being acquired by AMD, one of the largest semiconductor designers.
This acquisition illustrates two important facts about the semiconductor industry. The first is that mergers are a big driver of value. The second is that you want to be big, given how capital intensive the industry is. Elsewhere in the industry, Nvidia is acquiring British semiconductor giant Arm.
Mediatek
The Taiwanese semiconductor designer Mediatek is not as well known as Taiwan Semiconductor, which is always in the spotlight.
Mediatek designs an array of chips for all kinds of electronics, including televisions, phones, and navigation equipment. However, it specialises in producing chips for Chinese smartphones.
The Chinese tech giant Xiaomi is a big client, especially given the backdrop global shortage in 5G chip supply. Mediatek has come onto some investors' radars as a potential acquisition target for Chinese semiconductor factories, or "foundries" in industry jargon.(1) The Chinese government has stated its desire to build a local semiconductor industry and is heavily subsidising local businesses.
SK Hynix
This Korean giant is the second-largest memory chip company after Samsung. Memory chips are crucial as they allow computers to store things and remember them — like saving documents. Memory chips have two components: random access memory, which stores the data; and printed circuit boards, which connect the memory to the rest of the computer.
Only three companies in the world make top-quality DRAM chips: Micron (under its sub-brand Crucial), Samsung, and SK Hynix.
The two Korean companies — Samsung and SK Hynix — together control about 70% of the market.(2) Among SK, Hynix's biggest clients include Apple, Dell and HP.
Taiwan Semiconductor
Taiwan Semiconductor (TPE: 2330) is a national champion of Taiwan and the biggest company on the country's stock exchange by far.
Based in Taipei, TSMC is the world's largest foundry for semiconductors, producing more than 50% of global supply. The company has benefited from Silicon Valley chip designers outsourcing chip manufacturing, with its largest client being Apple.
TSMC is also at the forefront of chip miniaturisation. TSMC and Samsung make the world's smallest transistors, which are the gates that control computer code. This allows for more powerful computers and phones. Their fundamentals are very strong, with net margins of 38% and profits growing at 14% a year as of 30 June 2021.

In this interview with Livewire, I discuss the opportunities of this megatrend in greater detail: 
Investment Theme
The biggest company you've never heard of
Invest in semiconductors: dip into chips
For investors wanting to access this promising sector, the ETFS Semiconductor ETF (ASX: SEMI) provides one solution. SEMI buys the world's 30 largest semiconductor businesses, spanning from foundries to designers to equipment makers. It is the first global semiconductor ETF to list in Australia. Find out more.
........
This document is issued by ETFS Management (AUS) Limited ("ETFS") (Australian Financial Services Licence Number 466778). This document may not be reproduced, distributed or published by any recipient for any purpose. Under no circumstances is this document to be used or considered as an offer to sell, or a solicitation of an offer to buy, any securities, investments or other financial instruments. The information provided in this document is general in nature only and does not take into account your personal objectives, financial situations or needs. Before acting on any information in this document, you should consider the appropriateness of the information having regard to your objectives, financial situation or needs and consider seeking independent financial, legal, tax and other relevant advice having regard to your particular circumstances. Any investment decision should only be made after obtaining and considering the relevant product disclosure statement. This document has been prepared by ETFS from sources which ETFS believes to be correct. However, none of ETFS, ETFS Capital Limited, nor any other member of the ETFS Capital Group, nor any of their respective directors, employees or agents make any representation or warranty as to, or assume any responsibility for the accuracy or completeness of, or any errors or omissions in, any information or statement of opinion contained in this document or in any accompanying, previous or subsequent material or presentation. To the maximum extent permitted by law, ETFS and each of those persons disclaim all any responsibility or liability for any loss or damage which may be suffered by any person relying upon any information contained in, or any omissions from, this document. Investments in any product issued by ETFS are subject to investment risk, including possible delays in repayment and loss of income and principal invested. Neither ETFS, ETFS Capital Limited nor any other member of the ETFS Capital Group nor any of their respective directors, employees or agents guarantees the performance of any products issued by ETFS or the repayment of capital or any particular rate of return therefrom. The value or return of an investment will fluctuate and an investor may lose some or all of their investment. Past performance is not a reliable indicator of future performance. The financial instrument is not sponsored, promoted, sold or supported in any other manner by Solactive AG, nor does Solactive AG offer any express or implicit guarantee or assurance either with regard to the results of using the Solactive Global Semiconductor 30 Index (the "Index") and/or Index trade mark or the Index price at any time or in any other respect. The Index is calculated and published by Solactive AG. Solactive AG uses its best efforts to ensure that the Index is calculated correctly. Irrespective of its obligations towards the Sponsor, Solactive AG has no obligation to point out errors in the Index to third parties including, but not limited to, investors and/or financial intermediaries of the financial instrument. Neither publication of the Index by Solactive AG, nor the licensing of the Index or Index trade mark for the purpose of use in connection with the financial instrument, constitutes a recommendation by Solactive AG to invest capital in said financial instrument nor does it in any way represent an assurance or opinion of Solactive AG with regard to any investment in this financial instrument.
---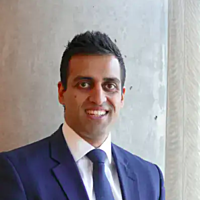 ETF Specialist & Head of Distribution
ETF Securities
Kanish Chugh is responsible for distribution covering sales and marketing strategy for institutional, intermediary and retail clients. He joined ETF Securities in 2015 and has previous experience with Fidelity International, BlackRock and...
Expertise