6 ASX examples of "fade" the pop and BUY the dip
---
Global equities continue to rally strongly from their March 2020 lows but stock/sector rotation has arguably been the main game in town as investors strive to add value/alpha in this low-interest-rate environment. MM can see this thematic actually becoming more pronounced as investors continue to migrate up the risk curve sending stocks higher, especially when bond yields do eventually rally strongly.
This is a great environment for "Active Investors" like MM who if anything should have been more prepared to take profits in 2021 as the place to be overweight for optimum performance feels like it's been tossed around like a hot potato! We should always remember that stocks are usually looking around 6-months in advance hence spikes up on good news regularly fail as holders take profit and move into the next one i.e. the "smart money" was already long.
However, we should also remember that surprises usually happen with the trend so just to make things trickier fading new highs won't always work with each scenario requiring careful consideration.

MM remains bullish equities into 2022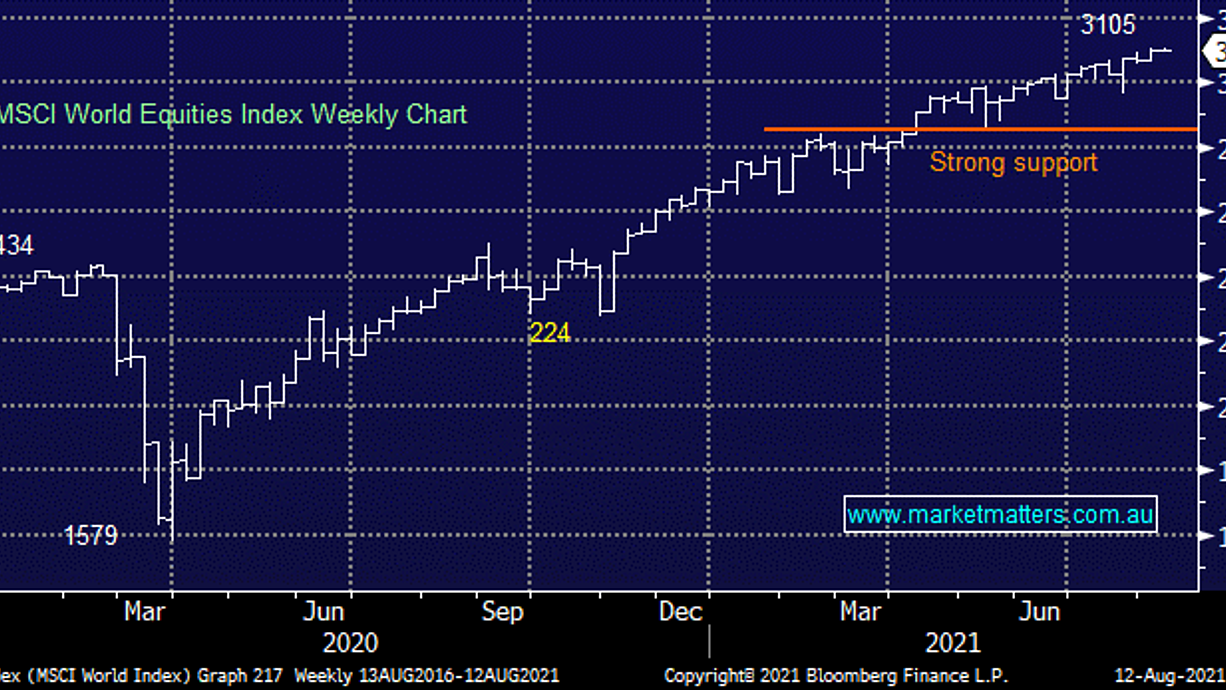 Today we have briefly looked at 6 local ASX200 companies which we believe are following the "fade the pop and BUY the dip" perfectly both now and potentially moving forward:
1. Sims Ltd (SGM) $16.64

Recycling business SGM has rallied strongly over the last year but it still offered investors 3 opportunities to buy the stock into 15-20% corrections. The stocks clearly bullish, at this stage we see 2 likely swings over the coming months:
Firstly MM is bullish looking for fresh highs above $18, or 8-10% higher.
Secondly, we can see this move failing short-term leading to another pullback towards $15.
Hence if we're overweight SGM consideration would be given to fading a "pop" to the $18 area while the more obvious stance is buying a subsequent pullback towards $15 which is what our move will likely be.
MM is bullish SGM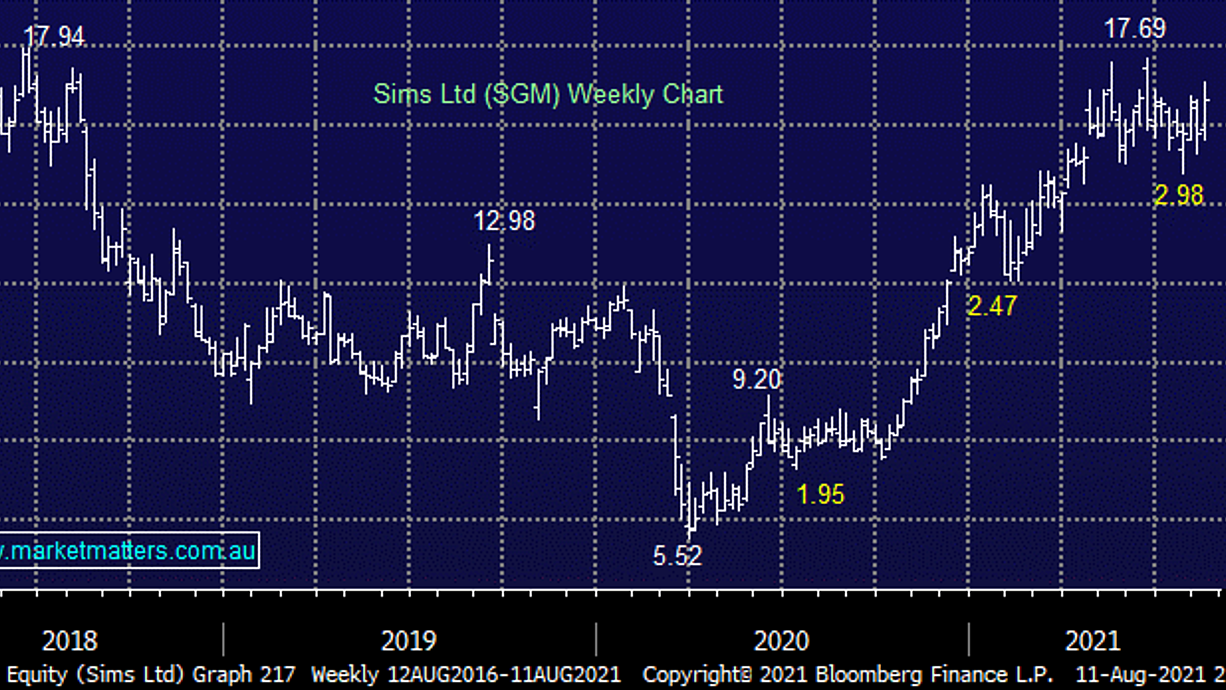 2. South32 (S32) $2.94
MM has been looking to buy S32 into weakness ~$2.70 through 2021 but so far we've been too pedantic. It's the prospect of a failed "pop" which has held us back from chasing the diversified miner into strength.
Firstly MM is bullish S32 initially looking for 10-15% upside from current levels.
Secondly we still like S32 into a 5-10% pullback but the risk/reward is not compelling close to $3.
MM is bullish S32 medium term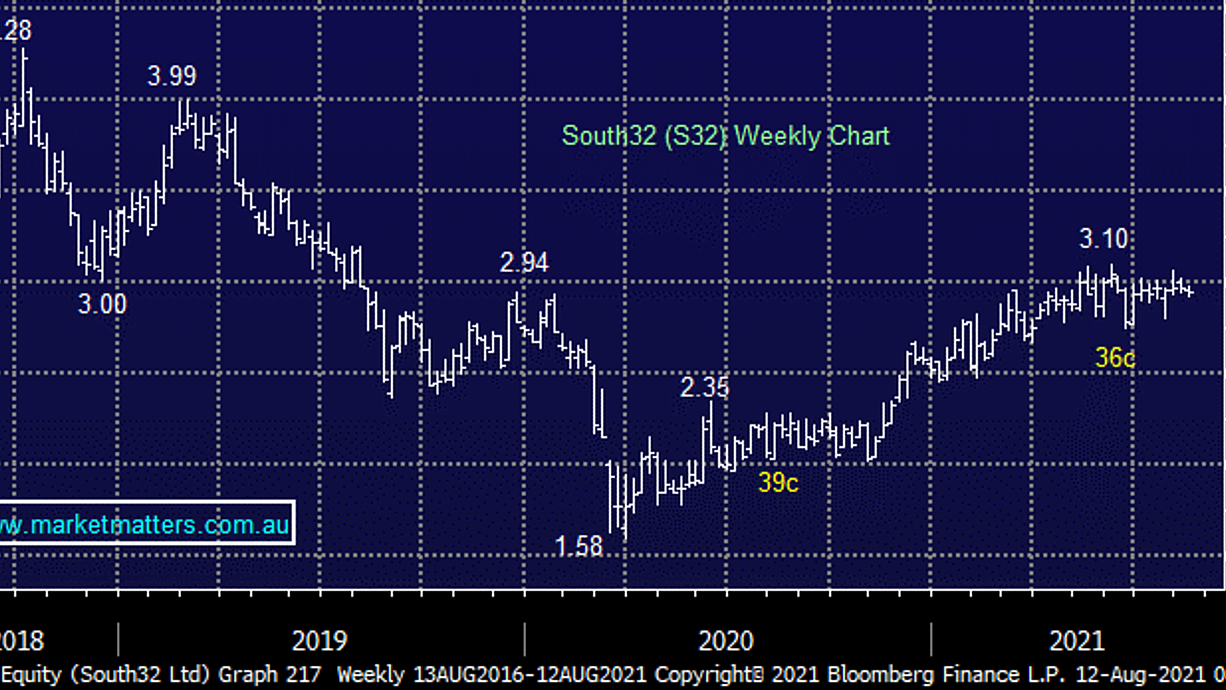 3. HUB24 Ltd (HUB) $26.69
Financial platform provider HUB tested MM's psychology after we decided not to lock in any profits above $28 only for the stock to correct 17% in a rising market. We like the business and as we are holding a relatively small position the opportunity to trim our holding wasn't on offer hence we decided to stay long which definitely felt uncomfortable last week but cream does usually float and the stock bounced strongly.
MM will consider closing our position into a 2nd "pop" towards fresh highs ~$30.
MM bought HUB during its aggressive "dip" earlier in the year i.e. even in today's market some quality names do provide value if only for a brief period.
Hence MM might still consider taking profit on our HUB position ~$30

MM is bullish HUB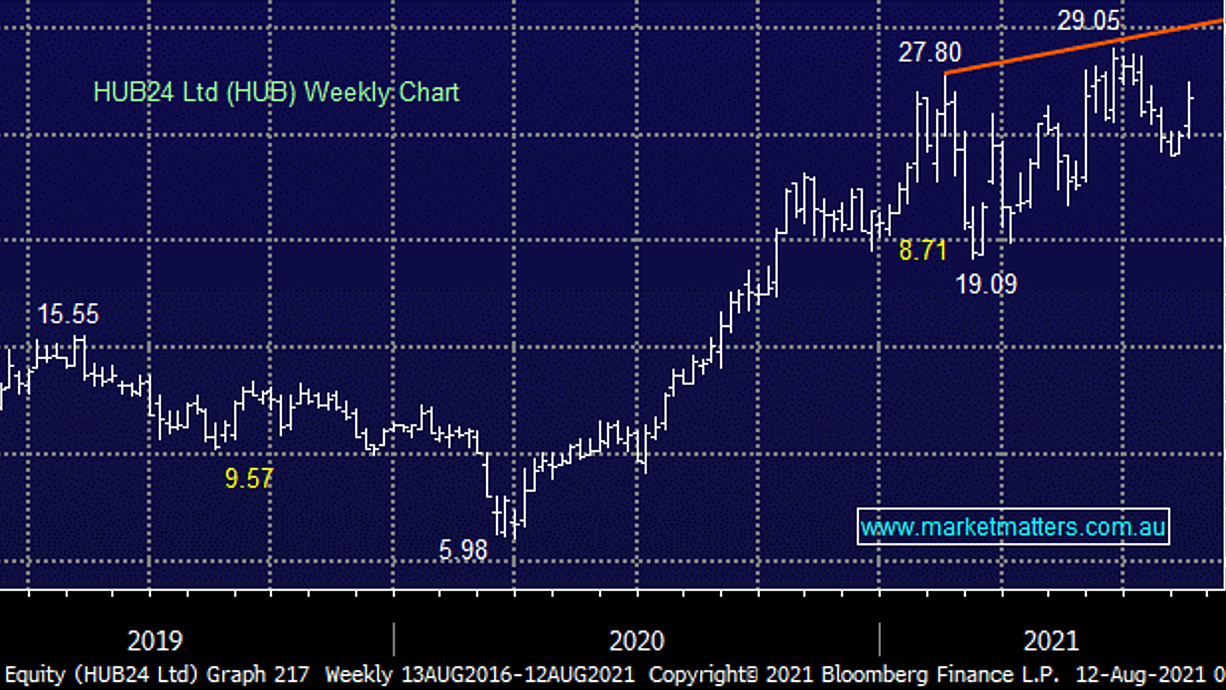 4. REA Group (REA) $150.78
Online real estate platform is failing after recently making fresh all-time highs and MM still sees another ~10% downside, a great example where fading the pop would have paid dividends.
At this stage, REA has clearly failed to break out above $165 and we can see a break below $140 short-term.
Due to other contributing factors MM is unlikely to raise our hand as a buyer of REA into such a correction

MM is neutral/bearish REA short term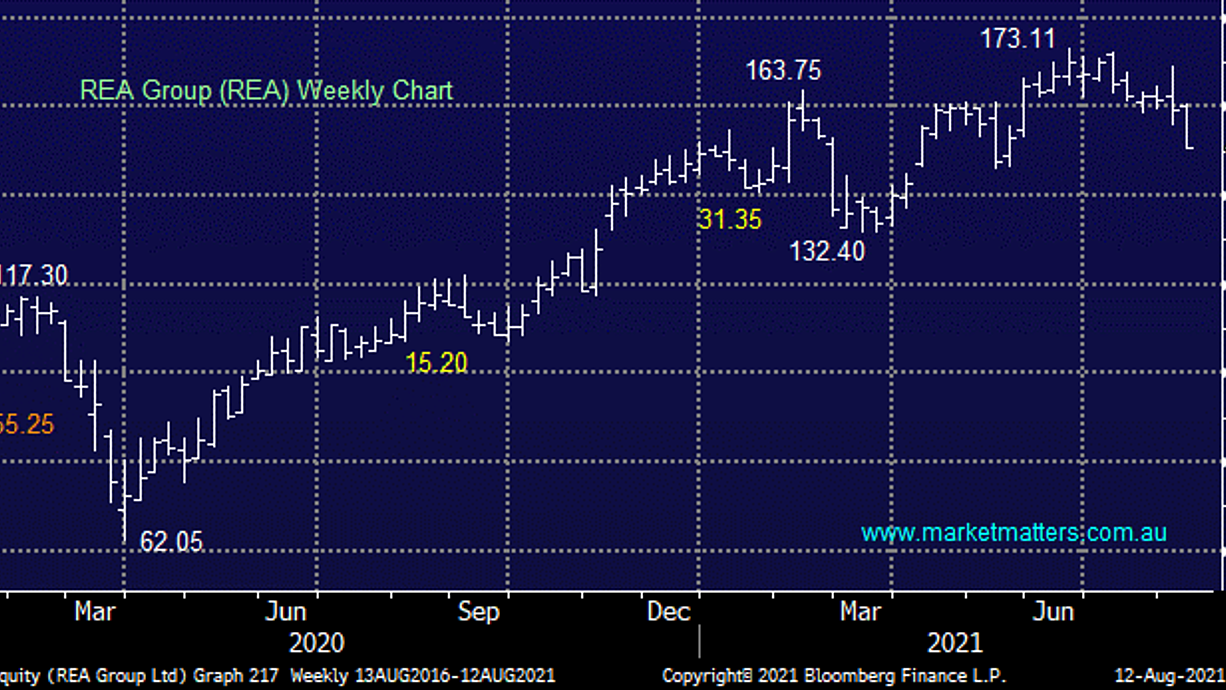 5. Xero Ltd (XRO) $145.54
Online accountancy platform is one of MM's favourite holdings in our Growth Portfolio but all stocks can reach a level where the risk/reward is unattractive e.g. would you buy CBA at $150 although Bells have upgraded their target to $118 this morning? This example is more about the future, a pop by XRO above $160 will have us watching our position very closely especially if we are losing confidence in the sector or market at the time – note the stocks already corrected 34% & 25% respectively in the last 9-months hence the stock's volatility shouldn't be underestimated.
• MM will evaluate a pop by XRO above $160 if / when it occurs.

MM is bullish XRO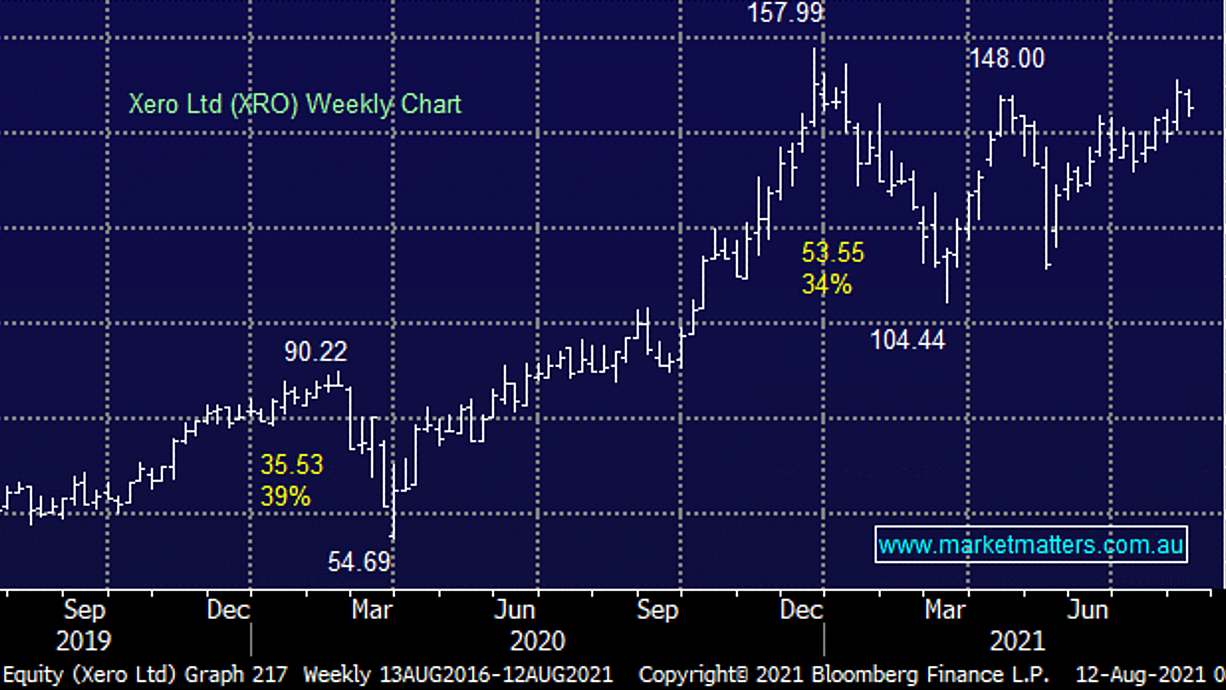 6. Commonwealth Bank (CBA) $108.17
MM has discussed the picture for CBA a number of times through 2021, we have been bullish on Australia's leading bank since the Royal Commission but I'm becoming weary of how many bullish reports have been in the papers over the last 48-hours. CBA has experienced 3 reasonable corrections during its march higher since the pandemic broke out, we believe another may be looming on the horizon. The stocks clearly bullish but at this stage, we see 2 likely swings over the coming months:
Firstly MM is bullish looking for fresh highs above $110 but this is no longer a big call, it might be there this morning!
Secondly, we can see this move failing short-term leading to another pullback back towards $100.
Hence we are considering fading the current "pop" to the $110 area and reducing our position and migrating some funds to a stock that offers more upside – but we are keen accumulators below $100 – the question we ask ourselves is this all too short term?
NB The clarity of this picture is not perfect due to the $2 fully franked dividend being paid in 5-days' time, it's tempting to wait for it!

MM is bullish CBA medium term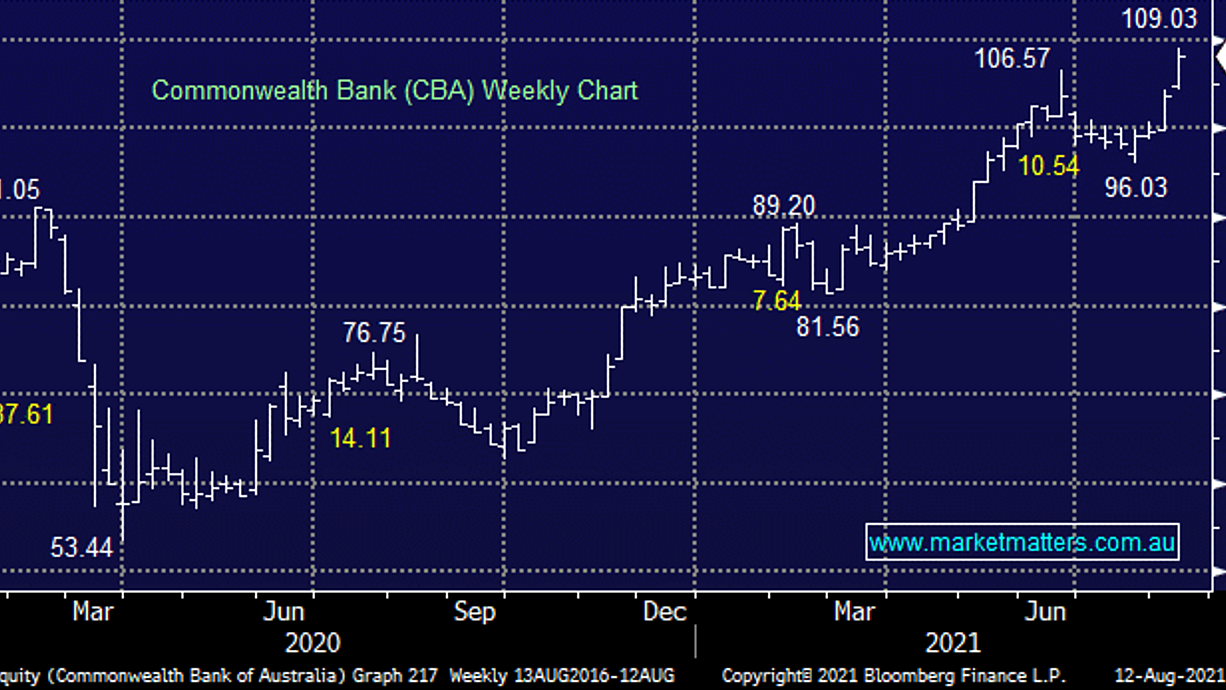 The Bottom Line
MM believes the "fade the pop and BUY the dip" will pay dividends into Christmas but readers should evaluate each scenario on its individual merits.
Make informed investment decisions
At Market Matters, we write a straight-talking, concise, twice daily note about our experiences, the stocks we like, the stocks we don't, the themes that you should be across and the risks as we see them. Click here for your free trial.