8 stocks making fintech cheaper and more efficient
---
Fintech is a portmanteau of the words finance and technology. A fintech is just a business that helps bring better technology to financial services.
The ATM is a historical example; smartphone apps are a current example. Fintechs make banking, insurance and wealth management cheaper and more efficient. But what are some fintech companies? Here we look at eight.
PayPal
PayPal has been one of the biggest winners of online shopping. The company started out (with Elon Musk) helping consumers buy and sell on eBay.
PayPal has since grown and now offers many products under sub-brands, such as Venmo, which allows friends and family to transfer cash between each other.
Honey is one of the largest coupon websites, and connects businesses to consumers. Braintree helps companies with their e-commerce setup. These diverse sub-brands enabled PayPal to become something of a fintech super app. It now has more than 392 million users as of 31 March 2021, data from their quarterly reports indicates.
Visa
The world is going cashless, a trend the coronavirus has accelerated. Many people reading this don't use cash anymore. One of the major companies driving this has been Visa, which owns and controls the largest payments network that connects banks and businesses throughout the world.
A small piece of every payment that goes through Visa's network gets taken by Visa as its fee, meaning it essentially runs a giant toll booth over much of the world's cashless payment system.
As more and more money goes through its network, Visa makes more money.
Square
Square became famous in Australia recently, thanks to its purchase of Afterpay. The company, run by Twitter boss Jack Dorsey, who is CEO of both companies, builds the Square card reader, which is essentially a smaller, faster EFTPOS machine.
Square gives its card readers away for free to businesses, which has allowed it to build a huge network of small business users.
It then takes fees from payments that go through its machine. In recent years, Square has also been building more software and other products, such as loans, for businesses that use its app. It also runs the Cash App, which competes with Venmo.
Black Knight
Mortgages are a lot of work — for both the banks that lend the money and the households that repay it. For banks and brokers, mortgages require credit checks, property valuations, compliance, monitoring — all of which are time-consuming and are prone to human error when done manually.
Black Knight's software and data do a lot of this work for the banks and mortgage brokers.
In so doing, writing mortgages becomes easier and a lot of human error is removed from the process.
Xero
This New Zealand business, which is based in Australia, is a world leader in cloud accounting. It allows small businesses to connect to their accountant in real-time via a single ledger, known as the ledger of truth.
This single ledger lets businesses see things like their free cash flow and revenue without needing to book meetings with their accountant.
This ledger can also connect with bank data to allow accounts to be reconciled. Xero runs a subscription model and has been making inroads into Europe, especially the UK.
Tradeweb
When investors think of trading, they tend to think of buying and selling on the ASX with their CommSec accounts. But many other kinds of financial instruments, like bonds and derivatives,  do not trade on exchanges.
These instruments often trade on request-for-quote platforms, of which Tradeweb is one of the biggest.
These platforms are like exchanges for bonds, derivatives and even ETFs. Like exchanges, they benefit from strong network effects. More traders coming on board makes the platform more liquid, which then encourages even more traders to come on board.
Virtu
Founded by former NYSE boss Vincent Viola, Virtu is one of the most important companies you've never heard of.
Virtu is what is called a market maker — a specialist trading company that continually posts orders to buy and sell shares and ETFs.
Virtu makes a market for more than 25,000 shares and ETFs in 36 different countries. It is estimated to be responsible for around one-fifth of all US share trading. It can do this because its technology allows it to trade at close to the speed of light (not an exaggeration), meaning it can update its prices and react to new information faster than anyone else.
S&P Global
S&P Global is one of the world's biggest index providers and runs the famous S&P 500 Index, America's premier share market gauge. However, it also runs a constellation of other indexes, including the Dow.
S&P's revenue has surged in recent decades as index mutual funds, ETFs and index futures have ballooned in popularity.
Its quarterly report of June 2021 indicates there is more than $2.4 trillion in ETF assets alone following its indexes. S&P Global takes a small cut of the money that uses its indexes. S&P recently announced it was purchasing IHS Markit and broadening its research and data offering.
In this Livewire interview, I discuss how the fintech sector is rapidly evolving and how investors can take advantage of it:
Investment Theme
Surfing the wave of fintech innovation
Simple access to the fintech space
The innovators listed above are all captured in the new ETFS Fintech & Blockchain ETF (Chi-X: FTEC). FTEC captures 75 market leaders across a range of fintech sub-themes with a focus on decentralised finance. 
---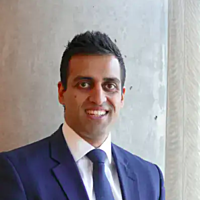 ETF Specialist & Head of Distribution
ETF Securities
Kanish Chugh is responsible for distribution covering sales and marketing strategy for institutional, intermediary and retail clients. He joined ETF Securities in 2015 and has previous experience with Fidelity International, BlackRock and...
Expertise