A healthy prognosis for this U.S. health care stock
---
Cigna is a health maintenance organisation (HMO) company, otherwise known as a health insurance company. The major HMO companies in the U.S. have seen recent price weakness on fears of adverse regulations should certain U.S. democratic presidential nominees win the democratic nomination and, ultimately, become the U.S. president in the 2020 presidential election. High profile nominees such as Senators Elizabeth Warren and Bernie Sanders have been vocal with their distaste for the HMO industry and their plans to introduce Medicare For All (M4A) in which the U.S. Government would assume all health costs potentially making the health insurance or HMO industry redundant.

The four major HMOs made roughly $20 billion combined in net profit last year and, based on Senator Warren's passionate televised debate performances, you would think that profit was, firstly, something to be ashamed of and, secondly, that the $20 billion in combined profits was single handedly responsible for pushing the $4 trillion annual U.S. health care bill out of balance. While the U.S. health care system certainly has its problems, with ballooning health care costs, we do not believe that the HMO's are the problem. 
Even if the HMO's made zero profit, the annual U.S. health care bill would still be $4 trillion.
More importantly, there is compelling evidence that the HMOs do a very effective job in helping to reduce health care costs, through using scale to negotiate with other participants in the health care sector, including hospitals and drug manufacturers, and having the capacity to spend on technology that is increasingly important in managing health care costs and providing better health outcomes.
It is not new for the HMO industry to be the punching bag of politicians looking to score easy points in debates and TV interviews. The industry regularly underperforms the broad market leading up to a US presidential election, and generally outperforms the market once the election is settled and the newly elected president, senators and congress men and women no longer have the political need to attack the industry.
The HMO industry currently trades at approximately 75% of the price-to-earnings multiple at which the U.S. market currently trades, compared to the usual 90-110% of the market multiple. This is despite the industry having a strong long-term track record generating high returns on invested capital and prodigious free cash flow.
Cigna, a recent entrant to the Avenir portfolio, currently trades at 56% of the market price-to-earnings multiple, or just 11x the earnings we expect the company to earn in the next twelve months. Over the past nine years, Cigna has grown revenue at 11% per annum and net income per share at 15% per annum. The company is highly cash generative with free cash flow exceeding reported net income.
Cigna has been able to deliver these outstanding financial results while also benefitting its members in terms of cost management and health outcomes. Cigna is one of the leading HMO's in terms of health outcomes with a medical cost trend of 3.5% per annum, well below the 4-6% most of its peers deliver, and a target of medical cost trend in line with inflation (~2-3%) by 2021. Cigna recently acquired Express Scripts, one of the leading pharmacy benefits operators which negotiates pharmaceutical costs on behalf of employers. Cigna's Express Scripts business saw commercial drug prices increase only 1.5% and 0.4% in 2017 and 2018, respectively, and more than 50% of Cigna's members benefited from a decline in average pharmaceutical costs in 2018.
Cigna, along with other HMOs, are working with providers, such as hospitals, to increase the proportion of members that are on value-based plans. Under value-based plans, the health provider receives a fixed amount per member and must deliver care within that cost rather than the traditional cost-plus system. In our view, the actual results achieved on behalf of members are substantial and beneficial to the goal of delivering quality health care while controlling costs.
Cigna also has plenty of international expansion opportunity. In 2018, the company's international revenue was $5.4 billion, and has grown at 8% per annum over the past three years. Pre-tax earnings in the international business was $735 million, having grown at 14% per annum over three years. The company is already the largest foreign insurer in Korea, serving 3.3 million customers, each with, on average, 2 Cigna policies. Cigna is also active in this part of the world acquiring OnePath in New Zealand in late 2018, and, just last week, announcing a $20 million joint venture with Australia's nib Group, to create a specialist healthcare data science and services company to deliver better health outcomes for members and the public.
It can be unsettling and uncomfortable for companies and industries to become the centerpiece of intense political discussion and debate. Such situations, however, can provide opportunities to make above average returns, assuming the underlying product or service is genuinely adding value, once the spotlight moves on to other areas and the market ultimately rewards the underlying operational and financial success of these companies. 
Learn more
Avenir Capital is an Australian based investment manager, specialising in value-oriented global equity investments. Get our latest insights by hitting the follow button below. 
---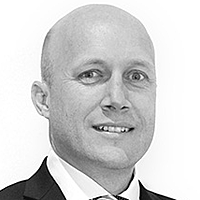 Chief Investment Officer
Avenir Capital
Adrian Warner is the Managing Director and Chief Investment Officer of Avenir Capital and is responsible for the portfolio management of the Avenir Global Fund. Prior to founding Avenir Capital, Adrian worked in private equity investment in...
Expertise