A mining stock ready to pan out
---
Evolution Mining (EVN) is an ASX-listed gold miner with a market cap of A$5.2bn. Evolution provides the portfolio with exposure to the gold price as well as to an asset base that has low capital intensity growth options. We believe this growth can be funded without stretching the balance sheet, even if the gold price falls. As at 31 October 2018 the portfolio allocation to Evolution was 3.7%.
Evolution has six mines in NSW, QLD and WA and produces around 720,000 ounces of gold per year. It has an all-in sustaining cost of approximately US$650 per ounce, which means that at today's gold price of around US$1200 per ounce, margins are excellent and free cash flow generation is strong. This allows Evolution to pay a sustainable dividend while concurrently investing in organic growth.

Outlook

We believe the market is yet to price in the growth potential at Cowal, Evolution's largest mine.  Guidance is for flat gold production over the next three years, but during a recent site visit to Cowal the Manager concluded that there is high potential for production to increase.
Evolution bought Cowal from Barrick in 2015 and we believe that the mine suffered from years of underinvestment during the Barrick days. Since acquisition:
 Evolution has invested in exploration drilling and engineering studies.
 It has also pulled together an impressive and motivated management team.
 We anticipate that Cowal can be expanded via a low capital-intensity project and therefore that Evolution's production can grow. 
We consider that the market is overly focused on the risk of Evolution making an acquisition, and we are confident they will not undertake an acquisition that is NPV or earnings dilutive.  Evolution's stated strategy is to reduce costs, increase free cash flow per share and increase the dividend. We meet with Evolution's management team regularly and are satisfied that not only does Evolution have the right strategy but that they will stick to it.
Further insights
Interested in income and long term capital growth? Our strategy is to create a concentrated and actively managed portfolio of Australian securities with typically a mid-cap focus and global listed securities. Find out more
---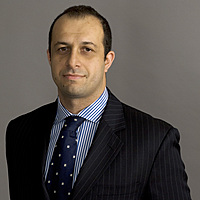 Deputy Head of Equities
Perpetual Asset Management (Australia)
Vince is the Deputy Head of Equities at Perpetual Asset Management Australia and is the Portfolio Manager for Australian Share, Geared Australian Share and the Perpetual Equity Investment Company Limited (ASX:PIC).
Expertise