A sector resilient to economic turbulence
---
The current crisis has tested conventional wisdom when it comes to investing in all manner of ways, including what to expect of health care companies. On aggregate the sector has proved resilient, particularly in a relative sense. Indeed, consensus 2020 earnings for the sector are down only 3.8% since the beginning of March, versus -26.7% for the MSCI World Index. However, beneath the headline numbers are some unusually large variations. Some companies have proved fairly predictable, while others have recently reported results that were scarcely imaginable just a few months ago, both to the upside and the downside.
"Selling essential, non-discretionary products means that health care companies are relatively immune to economic turbulence"
Short-term hurdles from social distancing measures offset by some opportunities
The major negative for the sector has been that hospitals and doctors' surgeries have been avoided for all but the most urgent and essential procedures. The result has been a particularly tough environment for medical device producers. For traditionally predictable businesses providing, for example, joint replacements, having 30% reduced from their 2020 earnings estimates is, surprisingly, not unusual. Even product categories that one would have previously considered as essential, such as pacemakers, have proved vulnerable to declining sales (one leading company's division was down 25.7% organically in the second quarter). Hospitals have also been clearly impacted by this dynamic, as well as companies providing diagnostic tests. Furthermore, life science companies have suffered as researchers have been away from their benches and social distancing has limited the ability to install new equipment.
Pharmaceutical businesses have generally fared better, although certain products that need to be administered by doctors have suffered. Generally, the biggest story of the sector has been very strong demand in the first quarter as people panicked about the availability of medicines, followed by a weaker second quarter driven by destocking as the demand tapered.
"The sector has proved resilient, particularly in a relative sense"
The crisis has also served as a reminder of the purpose of health care companies. These companies provide life-enhancing and often life-saving products and services. It is these companies that are at the forefront of finding solutions to the current crisis. There are a few highly innovative companies are already benefitting from these dynamics, particularly those able to provide accurate COVID-19 tests, as well as those in a position to help pharmaceutical companies research and develop treatments and vaccines. One of the team's medical technology portfolio company's provided initial guidance for its second-quarter results of flat to -15% organic growth, and in the end reported +11% while guiding for 15% growth in the third quarter. This was due to better than expected COVID related testing and drug and vaccine development revenues and a stronger organic growth outlook.
Looking ahead
Ultimately, the questions we are asking ourselves as an investment manager are whether those companies that have been negatively impacted by COVID-19 have had any permanent impairment to their earnings, or whether 2020 will turn out to be an aberration. For those that are benefitting from COVID-19-related developments, we are trying to establish how enduring these new revenues will prove, by keeping a close eye on the organic growth of the base business i.e. excluding any COVID effect.
As to if or when there will be a successful treatment or vaccine, and which companies will benefit the most, we generally find these types of predictions fraught with risk. We are, however, reasonably confident that some of our portfolios' companies will participate, given any successful development will require the assistance of the life science companies and needle and syringe manufacturers. For example, companies supplying instruments, consumables and services required for both vaccine development and production. Also, given the difficulty of manufacturing vaccines at scale, it is reasonable to suggest that the world's two leading vaccine manufacturers, which both benefit from large consumer and vaccine businesses which we view as more predictable over the long-term than typical pharmaceutical businesses, may have a part to play.
"Any successful vaccine development will require the assistance of the world's leading life science companies"
In our view, none of the longer-term dynamics supporting the health care industry have changed as a result of COVID. Populations continue to age and access to health care should continue to expand in developing markets. Unfortunately, there remain plenty of unmet medical needs that still need addressing. COVID has served as reminder of the importance of the industry and arguably the need to improve health care infrastructure as well as continue to support Research & Development.
Invest in quality
Morgan Stanley Investment Management are a global franchise delivering innovative investment solutions across public and private markets worldwide. Click the 'FOLLOW' button below for more of our insights.
---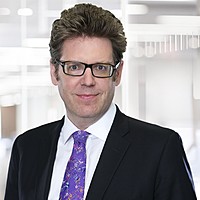 Portfolio Manager
Morgan Stanley IM
Bruno is a portfolio manager for Morgan Stanley Investment Management's London-based International Equity team. Prior to that, Bruno worked for Sanford Bernstein, where he was a Senior Analyst covering the financial sector for eight years.
Expertise