Alphabet, just another internet stock? Think again.
---
The 'Dotcom' crash of 2001 was a good old fashioned bubble. Many people were swept up in the euphoria as their expectations about future profits turned out to be nothing more than unfounded hope. For many Australians, it is a case of once bitten, twice shy. Roll forward 17 years, and the hope of yesteryear has turned into the reality of today. The modern day internet companies have stamped their authority and now dominate the globe whilst investing in new technologies set to drive innovation over the next decade.
Let's take a look at Google, now called Alphabet. Alphabet's gross revenue is just about to crack the ton, at USD$90 billion dollars for 2016. They are currently on track to deliver $108B in 2017, a comfortable 20% growth off already large numbers. Not bad eh? They also convert this revenue into profit, something the tech boom companies of the past could never manage to do. Alphabet will deliver $36 billion in operating profit (adj.) this year. To put this in context, Australia's largest company BHP, will make around USD $11.5B. More importantly, BHP is highly leveraged to China and their rapidly escalating debt burden. No such problem for Alphabet. 
It is hard to believe that a company producing $36B in operating profit, could also be investing aggressively for growth. The future for Alphabet is bright as they now command 7 products each with over one billion users. YouTube for example, is in the nascent stage of monetisation. With 1.5 billion users and four billion videos served up daily, it is deeply entrenched in consumers psyche. Interestingly, YouTube is only beginning to contribute to Alphabet's profitability. As the 'rivers of gold' are diverted from traditional media (TV, Print, Radio), YouTube's hidden value will begin to emerge. Moonshot investments in artificial intelligence and driverless cars are essentially free options with the potential to drive long term revenue growth over the next decade.  
Never in history have we witnessed a business of this size growing at such a rapid rate. However, never have we seen an advertising platform dominate the world like Alphabet. The natural question to ask; can this continue? We believe the future growth potential is greater now than it has ever been for Alphabet. It is estimated that nearly half the world's population is still without reliable internet. And while the amount of time spent on digital media is in line with time spent on traditional media, the advertising dollars have not fully transitioned.
The Swell Global Fund has 5% of the portfolio invested in Alphabet.
---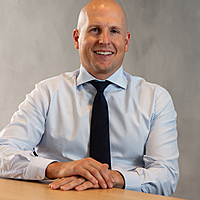 CIO
Swell Asset Management
Lachlan is the founder and CIO of Swell Asset Management, a boutique investment manager specialising in global equities.
Expertise