An Aussie micro-cap the market has ignored
---
What is the equivalent of uncovering a buried treasure on the ASX? Finding a software business that is growing sales nearly 100% while trading on a reasonable profit multiple comes pretty close, writes Luke Winchester from Merewether Capital.
What is the equivalent of uncovering a buried treasure on the ASX? How about a software-as-a-service (SaaS) business growing sales nearly 100% while trading on a reasonable profit multiple? Yes, you read that correctly, profit not revenue! And of course, the key to finding this buried treasure is to follow the age-old saying; X marks the spot!

X(ref) marks the spot
Xref (ASX: XF1) is a cloud-based reference-checking platform founded by Lee-Martin Seymour in 2009. Lee was a recruitment specialist for over 13 years which led him to realise the ways technology could be used to reduce the time human resources professionals waste in the recruitment process. The most obvious potential improvement he saw was performing reference checks which is historically a slow and lengthy process involving phone calls and spreadsheets. Using the Xref platform, a human resources professional can request an applicant's reference check in under half an hour and the automated system takes over from there.
At its core, the software is simple, providing a platform for the customer to upload an applicant's details, the applicant then logs on and uploads the details of their referees. Those referees then log on and answer template or customised questionnaires, the results of which are collated and provided to the customer in a brief report. Buy Xref describes the software as "simple on the surface, smart behind the scenes". The platform also provides ID verification, fraud detection, data security and sentiment analytics.
The smarts behind the scenes allows the software to do its job well and dominate its niche. Investor presentations sport the logos of many blue-chip customers and Xref is the highest result for "Reference Check Software" on leading software review website G2:
Xref was also the 11th best-ranked software from Australia/New Zealand according to G2 in 2021:

Xref's business model 
It is worth discussing an aspect of Xref's business model that differs from traditional software peers, which allows it some interesting advantages in this rapid growth phase. Rather than use a subscription-based revenue model, Xref sells credits to customers to use every time they reference check an applicant. While this usage-based model lacks the forward certainty of subscription revenue, it does have some significant advantages:
1. It reduces the sales cycle. Traditionally, enterprise software has lengthy sales cycle to convince a customer to enter a long-term subscription arrangement especially for software that helps run critical business processes. Xref avoids this problem as customers can onboard themselves onto the simple software and purchase a small number of credits upfront to test the product rather than commit to a longer contract.
2. It allows for easier "land and expand". By not locking a customer into a fixed contract, Xref can much more easily grow within its clients, in line with its customers' usage, rather than having to upsell extra modules or lift prices.
3. It has a better working capital cycle. Customers pay cash up front for their credits to use them later (at which point they are recorded as revenue). With immediate cash coming in the door, Xref's rapid growth is not as capital hungry as subscription-based peers and they aren't forced to run large losses to capture growth.
Looking closer at the second point of landing and expanding within clients, Xref began breaking out a cohort analysis in its quarterly updates in the September 2020 result. Visualising this cohort analysis shows the success of the strategy: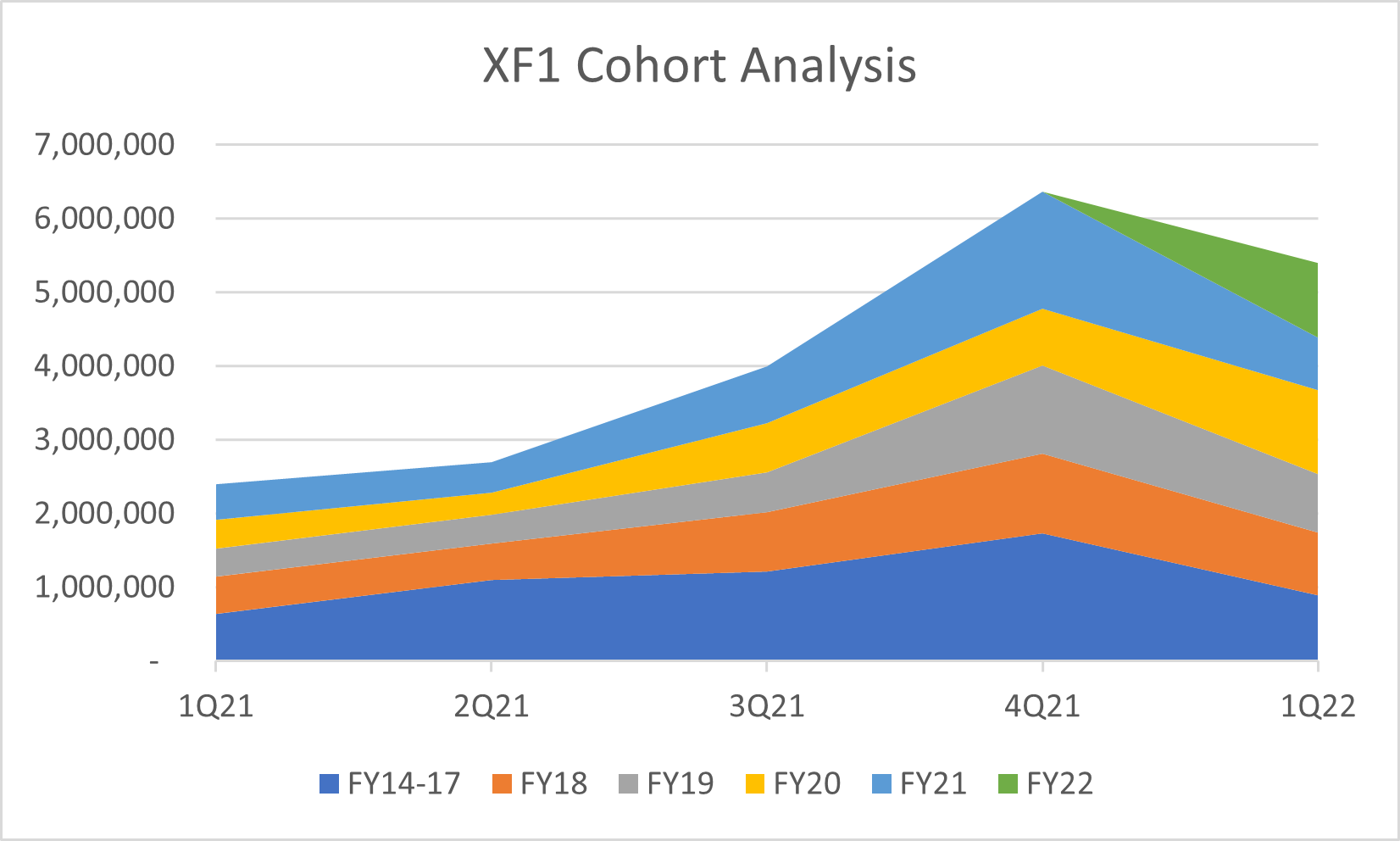 Looking at the FY20 and earlier cohort (as we get the full cohort through the whole period), sales grew from $1.9 million in 1Q21 to $4.8 million in 4Q21. Admittedly, the 4Q is the seasonally strongest quarter and the 1Q was still somewhat Covid affected but in any context, around 150% sales growth in your existing customer base is a remarkable result.
What makes Xref's FY21 performance even more impressive is it achieved over 100% sales growth with only a modest increase in costs which led to a significant inflection point of profitability: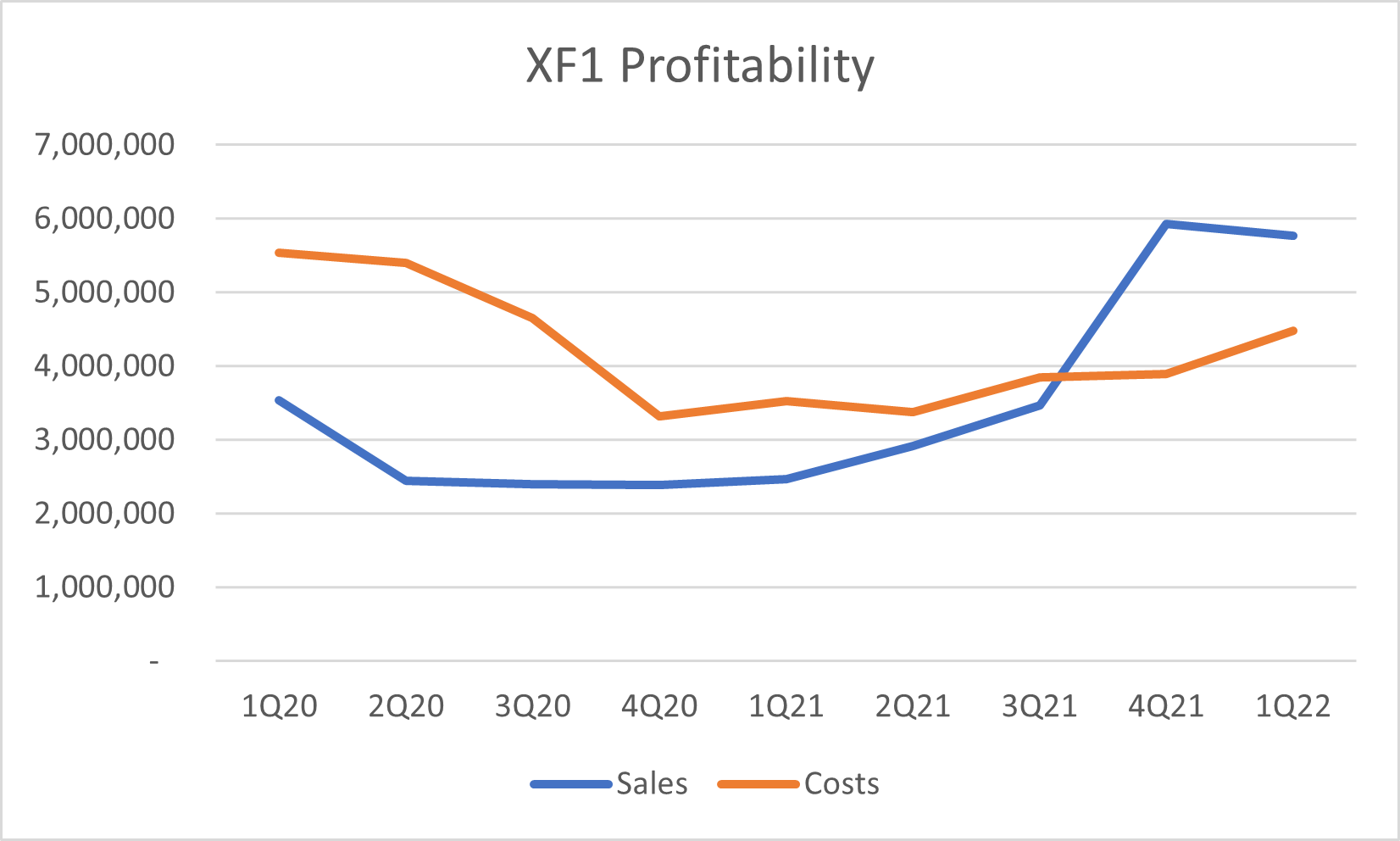 It can clearly be seen that Covid was a defining point for the business. Costs were reduced by roughly 40% as management decreased total headcount from ~100 people to ~60 by focusing on two key initiatives; customer self service (Xref Lite) and product led marketing.
Xref Lite
Xref launched a product called Xref Lite in November 2019 which allows for a single user to use the platform with no integrations or customisations. While working as a standalone product for small businesses, it also acts as a customer acquisition funnel where enterprise customers can on-board themselves in minutes and test the platform with minimal cost and effort. If the customer likes the platform, they can upgrade to an enterprise solution and integrate with any existing software they use. The development of Xref Lite meant Xref required fewer staff members dedicated to onboarding customers as customers could do it themselves.
Product-led marketing

Management also pivoted the business to what is known as product-led marketing. As the name suggests, this means relying less on traditional outbound sales-led marketing where sales staff contact potential customers and instead relying on inbound demand from customers finding the product themselves. Clearly product-led marketing is a more desirable strategy for a business but of course has one critical requirement; customers must be able to find the product and see the benefits of the product themselves without being "sold" too.
Xref began leveraging channels like G2 harder, encouraging customers to leave reviews and being the first result when a potential client looked for reference check software. They also focused on digital marketing such as being the top result on Google for searches like "sample reference check questions". Remaining sales staff also moved their focus from winning new customers to expanding within existing enterprise, especially overseas. Xref has won many global enterprise clients in Australia and expanding through those customers international operations is a much easier strategy than greenfield expansion with new international clients.
Valuation
Looking at valuation, Xref currently trades at a market cap of around $130 million. Pinpointing FY22 is difficult given how fast the business is growing but I estimate roughly $25 million in cash sales, after $10 million in the seasonally slower first half. This likely leads to a $5-7 million cash profit, after $1.4 million in the first half, leaving Xref trading on 18-26 times earnings. That multiple is reasonable, not only for the growth being achieved currently but also for the runway moving forward as the company earnestly begins global expansion. 
Currently, 85% of sales still come from Australia and New Zealand, but with Xref's global enterprise customer base, overseas sales can rapidly grow. Management has also begun to explore modules beyond pre-employment checking, released new products for exit surveys and "pulse checks" to gather changes in employee sentiment over time. If successful, these modules expand the total addressable market from solely pre-employment to an employee's entire journey with a company from recruitment to retention to resignation.
To me, Xref truly represents buried treasure, undiscovered due to no broker coverage and only one large fund on the register. But for microcap investors who can search in these ignored parts of the market, X could mark the spot!
Never miss an insight
Enjoy this wire? Hit the 'like' button to let us know. Stay up to date with my content by hitting the 'follow' button below and you'll be notified every time I post a wire.
Not already a Livewire member? Sign up today to get free access to investment ideas and strategies from Australia's leading investors.
Never miss an update
Enjoy this wire? Hit the 'like' button to let us know. Stay up to date with my current content by
following me
below and you'll be notified every time I post a wire
Welcome to Livewire, Australia's most trusted source of investment insights and analysis.
---
To continue reading this wire and get unlimited access to Livewire, join for free now and become a more informed and confident investor.
Luke is founder of Merewether Capital and Portfolio Manager of the Merewether Capital Inception Fund, a micro cap boutique funds management firm.
........
Disclaimer: Any information contained in this article is limited to general information only, whilst the opinions and views detailed are those of the author only, and as such does not constitute advice or a recommendation in any capacity. The information contained in this article has not taken into consideration your specific financial needs, goals or objectives, so please consider consulting a licenced adviser before considering acting on this information.
---

Never miss an update
Get the latest insights from me in your inbox when they're published.
---
---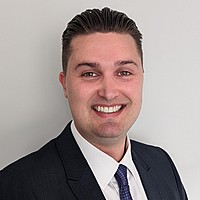 Portfolio Manager
Merewether Capital
Luke is founder of Merewether Capital and Portfolio Manager of the Merewether Capital Inception Fund, a micro cap boutique funds management firm.
Expertise