An ignored travel stock set to grow in 2021
---
Amadeus IT Group S.A (MCE:AMS) provides the leading Global Distribution System responsible for processing airline bookings. It is one of three providers in the world and is the leading airline IT provider with various technology solutions such as reservations, ticketing, inventory management, departure control, disruption management and finance. In our view, AMS' competitive advantage is that it owns infrastructure that is hard to replicate, has a strong management team and continues to invest in research and development to build out its product suite. AMS continues to invest in new products ahead of competitors and this is evidenced by its leading market share.
We believe AMS has a healthy balance sheet and sufficient liquidity. When travel bookings return to normalised levels (in a post pandemic world), we believe we will have acquired a great business for around 13x the price to earnings (P/E) multiple. We think that the airlines' push towards New Distribution Capability (NDC) will not be successful without the involvement of AMS. NDC is a program launched by the International Air Transport Association (IATA) for the development and market adoption of a new XMLbased data transmission standard between airlines and travel agencies. As part of our in-depth research, we spoke to various industry experts such as competitors, corporate travel management companies, and airline executives about how the NDC landscape may look in a few years' time. 
Our findings suggested that AMS' own NDC offering will continue to be important to the airline and travel industry. Further, we see potential upside for additional revenue from AMS' new business of hospitality IT. This is a large growth area for AMS as it utilises its platform to offer capabilities such as distribution and marketing, hotel and guest management and business intelligence.
When we initiated a position in AMS, it was trading at €42 per share and Europe was entering into a second lockdown. The market's view on travel has been grim despite travel in other parts of the world recovering at different levels. For example, countries in Asia Pacific have recovered a little faster than Europe and USA. With the news of three effective vaccines from Pfizer, Moderna and AstraZeneca, the market bid up the price of AMS. At current levels, we continue to see upside to what we consider to be fair value of AMS which is around €68-75 per share. Our view is that the level of leisure and business travel will normalise in a post pandemic world and AMS will see its market share and competitive position maintained.
As at 30 November 2020, AMS comprised 3.2% of the PIC portfolio.
Interested in income and capital growth?
Our strategy is to create a concentrated and actively managed portfolio of Australian securities with typically a mid-cap focus and global listed securities. Find out more by clicking 'contact' below, or hit 'follow' to be the first to receive our latest Livewire insights.
---

Follow Vince Pezzullo's wires
---
---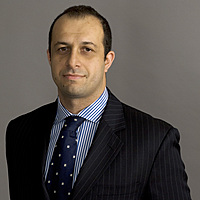 Deputy Head of Equities
Perpetual Asset Management (Australia)
Vince is the Deputy Head of Equities at Perpetual Asset Management Australia and is the Portfolio Manager for Australian Share, Geared Australian Share and the Perpetual Equity Investment Company Limited (ASX:PIC).
Expertise